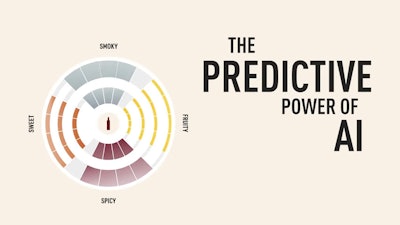 Diageo has acquired Vivanda, the owner of the flavor matching technology behind Diageo's digital "What's Your Whisky" platform. The acquisition of the FlavorPrint technology will enable Diageo to gain a deeper understanding of consumer taste preferences and help it unlock opportunities in innovation and personalized consumer experiences in other categories.
The FlavorPrint technology, which is powered by artificial intelligence, will support the development of broader consumer engagement through more personalized recommendations. It uses a series of questions to analyze and map consumers' flavor preferences against a proprietary sensory database of foods and aromas to generate a digital representation of every person's unique "Flavor Print." Then, the technology recommends brands and variants with the flavor profiles each individual is most likely to enjoy.
---
---
Launched in 2019, "What's Your Whisky" has been rolled out across 21 markets and has been integrated into the physical stores and e-commerce platforms of a number of Diageo's key customers in Europe and North America, and direct-to-consumer channels to provide purchase recommendations. Vivanda's team will join Diageo to provide ongoing consultancy services to continue building on the success of the FlavorPrint technology.
According to Diageo Chief Marketing Officer Cristina Diezhandino, "We know consumers are looking for more personalized, interactive experiences and that they are increasingly engaging with our brands digitally as well as in person. We're delighted to welcome Vivanda to Diageo, and we are looking forward to working together to connect with consumers in more innovative ways that help shape the future of how we socialize in person and virtually."
Companies in this article