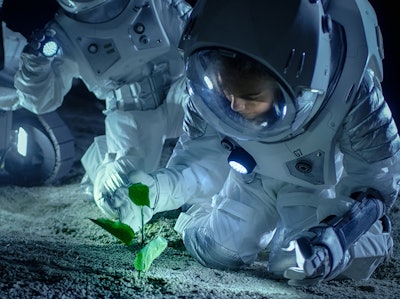 A prize competition launched by the Canadian Space Agency, the Deep Space Food Challenge called on Canadian individuals or groups of individuals, post-secondary/academic institutions, indigenous organizations and groups, businesses, and organizations to create "food production technologies or systems that require minimal inputs and maximize safe, nutritious, and palatable food outputs for long-duration space missions, and which have potential to benefit people on Earth."
The finalists for the competition cover an array of original, sustainable concepts:
Concordia University's Astroyeast Microfarm, a space-adapted food technology centered around a yeast strain adapted to the space environment. The yeast helps produce a spread, which combines nutrients with flavor molecules, in an automated bioreactor system.
The University of Guelph's Growth Options for Outer Space Environments (GOOSE), a controlled-environment plant growth chamber with power and a water supply, that achieves homogeneous conditions within a high-density production system to grow a variety of fruits, vegetables, and mushrooms.

---
---
McGill University's Cricket Rearing, Collection, and Transformation System, which grows and harvests crickets in a controlled environment, which includes advanced filters, UVC lamps, and vacuum systems to isolate the crickets from the human living environment. Starting with a few hundred eggs, the system can support the growth of tens of thousands of crickets every month, creating a protein source for astronauts, as well as people in remote environments on Earth.

Ecoation's CANGrow modular polyculture indoor food production system incorporates technologies with the potential to provide over 1,100 lb of nutrient-dense food annually by growing biologically efficient food products, including strawberries, cherry tomatoes, root vegetables, microgreens, culinary herbs, mini-head lettuce, an algae super food, and a mycelial meat substitute –"space bacon."
The grand prize winner will receive almost $280,000, which will be awarded next spring.