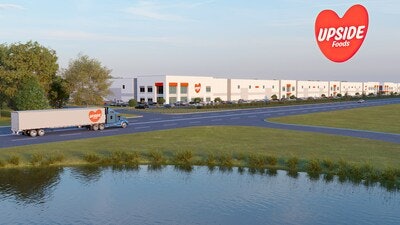 Upside Foods is building its first large-scale cultivated meat production plant, which will be located in Glenview, Ill. The 187,000-sq-ft, state-of-the-art plant, known as "Rubicon," will initially produce ground cultivated chicken products.
The plant, which will house cultivators with capacities of up to 100,000 L, will be one of the world's largest commercial cultivated meat facilities, with the capacity to produce millions of pounds of cultivated meat products per year. The company plans to expand production at the site to include other species and whole-textured formats in the future.
The facility will be a key element of Upside's scaling up of operations to the next level. The total cost of the project will be more than $140 million.
---
---
"We're excited that the next chapter of our journey towards building a more sustainable, humane, and abundant future will be in Illinois," says Dr. Uma Valeti, CEO and founder of Upside Foods. "Establishing our plant in this region allows us to tap into a remarkable talent pool, a thriving innovation ecosystem, and a notable history of meat production. We are grateful for the collaboration and partnership that we have built at the state, county, and local levels in our site selection process."
"We are proud to partner with Upside Foods as they make the strategic decision to harness the unparalleled strengths of the greater Chicagoland region," says Kyle Schulz, executive vice president, World Business Chicago. "Their groundbreaking work in growing meat, poultry, and seafood directly from animal cells aligns with our region's commitment to innovation, sustainability, and the future of food."