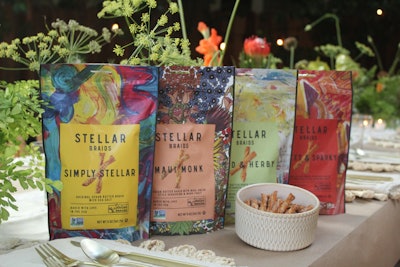 Stellar Snacks has announced its plans to expand production with a $137 million investment over 10 years and a 434,000-square-foot pretzel bakery facility in Louisville, Ky. Construction of the site is scheduled to begin in spring 2024, with baking of the initial products at the location set to begin in autumn of that year.
Stellar Snacks' new facility will create 350 full-time jobs over the next 10 years. Company leaders will partner with local community colleges and trade schools to provide real-world work experience and positions for students pursuing careers in industrial, electrical, and robotic engineering. Stellar Snacks currently operates two plants in northern Nevada.
Elisabeth and Gina Galvin founded Stellar Snacks in 2019 under a "Pretzels with a Purpose" platform, producing non-GMO, vegan pretzels with sustainably sourced, wholesome ingredients and a variety of gourmet flavors. Sales of the company's Pretzel Braids are up 162% in the last 52 weeks, making it one of the fastest growing natural pretzel brands in the country as the overall pretzel category has become the fastest growing segment of the salty snack industry.
---
---
"We are humbled and honored that our business has seen astounding growth after launching our brand just a few short years ago, thanks to our people and passion for a higher quality pretzel," says Elisabeth Galvin, founder of Stellar Snacks. "Since then, we have been on a mission to expand production coast to coast, and we are so pleased to have selected Louisville as our home in the Mid-South. The outcome will be an important success story for our whole team and the people of Kentucky. We can't emphasize enough that our goal is to provide career opportunities and positive impact in Louisville, especially in the Park Hill community, so we can flourish together in the years to come."