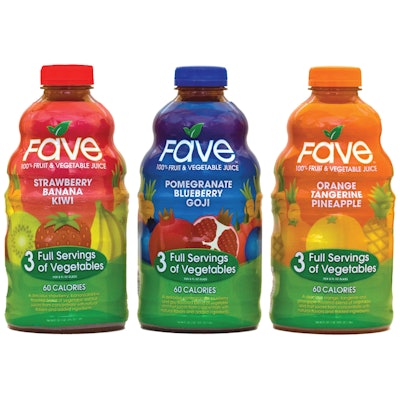 The Fave™ Juice Company, Middletown, NJ, specializes in the production of 100% fruit and vegetable juices. No artificial sweeteners or other artificial ingredients or preservatives are added to these all-natural beverages. No sugar is added, either. The product sweetness comes from the natural sugar in the juices, which are produced in three varieties—Strawberry-Banana-Kiwi, Pomegranate-Blueberry-Goji, and Tangerine-Orange-Pineapple. One 8-oz glass of the juice contains about 60 calories.

When Fave Juice was preparing to launch this new product line, the company was well aware that the packaging design was a key element for market success. In addition to protecting product integrity and shelf life, the bottle needed to stand out on the crowded store shelf and quickly convey that this product was a healthful, low-calorie alternative to competing juice products. The final package, created, sourced, and facilitated by Chicago-based Berlin Packaging and Ann Arbor-based re:group, inc., accomplished those goals.

First test markets of the product began in August 2012 at select locations of The Fresh Market retail chain (which operates some 129 stores in 25 States). Fave Juice was very pleased with the test market results. In fact, the reception to the product and packaging exceeded expectations and tripled Fave's sales forecasts. So the juice company confidently commenced rollout into more national markets. A number of the nation's top supermarket chains already have made plans to add Fave Juice products to their shelves. Suggested retail price for a 46-oz bottle of the Fave Juice is $3.99.

To ensure the flavor, quality, and shelf-life integrity of these shelf-stable, non-refrigerated juices, Fave uses a proprietary flash pasteurization process and hot-filling into 46-oz recyclable PET bottles. The stock bottles are supplied by Amcor (ww.amcor.com), and the 43-mm threaded closures, made from injection molded polypropylene, are supplied by Berry Plastics Corp..

The Fave Juice process and packaging procedure are designed to ensure non-refrigerated juice shelf life of approximately one year for unopened product. The juices are contract packed by Stapleton-Spence Packing Co..

In order to accommodate the new Fave Juice bottles, Stapleton-Spence installed a new capper and hot-filler from Pacific Packaging Machinery and a 360-degree shrink sleeve labeling system from Sleeve Seal. The OPS, 45-micron labeling material is printed in 8 colors. Sleeve Seal fabricates the labels and provides on-time delivery to the bottling plant for immediate label application after bottle filling.

Dave Kirkpatrick, President and General Manager of The Fave Juice Company, says, "We spent four years developing this product line. But at the end of the day, the bottle is our primary salesman. We have only a few seconds to attract shoppers in the juice aisle and tell them our story. The sales numbers and strong retailer interest show that the package is doing the job even better than we expected."

Kirkpatrick adds, "Our partners have been essential to the success of this new brand. The package design from re:group has been exceptionally well received, and the Berlin Packaging team did a fantastic job of professionally delivering on this package design. The team at Stapleton-Spence also has done a great job, including installation of a new high-speed filler, capper, and shrink-wrap label/heat tunnel system. We are very fortunate to have such capable and professional business partners."
Companies in this article