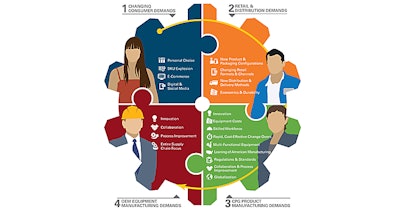 Major obstacles continue to challenge the food and beverage industry from very different sources. First is the continuation of burgeoning consumer demands, which requires efficient line changeovers. In addition, both food and beverage manufacturers and suppliers to the industry are concerned about the "thinning" of manufacturing that includes consolidation through mergers and acquisitions, significant cost cutting and job reductions, and overall doing more with less, as covered in part two of this Vision 2020 series of articles.
Food and beverage manufacturers are also focused on the total cost of ownership (TCO) of plant equipment. They need to know not only the cost of a piece of equipment, but also the cost to operate it and maintain it.
As cost reduction pressures continue to mount, consumer packaged goods companies (CPGs) struggle to ascertain the true cost of equipment they purchase and operate, according to PMMI's 2016 Top to Top report. CPGs must first calculate the cost to acquire equipment including engineering costs, permitting and certification, factory and site acceptance testing, and shipping. Beyond acquisition costs, operating costs are part of the total cost of ownership calculus as well and include maintenance, parts, service, training, cleaning, access to OEM technical resources and energy—all of which must be balanced between cost, performance and speed-to-market. Finally, CPGs must implement the appropriate key performance indicators (KPIs) to measure payback on capital investments.
Some of the most critical KPIs for determining TCO include:
Changeover time 

Cost/unit produced 

FAT/SAT metrics 

Mean time for repair/failure 

Number of operator "touches" 

OEE 

ROI metrics 

Sanitary hygiene design time/cost 

Scrap

Service location – local versus remote
Spare parts cost and availability

Standard parts availability

Throughput

Uptime

Utility usage

Vertical start up time.
To varying degrees, safety managers, quality managers, plant managers, operations managers, engineering, procurement and plant level supervisors are involved in the assessment of equipment costs. Typically, there are two schools of thought on this subject:
Some people focus on a competitive RFP (price mostly)
Others focus more broadly on the right fit (TCO).
Most TCO calculation include the following criteria: capability, energy, FAT (factory acceptance testing), flexibility, likelihood of on-time delivery, maintenance, quality, redundancies, safety, savings, service, spare parts, standard components, standardization, startup time, technology, training, upgrades and visits to OEM during build and acceptance.
In addition, CPGs want to know about projected changeover times, availability and cost of upgrades, service after the sale, uptime performance projections, maintenance costs and maintenance patterns, according to PMMI's report.
Today, some of the biggest challenges in TCO include:
Participation of CPGs in reverse auctions that focus mostly on price
Materials decisions made by purchasing departments that focus on what is available and what is cheapest 

Determining the life of an asset 

Focus by CPGs on speed to market approach versus TCO calculation 

CPGs focus on small components versus large equipment in TCO/line reliability 

Not accounting for startup time 

Dealing with predetermined capital expenditures with no wiggle room 

Ignoring or not fully accounting for the need to pull operating information from equipment. 

According to the Top to Top report, solutions to the TCO challenge can come through better partnerships between CPGs and OEMs. For example, each partner should commit to maintenance/training, agree on what numbers to put into a TCO calculation, share operating information from equipment, identify and agree on predictive maintenance schedules, and share information on the cost of maintenance.
There is no set process for TCO, but CPGs should continue to use it to justify their investments. However, partnerships with suppliers and vendors are as crucial to success as is information sharing on any capital equipment expenditure project. 

Part four of this Vision 2020 series of articles will focus on discovering manufacturing innovations that matter most.
Resources:
Read part one of the Vision 2020 series: Efficient changeover still one of manufacturing's top challenges.
Read part two of the Vision 2020 series: The pressure is on from the 'thinning' of manufacturing.
Resources:
Download PMMI's Top to Top report.
For more information on current industry challenges and solutions from PMMI, visit OpX Leadership Network.
To attend OpX Leadership presentations on TCO, FATs, OEE and more on the Innovation Stage at PACK EXPO International in November, register here.