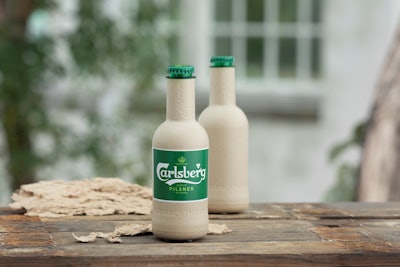 Photo courtesy of Carlsberg
Carlsberg just hit another major milestone in its sustainable packaging journey. The Denmark-based brewery unveiled the Green Fibre Bottle, the world's first paper bottle for beer.
The two new research prototypes of the Green Fibre Bottle are made from sustainably sourced wood fibers and sustainable polymer-based barriers to prevent the beer from seeping out. One prototype uses a thin recycled PET film barrier. The other is lined with a bio-based PEF film barrier. Carlsberg is using these prototypes in tests as it seeks to develop a beer container that is 100 percent bio-based without polymers.
"We are pleased with the progress we've made on the Green Fibre Bottle so far," says Myriam Shingleton, vice president of group development at Carlsberg Group. "While we are not completely there yet, the two prototypes are an important step toward realizing our ultimate ambition of bringing this breakthrough to market. Innovation takes time and we will continue to collaborate with leading experts in order to overcome remaining technical challenges."
Carlsberg embarked on the Green Fibre Bottle project in 2015 with packaging suppliers EcoXpac and BillerudKorsnäs and post-doctoral researchers from the Technical University of Denmark.
The Green Fibre Bottle is the latest in a slew of sustainable packaging innovations that Carlsberg has developed over the past year. In 2018, the brewer launched recycled shrink film, greener label ink and the Snap Pack, which replaces the plastic rings around its six-packs with an adhesive that glues the cans together but can still snap apart easily.
These developments are part of Carlsberg's sustainability program known as Together Towards ZERO. The company's goal is to completely eliminate its carbon emissions at its breweries and reduce its full value chain carbon footprint by 30 percent by 2030.
Companies in this article