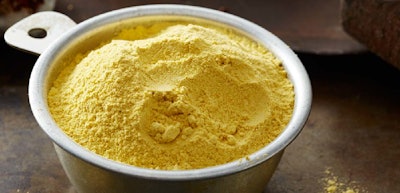 Photo courtesy of Nestlé.
Nestlé plans to bulk up its plant-based portfolio with microalgae-based products. The Swiss food and beverage giant is partnering with Dutch ingredient supplier Corbion to develop what it calls the "next generation" of plant-based products made from microalgae.
The partnership agreement combines Corbion's microalgae and fermentation capabilities with Nestlé's product development expertise. The two companies will produce and commercialize microalgae-based ingredients rich in protein and micronutrients and improve microalgae's functionality, taste and nutritional profile for use in a variety of products.
Microalgae ingredients provide a vegan source of protein. Some species of algae have more protein than beef and more micronutrients than other forms of plant-based foods. Experts say algae is also a sustainable protein source because it requires a fraction of the land, water and resources needed to produce the same amount of protein found in animal protein.
Nestlé's partnership with Corbion is intended to complement the company's current lineup of various plant-based products. They include beverages such as almond-, coconut- and oat-based creamers; coffee mixes; and nondairy ice cream. The company also makes a range of pea- and soy-based meat alternatives and prepared dishes.
"We are actively exploring the use of microalgae as an alternative protein and micronutrient source for exciting plant-based products," says Stefan Palzer, Nestlé chief technology officer. "Through the partnership with Corbion, we will be able to use great tasting, nutritious microalgae-based ingredients to innovate across our product categories."
"We are excited to partner with Nestlé to develop the next generation of algae-based ingredients," says Marc den Hartog, executive vice president of innovation platforms at Corbion. "Corbion has already demonstrated the value of algae in several high-value food and feed applications. This new protein partnership with Nestlé has the potential to open important avenues for algae-based products into large global markets."