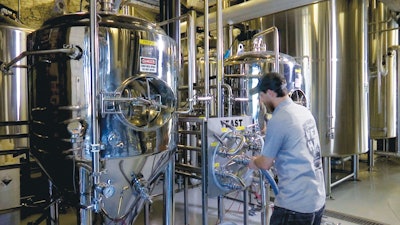 Photo courtesy of Miura.
As a small but growing craft brewery, Yee-Haw Brewing Co. needs versatile yet efficient equipment that can meet a multitude of demands in its manufacturing process. The Johnson City, Tenn.-based company says it found just that with a water tube boiler that does a lot more than just heat water. Yee-Haw credits its boiler for bringing efficiency to its operations and giving it precise quality control over the production of its craft beers.
Yee-Haw has been using the Miura LX 200 SG gas-fired industrial steam boiler since the company opened its manufacturing plant in 2015. The water tube boiler plays an integral role in Yee-Haw's manufacturing process, helping the company produce about 18,000 barrels of beer a year. That includes five core beers available year-round; three seasonal beers; and its High Gravity series of beers, which each have an alcohol by volume of 8.5% or higher. Yee-Haw distributes its beers to grocery stores, restaurants, and bars in South Carolina, North Carolina, Virginia, and Tennessee, as well as its four taprooms in South Carolina and Tennessee.
Efficiency in play
Producing 18,000 barrels of beer a year in a small 4,000-sq-ft facility is no easy feat. When it was planning and building out its manufacturing facility, Yee-Haw recognized that it would need highly efficient equipment that could fit in a small footprint. Instead of purchasing a conventional fire tube boiler, the company decided to install the Miura LX 200 water tube boiler for its efficient design and operations. For starters, the Miura boiler is half the size of a fire tube boiler—a key factor when space is at a premium. In addition, the compact design means less energy loss due to radiation and more fuel savings.
The Miura water tube boiler also uses less fuel and water than a typical fire tube boiler thanks to its energy-efficient design. The small size of the Miura water tube boiler allows hot gas to flow back and forth within the boiler faster, generating heat with a reduced amount of fuel. As the hot gas moves throughout the boiler, it heats the water that is located inside a series of vertical tubes fully welded to upper and lower headers that span across the length of the boiler. This floating header design allows the tubes to expand and contract safely as the water flows through the tubes and rises to the top of the boiler into the steam drum, reducing stress and pressure on the boiler. As a result, the tubes don't need gallons of water surrounding it to serve as a buffer, which is the case for fire tube boilers. The boiling water in the steam drum continues to be heated by the fire and gas created by the burner furnace. This boiling water ultimately becomes steam that Yee-Haw uses for its manufacturing process.
Because Yee-Haw has used the Miura boiler since the brewery's inception, Yee-Haw can't quantify its exact water and fuel savings. However, Yee-Haw and Miura estimate that the brewery uses only about 10% of the water volume that's typically used in traditional fire tube boilers, attributing the reduction in water usage to the floating header design. Miura's floating headers confine the water to the small water tubes. The heat source is distributed throughout the boiler and surrounds the tubes, requiring much less water than a fire tube boiler.
In a fire tube boiler, the arrangement is reverse. Flue gases are heated and directed into steel tubes surrounded by hundreds or thousands of gallons water. The heat from the gases are transferred from the tubes to the surrounding water. Because the Miura boiler heats the water in small sealed tubes, it uses significantly less water than a conventional fire tube boiler. As a result, the Miura boiler doesn't need as much fuel to produce steam, offering a fuel-to-steam efficiency rating of 85% compared to an 83% fuel-to-steam efficiency rating of an average fire tube boiler, according to Miura. That 2% difference can create fuel cost savings between 10% and 40%, Miura says.
"The No. 1 expense in a brewery is typically your water bill just because it takes a lot of water to clean tanks, produce beer, everything that you need for it," says Cris Ellenbecker, brew master at Yee-Haw. "And if your boiler isn't efficiently using water to create steam, that bill just climbs higher and higher and higher."
The Miura boiler also offers energy efficiency by being able to start and stop quickly. From a cold startup, the water tube boiler can produce steam in less than five minutes because it only needs to heat a small volume of water in the tubes. In contrast, it may take more than an hour to create steam in a fire tube boiler, which must heat a large volume of water. That forces many manufacturers to leave their fire tube boilers running idle when not in use, thereby wasting fuel and water.
"We're only making the amount of steam that we need because the Miura [boiler] can start up fast," Ellenbecker says. "If we were constantly feeding the boiler, we'd be using thousands of gallons of water [for every 20-hour period]."
Versatile but precise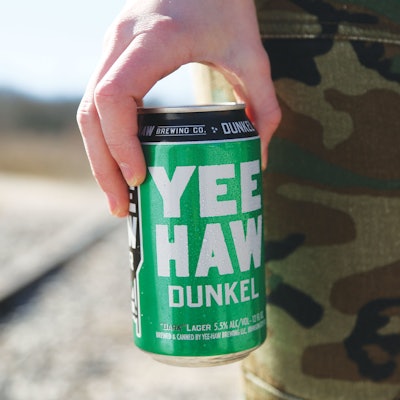 In addition to saving on water and fuel costs, Yee-Haw also appreciates the versatility and control the Miura boiler lends to the brewing process. Because the boiler only requires a small amount of water to produce steam quickly and consistently, it can easily adapt to shifting loads and changes in demand for steam. So Yee-Haw uses the boiler for various aspects of its brewing process, from heating the hot liquor tanks to boiling the wort with hops to sanitizing the kegs.
Yee-Haw is particularly impressed with how the Miura boiler allows it to modify the malts by precisely controlling and adjusting the temperature of the mashing process, the first step in brewing beer. During mashing, malt is immersed in hot water to activate the enzymes in the grains that break down the starches into fermentable sugars. With the Miura boiler, Yee-Haw can heat the water to various temperatures to activate different enzymes in the malt to create a certain color, body, and flavor for each of its beers.
"[The Miura boiler] helps you modify the malt so you can do a protein rest and help knock down the protein content or bring up the protein content to build a different profile for your beer," Ellenbecker says. "Because we have that steam system, we can brew a Kölsch at 148°F and have it be real crisp and dry and finish with no residual sugar. Whereas we can also have our Dunkel mash in at 160°F and build a really good malty backbone to the beer. So it allows you to manipulate the malt a little bit more."
Because the Miura boiler delivers precision and efficiency to Yee-Haw's manufacturing process, the brewery has been able to focus on the quality of its beers and ultimately expansion, according to Ellenbecker. "It all comes back to quality," he says. "From how we're brewing the beer, the ingredients we're using, our meticulous care for packing and microbiology. We're making sure that everything that leaves this facility is at the highest quality it can be."
Make plans to visit PACK EXPO International in Chicago, November 8-11, to see the latest technologies for food processing and packaging machinery and materials.
Companies in this article
Videos from Miura America Co., Ltd.