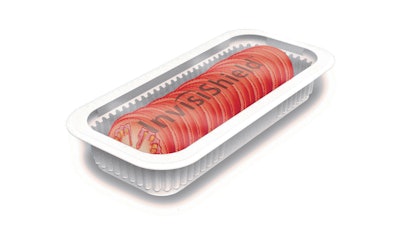 Photo courtesy of Aptar Food + Beverage.
Food safety often keeps processors up late at night as they seek innovative ways to keep contaminants away from their products throughout the supply chain. Aptar Food + Beverage intends to ease some of that worry with InvisiShield, an anti-microbial packaging technology that protects fresh-cut produce from harmful pathogens without affecting the quality of the food.
Launched in March by Aptar Food + Beverage, a division of Crystal Lake, Ill.-based AptarGroup, which makes active packaging systems and equipment, InvisiShield is designed to help food manufacturers heighten their defense tactics against foodborne illnesses. "Even with good manufacturing practices in place, you still find recalls and outbreaks within fresh products. [Processors] don't have a true kill step," says Angela Morgan, Ph.D., director of business development at Aptar Food + Beverage. "So this is the first of its kind, a technology that actually works after the package is sealed when there's no longer risk for cross-contamination. What makes this solution so different from all the other interventions that are on the market is it happens inside a sealed container that will no longer be cross-contaminated."
Getting defensive
InvisiShield consists of an extruded 3-Phase Activ-Polymer technology, which is patented by Aptar CSP, a division of AptarGroup. Moisture from the food in the sealed packaging triggers a proprietary channeling agent that moves through the polymer and releases chlorine dioxide gas into the headspace at controlled doses over a 12- to 24-hour period. According to the company, third-party validation studies have proven that the chlorine dioxide gas in the packaging achieves a 1.5- to 3-log reduction for various foodborne bacterias, viruses, and fungi, including salmonella, E. coli, and listeria monocytogenes, without affecting the product's color, flavor, aroma, and texture. InvisiShield has earned GRAS (Generally Recognized as Safe) designation from FDA.
To ensure the efficacy of the anti-pathogenic agent, the InvisiShield technology can only be applied to packaging with a seal and headspace. "What makes InvisiShield unique is it's packaging agnostic. You can use a wide range of packaging as long as it meets the technical specifications of being sealed and having headspace," Morgan says. "It needs to have a sealed environment and needs to have headspace because it acts in the headspace. It does not come in direct contact with the food."
In addition, InvisiShield is compatible with many types of packaging equipment. Aptar says it can modify food manufacturers' existing packaging lines to ultrasonically seal the InvisiShield technology to their packaging. "It's easily integrated into the packaging line," Morgan says. "It doesn't require any extra labor. The machine still runs at normal line speeds. So it doesn't interfere with the manufacturing at all."
Royal Fresh Cuts, Lipman Family Farms, and McEntire Produce are testing InvisiShield and plan to bring the packaging to market this year. The technology is currently used with tomatoes, onions, peppers, pico de gallo, and apples. But Aptar says it is developing InvisiShield for other types of produce, such as leafy greens and berries, as well as seafood, poultry, and meats.
"We are interested in speaking with a variety of companies that have different food products in order to understand how this technology can be expanded into other markets or modified with a different formula in order to serve their products and needs," Morgan says.
Make plans to visit PACK EXPO International in Chicago, November 8-11, to see the latest technologies for food processing and packaging machinery and materials.
Companies in this article