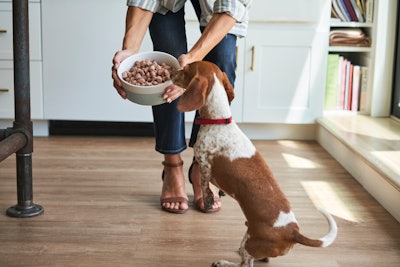 Instinct Pet Food
To understand how unstoppable the pet industry's upward trajectory has been since the pandemic, take a look at Morgan Stanley's most recent pet products survey from late 2022, which defined pet spending by consumers as "increasingly inelastic," meaning budgeting for pets has become a non-negotiable expense for many households even with inflation, and has jumped 11% since 2020.
Morgan Stanley predicts consumer spending on pet products will reach $158 billion in 2030. Annual expenses for pets per household is expected to be $1,320 by 2025, leaping to $1,897 by 2030. The American Pet Products Association (APPA) estimates 66% of U.S. households own a pet today, which is about 86.9 million homes. Pet food sales have grown as well. The $58.1 billion spent on pet food and treats in 2022 is projected to reach $62.7 billion this year, according to the APPA.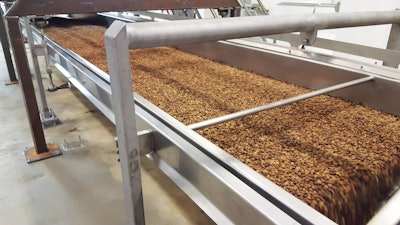 For companies that manufacture food for dogs and cats, it's a very busy time, requiring a nimble, flexible strategy related to the type of food—dry, wet, and the burgeoning refrigerated/frozen/raw segment—being produced. Here's a look at where the pet food industry is today and what equipment and methods are helping processors keep up with demand.
Nutrition and sanitation
The pet adoption surge kickstarted by the pandemic hasn't subsided, and there are several reasons for that continued momentum. "There's been a trend toward smaller families with more pets, and we've seen pets serving as substitutes for children for some young adults," says Eric Smith, systems group technical director at Hapman, which makes material handling equipment. "Also, people are treating pets like family members now, providing higher-quality food and amenities compared to the past."
Jim Lewis, director of sales and service, further processing at equipment maker Provisur Technologies, adds, "Urbanization continues, and people are shifting to smaller living spaces. Small pets are a better fit for urban environments, and small pets consume less food, enabling owners to spend more on premium products."
One across-the-board trend in pet food regardless of animal size or living space is owners seeking premium ingredients for their pets like they do for themselves, resulting in several boutique brands with functional food claims emerging over the past few years, as well as legacy companies like Nestlé and Mars paying closer attention to their formulas for added nutrients. For processors, this all means food safety and cross-contamination concerns are higher than ever.
| | |
| --- | --- |
| | See why Mars Petcare is spending $75 million to expand one of its Australian manufacturing facilities. |
"There's been an increase in complexity of the products and blends, now beyond most human food applications," says Tim Talberg, Triple/S Dynamics sanitary equipment product manager. "We're seeing many more ingredients for a given product, including lots of micro-ingredients and additional vitamins and nutraceuticals."
Historically, pet food was synonymous with feed mills, and some legacy facilities today that were once feed mills have been converted to dry pet food facilities, notes Amanda Flowers, manager of operations integration for Gray Solutions. "As the industry has evolved, especially with the introduction of the Food Safety Modernization Act (FSMA), so have the cleaning and sanitation standards," she says. "Nowadays, it's standard for pet food makers to mimic their counterparts in human food production to include cleaning, sanitization, environmental monitoring, and positive release programs."
Lot traceability and ingredient tracking for pet food is also a consumer expectation today due to more media attention on product recalls, says Mike Zeluff, Helix product manager for Hapman. "We've seen allergen and cross-contamination concerns increase and become more widespread, and the use of clean-in-place (CIP) or increased teardown cleaning to control this is much more common now, where it was not widespread [in the pet industry] in the past."
In addition to CIP, other food safety measures like advanced metal detection are as prevalent today in pet food facilities as in plants that produce human food. "Contamination can originate within the plant due to material processing, grinding, or general abrasion," explains Chris Ramsdell, product manager for separation at Eriez. "Drum magnets are commonly installed to process pet food ingredients, and these units are typically placed near the beginning of the process where most bulk ingredients are unloaded from rail cars and trucks before further processing. Magnetic drums can also be installed at the end of the process to provide a quality check on dry bulk kibble."
Modern machinery
When it comes to the type of equipment used to process pet food, the demand for more versatile machines is higher than ever, along with larger, interconnected production lines to meet increased demand.
"Pet food and human food processing share many platforms such as extruders, dryers, coaters, coolers, large and small fillers, bulk bag unloaders, meat batching mixers and emulsifiers, and pneumatic conveyance systems, depending on the type of product being produced. For example, a dry product like kibble will go through a form of dry ingredient mixing, thermal/mechanical processing, forming, drying, coating, cooling, and packaging," says Diaz McDaniel, senior manager of process for Gray Solutions.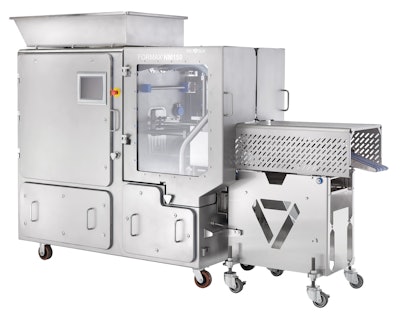 "For the longest time, the pet food market—specifically kibble food—would start the processing line with frozen blocks of various protein products," says Jeff Braunreiter, global sales support manager for Provisur. "We only had to provide a machine that could grind those frozen blocks. More recently, companies need to grind more fresh products, so we needed to offer something that could handle both applications in one machine."
Talberg says the updated focus on hygienic design for pet food processing equipment means he's seeing "more use of stainless steel and special finishes for product contact surfaces if not the entire equipment. Carbon steel was previously accepted for supports and non-product contact areas and some product contact areas. We're also seeing some [processors] wanting full sanitary/dairy/pharma-style build and features—it started with Nestlé and is a request of many others now."
HPP and raw pet food
While not all refrigerated/frozen pet food is raw, market research firm IRI reports that the overall perishable category had the highest YOY jump of any other kind of pet food last year despite its premium prices, with dog food seeing a nearly 36% uptick in retail sales and a 21.5% jump in unit sales. Cat food in the same category saw an increase of 22.5% and 7.6%, respectively, according to IRI data over 52 weeks through August 2022.
Despite those stats, refrigerated/frozen pet food is still a fraction of the overall market. For comparison, retail refrigerated/frozen dog food sold about $700 million last year, according to IRI, while dry dog food sales were almost $6 billion.
Those YOY statistics are the ones to watch, as the raw pet food market is growing substantially. Owners are becoming more comfortable feeding their animals raw meals, despite warnings from some veterinarians about the potential presence of pathogens. One reason for that increased consumer confidence is companies like Instinct Pet Food, which is undertaking its own intensive studies using high-pressure processing (HPP) as a kill step for destroying pathogens, documenting the details, and publicizing the results.
| | |
| --- | --- |
| | Read why Instinct Pet Food's path lies in the burgeoning raw pet food category. |
"HPP kills the pathogens, but still keeps the nutrients intact and maintains the palatability of flavors for the animals," says Jason Meents, vice president of science and technology at Instinct. "The technology for HPP hasn't really changed, but the public understanding of how it's used has evolved. HPP is just part of our regular activity now to ensure our products go through validated studies to show we're getting the log reduction in pathogens killed that we need."
HPP is a non-thermal food processing technology that uses cold water at very high pressure to eliminate pathogenic bacteria, viruses, and parasites, explains Vinicio Serment-Moreno, HPP food applications and sales at Hiperbaric.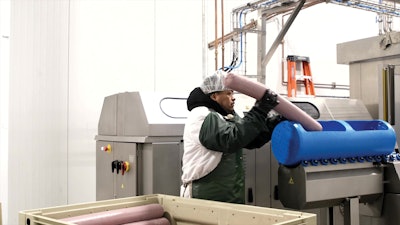 "The raw pet food sector is still on the rise, perhaps getting close to start the market exponential growth phase. We estimate between 30 to 50 companies are using HPP for raw pet food in the United States," says Serment-Moreno. "In the HPP process, pet food companies pack their raw blends into chubs covered by a plastic film and apply HPP to eliminate foodborne pathogens. After HPP, operators retrieve the food from the plastic film to shape the raw blend into kibbles or patties. Then, the kibbles or patties of the raw blend can undergo freeze-drying to remove water under cold vacuum and make the product shelf-stable before packaging."
Particularly for raw products, HPP will continue to play a critical role in ensuring global product safety and nutrition, says Errol Raghubeer, vice president of food science at JBT Avure. "It's important to note that although HPP is used on the raw materials or final product formulation, many of the HPP products are now being further processed into treats and other products that can be marketed at ambient conditions," he adds. "HPP products require cold/frozen storage. HPP cannot be applied to products that are dehydrated as the process requires relatively higher water activity levels for effective microbial inactivation."
Facility growth
While the pet food industry continues to expand, there's also simultaneous acquisition of small and large brands by legacy giants. For example, Post Holdings recently acquired several of J.M. Smucker's pet food brands, including Rachael Ray Nutrish, 9Lives, Kibbles 'n Bits, Nature's Recipe, and Gravy Train, as well as its private label pet food business for about $1.2 billion.
All this brand movement and anticipated growth likely means more facility construction—either greenfield or expansions—to accommodate demand. And while a company like Post Holdings now oversees both dry and wet food brands, it's unlikely their processing facilities will be consolidated to manufacture those dry/wet brands under the same roof, according to Paul Kornman, senior project manager, Gray Solutions.
"The front end of all these pet food processes is very similar," says Kornman. "The companies accept a fresh or frozen meat ingredient, mix with other ingredients, then extrude. However, to house all these processes within one facility would create challenges on all fronts, such as hygiene, cost, building space, storage, and temperature deltas, among other factors, and likely be difficult to operate."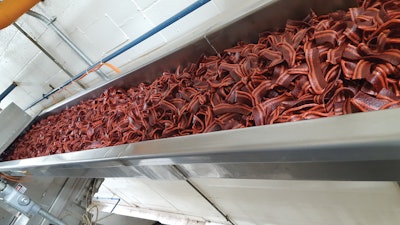 For dry processing, "most of the older factories don't have the space to handle the volume of ingredients nowadays, so the industry needs to invest in retrofitting or building new factories that can handle all these additional powder ingredients in the future," says Christian Keilbach, project manager at material handling company Azo.
Despite the increased number of pet food brands and volume of products created, the number of producers has changed little, Hapman's Smith says. "Behind the scenes, it's a smaller number of people producing the finished goods than you think, with multiple product and package types coming from the same facilities," he says. "There's a lot of co-packing in this space, where a brand does not own its own production, but contracts out manufacturing of a specific blend and product unique to them, and one facility may cover several brands. Many of the [pet food] producers actually use a mix of in-house and outsourced production depending on their product."
Companies in this article
Videos from Hiperbaric - High Pressure Processing