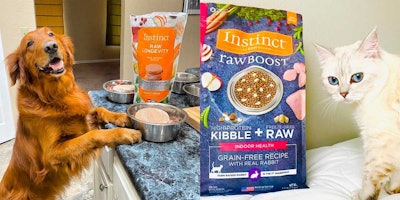 Instinct Pet Food
One of the fastest-growing segments of high-pressure processing (HPP) today is raw pet food. As HPP technology evolves to remove foodborne pathogens in fresh and uncooked ingredients, so do the options for pet owners to feed their cats and dogs raw meals.
Processing raw pet food through HPP requires the same meticulous testing as human foods like guacamole, fresh juices, dips and deli salads before reaching store shelves. One pet food company committed to HPP as a food safety and nutrient preservation tool is St. Louis-based Instinct pet food. Positioning themselves as a premium brand of raw pet food, the company has carved a niche in this growing segment through diligence in applying HPP every step of the way.
Instinct's COO, Bobby Harris, addressed attendees at the Cold Pressure Council's annual conference in Chicago, and explained his company's strategy for using HPP to ensure safe production of their raw pet food. Here are some of the highlights from Harris' session, which are applicable to any company looking to manufacture raw pet food.
Why raw?
Harris cited a University of Helsinki study of more than 4,000 dogs that determined raw foods have a higher nutrition value and can reduce incidences of allergies and illness in canines. The study concluded that if just 20% of a dog's diet is raw food, the animal will start to realize those health benefits. Conversely, if a dog's diet is less than 20% raw foods—replaced by heat-treated, commercially produced dry kibble, for example—the risk of allergies and illness increases.
"We're really riding on the backs of this study, showing some pretty definitive outcomes that feeding raw has advantageous nutritional benefits, as well as some disease mitigation," said Harris. "So, we've been committed to this journey since the inception of the company."
While the University of Helsinki study shows the benefits of raw pet food, many in the veterinarian community, according to Harris, are skeptical of raw pet food, primarily because of the increased risk of pathogens like Salmonella, Listeria monocytogenes, E. coli, Campylobacter, Yersinia, and others in raw meats.
Harris said this is where HPP enters the process. HPP extends the shelf life of fresh and perishable foods by applying carefully calibrated pressure to a product—often already packaged—which destroys bacteria and pathogens that can cause foodborne illness. HPP can add between 90 to 120 extra days of shelf life depending on the product, without altering the texture, flavor, or color. For Instinct, some varieties of its raw pet food go through HPP before being further processed to freeze-dried.
"We believe that HPP allows us to create safe raw pet food as part of a multifaceted component without breaking that protein bond. It also retains a lot of the heat-sensitive bioactive compounds that are so important for palatability," said Harris.
HPP and food safety
Harris detailed how he wanted Instinct to serve as an example for the rest of the industry regarding raw pet food and food safety with a "multi-hurdle" HPP testing approach, so the company partnered with the University of Nebraska and the Illinois Institute of Technology to carry out those tests. The ultimate goal in the future, said Harris, is for Instinct's raw pet food to be recognized by the USDA, APHIS, and the FDA. It is already certified SQF for food safety and quality by the Safe Quality Food Institute.

"We know we have competitors out there that choose not to HPP certain proteins, and we think that's a mistake," noted Harris. "We think given enough time with enough product in the marketplace, [those companies] are putting themselves at risk. And quite frankly, they're putting the category at risk."
Part of Instinct's strategy includes avoiding a one-size-fits-all HPP test for pathogens, and instead measure how each type of meat used—rabbit, beef, salmon, venison, lamb, and others—reacts individually to HPP from a time, pressure, and temperature standpoint.
"You need to understand what the individual components are for your particular [raw pet food] formulas," explained Harris. "This lets you determine an HPP SOP (standard operating procedure) for your products. If you try to cut and paste somebody else's formulas, you may be creating a disadvantage for your customers, and perhaps your company. Not all meats respond the same to HPP pressure. There's a max pressure that most HPP manufacturers would recommend, but within that pressure, find what's right for your company."
Harris used beef as one example of Instinct's multi-hurdle approach to HPP testing, noting they used two different lots with six different strains of Salmonella. "We had a very encouraging outcome, and with the combined time, pressure, and temperature we used, we were able to achieve a greater than five-log reduction," he said, adding that the tests showed HPP is also very good at reducing or completely mitigating viruses, yeasts and molds.
"Our studies that we've done in combination with the universities indicated no destruction of key nutrients and meet the criteria of being a full-meal component via ethical standards and palatability," said Harris. "We found through work with the University of Nebraska that grind size matters, the fat content within your formula matters, and the bone particles matter—they all play a role in developing a unique formulation for your brand."
Safe suppliers
Instinct and its direct competitors in the raw pet food category aim to create premium-priced products, and therefore rely on suppliers with high-quality ingredients.
"It's really important that you go as far up the supply chain as you possibly can in your selection," advised Harris. "All chicken suppliers are not the same, for example. Our food safety team, in conjunction with our production and our R&D team do a terrific job of vetting out partners we can trust. And then we go back during certain cycles and validate that they're still doing the best practices we agreed upon."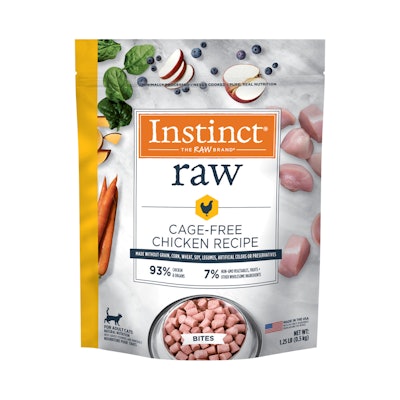 Harris said to be selected as an Instinct supplier means a supplier's "knockdown methods" for reducing total bacterial microbial load in their ingredients must meet Instinct's standards. This includes Instinct regularly reviewing supplier trend charts for pathogens and overall freshness of product. "These are all components of whether we'll accept somebody as a new supplier, no matter what their price point is," he said. "These are things we do on the front end to give ourselves the best fighting chance of having a successful pathogen test at the very end."
Speaking of the end-result, Harris mentioned that Instinct's raw pet food products have been tested not once, but multiple times for pathogens before they're released to the marketplace, and that those are extra, sometimes pricey steps that all manufacturers in the raw pet food industry should take if the segment is to grow and succeed in the future.
"There are people in our category that choose not to do any real pathogen mitigation steps, and we think that's irresponsible," Harris explained. "If everyone in our category were to have a similar approach [as Instinct] we think some of the stigma that comes with raw pet food would be quickly erased, because we know some of our biggest naysayers are veterinarians, who will readily admit they don't learn a lot about nutritional benefits in veterinary school, and not a lot about food safety."