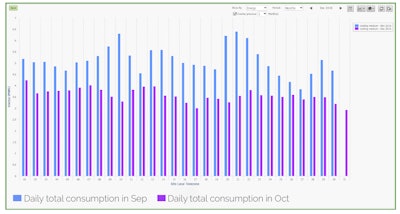 Key performance indicators (KPIs) unleash strong opinions in the food and beverage industry and, in general, manufacturing, with hotly debated topics such as overall equipment efficiency (OEE) or the capacity utilization metric. The total manufacturing cost per unit excluding materials is a straightforward measurement of production, but maintenance costs can comprise 15 to 20 percent of production costs for food and beverage producers.
Those are alarmingly high percentages, and the 2017 PMMI Trends in Food Processing survey shows plant managers are evaluating many automation solutions to contain asset management costs. The options include full-blown Industrial Internet of Things (IIoT) approaches, condition monitoring, adding more sensors and even machine components that increase production availability.
Adding sensors introduces IIoT technology and gives food producers the chance to build upon small successes. A new sensor solution from Panoramic Power offers just this type of solution and combines operational efficiency with energy management.
"Energy management has historically been about discovering and eliminating waste," says Jon Rabinowitz, head of marketing for Panoramic Power. "In recent years, that understanding has been increasingly applied to improving efficiencies in process and equipment operations."
This energy management solution begins with the sensors monitoring power load levels of circuits tied to crucial components or equipment, for example, an induction motor or a pump. The goal is to identify an "early" surge in power levels for a piece of equipment and evaluate it with the company's mobile PowerRadar Software analytics platform. Also, sensor integration is easy due to these sensor being installed on individual circuits via the electrical panel on the equipment.
Recently, Strauss Group, an Israel-based food and beverage company, conducted a pilot program using Panoramic Power's technology at one of its facilities. The company's innovation department realized data insights on legacy equipment was minimal, according to the Strauss Group.
"The pilot project generated savings across the board for our manufacturing assets and provided intelligent visibility into our energy usage at the system level to help optimize our operations," says Dave Rosenberg, senior engineer at Strauss Group.
After the successful pilot program, Strauss commissioned this energy meets operational solution to three more facilities, with the focus on cooling compressors at their main distribution center. Once installed, operators monitored energy consumption for the compressors in correlation with the ambient temperatures and found an anomaly, according to Strauss Group. The food producer identified an incorrect sequence of operation (SOO) with the compressor, and this condition monitoring approach led to $75,000 in annual savings for the facility.
Other operations and maintenance savings are being found at the component level via a step-change bearing design from technology provider SKF. SKF's wafer oven unit consists of a carrier wheel and a top roller, along with a graphite cage that replaces lubrication for the bearings. The two-piece design includes a rolling element inside with bearings that will wear against the graphite and act as the lubricant, plus it's HAACP compliant.
Lance Inc., a food processor of sugar wafer cookies, uses the lubrication-free wafer oven unit to move forming plates that hold the cookie while being cooked in 400° ovens. One oven contains more than 1,000 bearings.
The previous application at the food plant used teflon powder to lubricate the two, deep groove ball bearings. The company says preventive maintenance on the forming plates occurred four times a year while the new lubricated-free bearings eliminate this approach. The wafer oven unit offers 50,000 service hours of lubrication-free operation.
Companies in this article