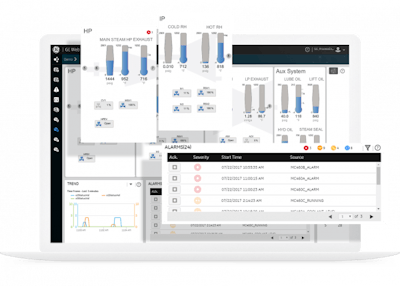 Just before the end of 2018, GE announced the formation of a new, independent company focused on building a comprehensive Industrial Internet of Things (IIoT) software portfolio. This new company comprises GE Digital's IIoT technologies as well as the company's GE Power Digital and Grid Software Solutions businesses. Building from these units' existing business, the company is starting life with $1.2 billion in annual revenues and a base of 20,000+ customers.
With the announcement of this new company in December, the question then became: What would this new business entity do first? We got the answer to that at ARC Industry Forum 2019 with the announcement that iFix 6.0 has been released.
This new version of iFix features enhanced security and alarm capabilities, as well as new HMI/SCADA application development capabilities, according to Matt Wells, vice president of product management at GE Digital.
GE notes that support for ISA 18.2 standards in iFix 6.0 allows for consistent alarm shelving and interface presentation, enabling operators to more easily prioritize critical alarms. A new alarm summary grid in iFix 6.0 allows operators to filter and focus on the critical alarms that matter, making it easier for immediate responders to review information and deal with the priority situation at hand. According to the company, this level of alarm management can help plants increase productivity by up to 70 percent.
New security enhancements in iFix 6.0 have been introduced via the addition of an OPC UA server. Incorporation of the OPC UA server ensures platform independence, meaning that iFix 6.0 can run across a variety of hardware platforms and operating systems, allowing organizations to more easily share data, alarms, and events across supply chains with user authentication and encryption, Wells says. iFix 6.0 security features also include the use of digital certificates and web tokens.
New application development features for HMI/SCADA in iFix 6.0 allow for long tag names and descriptions. This capability can help industrial users capture any existing hierarchy designations from their programmable logic controllers (PLCs), Wells says.
To help engineers create the right HMI/SCADA user experience, iFix 6.0 contains pre-defined objects and templates designed in accordance with high-performance HMI concepts, per ISA 101 standards. This means that iFix 6.0 also allows assembly of graphic content using external HTML5 editors, as well as automatic picture publishing for web HMIs. According to GE, "Rapid application development [features of iFix 6.0] significantly speeds the configuration and deployment of HMI/SCADA, reducing costs and saving time for automation systems integrators and in-house engineering teams."
Wells says that more product enhancement news related to GE Digital software would be forthcoming in the first few months of 2019. One of these forthcoming announcements will focus on the Predix Manufacturing Data Cloud. This technology is an extension of GE's manufacturing execution (MES) software that will allow customers to aggregate data from multiple systems into a single, cloud-based, structured data store. "This will aid regulatory compliance and the ability to do more comprehensive analytics," Wells says. He notes that Procter and Gamble is already rolling this out to dozens of sites to "allow them to take the next step in their digital transformation."
"The GE Digital story is still being written," says Karthik Suri, chief operating officer at GE Digital, during a meeting at the 2019 ARC Industry Forum. "We will meet customers wherever they are in the journey toward their digital transformation. We have offerings to help get machines connected and do proofs of concepts with short-term payback. We can start with our core products like Cimplicity, Historian and iFix to help determine and improve overall equipment effectiveness (OEE). From there, we can get into dashboards to optimize operations. We are also productizing our artificial intelligence, machine learning and asset performance management technologies."
Suri added that end users across industries are increasingly requesting "productized" technologies. These are "available solutions that are scalable and part of our portfolio out of the box—not one-off builds designed for a customer's particular application," he says. "With our new business, we're connecting this all together—from off-the-shelf products to advanced capabilities."
Companies in this article