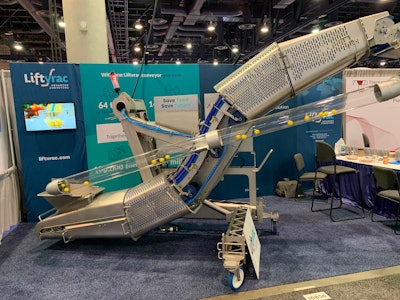 Michael Costa
Liftvrac has elevated the hygienic features on its signature conveyor system, which utilizes vertical space to move bulk foods quickly and efficiently without losing product along the way.
The 2023 version of Liftvrac's conveyor made its debut in the U.S. at PACK EXPO Las Vegas, with an updated hygienic open design for easier cleaning, a streamlined sanitary single-belt system, and reducing the number of parts for the conveyor's belt scraper down to two for more efficient reduction of product loss during production.
Nicholas Lamagnere, technical sales support specialist at Liftvrac, adds that overall, the 2023 version of their conveyor has a 25% reduction in the number of parts compared to previous models.