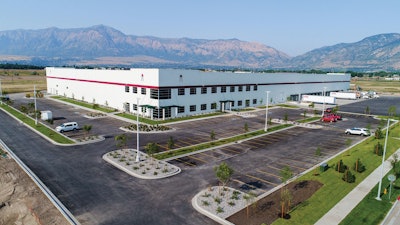 Photo courtesy of Honeyville Inc.
Growth is on the agenda for Honeyville Inc. With the opening of its 200,000-sq-ft manufacturing plant in Ogden, Utah, Honeyville is looking to stand out in the co-packing sector by optimizing the production and food safety treatment of its various blended dry mix products with state-of-the-art blending equipment, a proprietary heat treatment system, and diverse packaging lines that meet the needs of both food and beverage manufacturers and consumers.
The family-owned company has come a long way since it was founded by Lowell Sherratt Sr. in the 1950s. Sherratt bought a rundown mill in Parowan, Utah, to crack grain for a feed company in Southern California. He later moved the company to the Honeyville, Utah, using the town's name as the moniker for his company, Honeyville Grain. Over the years, Honeyville has expanded its lineup of grain-based and bulk products. They include grains and seeds, including wheat, barley, and rice; flours, such as almond, bread, and cake flours; salts; nuts; sweeteners; and dried foods, like legumes and fruits. Today the company produces 140 million units a year for food and beverage manufacturers, retail stores, restaurants, bakeries, and hotels across the United States. It has manufacturing and distribution facilities in California, Utah, and Arizona.
In 2017, Honeyville constructed the new facility in Ogden. It wanted to enhance the processing and packaging of its blended dry mix products to better meet the needs of its co-packing clients and the evolving demands of their consumers. Those stable of products include breakfast and dessert mixes, such as crepe, waffle, cookie, and cake mixes; drink blends, such as cappuccinos, teas, and powdered milk; soup mixes, like cheddar broccoli and split pea; and dried meals, including sweet and sour rice and Parmesan risotto.
"This facility in Ogden was built with a state-of-the-art mentality and with a deep desire to meet the stringent high food safety standards and manufacturing standards that are required in the industry," says Richard Larsen, former vice president of product development, who recently retired from Honeyville after 43 years with the company.
"We saw an opportunity for growth in the mix/blend co-packing sector," says COO Nate Hyde. "It was the area of the marketplace that we could disrupt. We thought it had the highest growth curve and market segment that wasn't completely serviced."
Speedy process
To speed up the blending of the mixed products, Honeyville installed two fluidized paddle blenders from Eirich Machines. The blenders eliminate roll-apart segregation caused by gravity when mixing ingredients of varying density, shape, and size. It achieves this homogenous mix thanks to fluidization, which combines a defined geometry lifting action with a triple-paddle, multizoned rotor turning about 80% faster than a ribbon blender. As result, Honeyville has been able to increase throughput between 30% and 34%, Hyde says.
"The fluidized paddle blender uses a high speed to blend, and it actually helps aerate at the same time compared to a ribbon blender, which has a lower speed," Hyde adds. "So the blending times with the fluidized paddle blender are significantly reduced."
Safety first
Food safety is also a top priority at the Ogden plant. Produced in batches, the dry mix blends are processed in a closed system. From blending to filling to packaging, each part of the process is confined to its own room with an air filter system to prevent cross-contamination.
Honeyville further mitigates food safety risks with its proprietary TempSURE heat treatment system. The patented process involves subjecting the finished product to heat as a kill step inside a chamber to reduce or eliminate harmful levels of bacteria. Special heat probes monitor the temperatures to ensure a 5-log pathogen reduction. Because the process doesn't require radiation or chemical fumigants, organic, gluten-free, and GMO products can be heat-treated safely. In addition, the product can be treated in its packaging, killing any pathogens in both the both product and packaging.
Packaging options
The Ogden plant has also diversified its packaging lines beyond rigid packaging to meet the needs of both the manufacturer and the consumer. While Honeyville still offers cans, bag-in-carton packaging, and bulk totes, it now has more flexible packaging options, including stand-up pouches, pillow bars, flat bottom bags, and paper and plastic cups.
Honeyville's customers have the option of supplying premade bags or rollstock for their products. The company installed a pre-made bag fill machine from Cloud Packaging Solutions along with vertical form/fill/seal equipment from Triangle Package Machinery Company that can accommodate rollstock.
According to Honeyville, more consumers want their products packaged in flexible packaging. One reason is because flexible packaging allows them to use a portion of the product and then reseal it to maintain product freshness. Another reason is flexible packaging lends itself to single-serve packaging, which offers portability for their on-the-go lifestyles. That's why Honeyville not only installed vertical form/fill/seal and horizontal form/fill/seal equipment, but a cupping line, too.
With the packaging line in place, as well as cutting-edge food safety protocols and blending systems, Honeyville is confident it can corner the co-packing market for dry mix blends. "The demands of the consumer and co-packer seem to be evolving. So we're trying to evolve our technology at the same time so that we can be ahead of the curve rather than fall behind our competitors," Hyde says.
Make plans to visit PACK EXPO International in Chicago, November 8-11, to see the latest technologies for food processing and packaging machinery and materials.
Companies in this article
Videos from Eirich Machines - American Process Systems