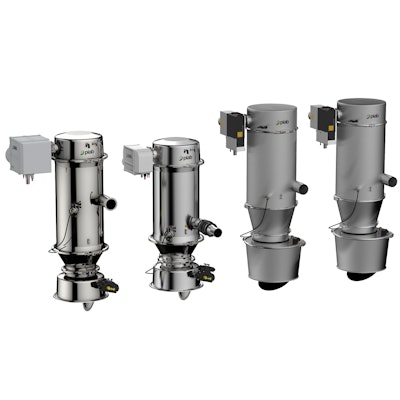 The Piab piFLOW Batch Volume Optimization vacuum conveying solution is easy to maintain, compliant with industry standards, and enhances productivity dramatically. The vacuum conveyor takes solids from a pickup point and releases them into a receiving vessel or a piece of equipment in batches. Batch Volume Optimization features a level sensor. Once the conveyor is filled up by each cycle, the sensor automatically triggers the release process. This way, operators can set the conveyor up quickly, and the automatic level sensing adds an extra layer of safety, which protects the equipment from unplanned maintenance.
"Even robust industrial equipment is used by humans—we can't expect people to adopt automation techniques if they have a hard time understanding it. It works the same way as adopting new mobile technology or other personal devices. If we manage to make it accessible, it will be easy to adapt for the users," says Laura Katinaite, director of product management. "Piab is a true pioneer in finding easy-to-use solutions. We are a Swedish company, having a long experience of evolving industrial processes—it is in our DNA. We believe this new product series will be easy to adapt first and foremost for those who switch from manual handling or some forms of mechanical conveying and will enhance experience of using vacuum conveying for powder handling."
Batch Volume Optimization represents a medium-level of automation in the piFLOW range. The full range spans from standard product series to Auto-tuning, a fully automated vacuum conveying solution.
Companies in this article