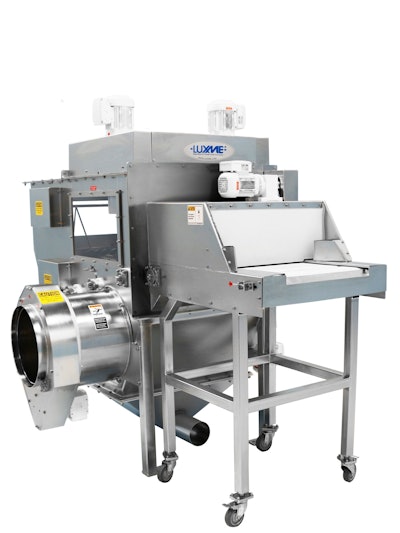 Addressing the food industry's need for a hygienic, bulk ingredients, high-volume bag opening solution that eliminates dust, the Luxme MiniLux automated food-grade bag slitter is constructed to FDA standards with self-contained dust collection and recovery.
Facilitating a healthy, safe, and hygienic working environment by recovering both airborne and trailing product, the MiniLux slitter protects workers from occupational breathing conditions and reduces the risk of explosion by containing all dust particles within the system itself.
Capable of opening up to six 25-kg bags per min, the MiniLux processes most 25-kg bag types and sizes on a continuous basis, allowing batches with a variety of bag sizes, weights, and constructions to be slit and opened in a single run without setup adjustments. To accommodate clean-out, there are access panels on each of its four sides.
All the internal components are designed to USDA standards to allow for easy and thorough cleaning, comprising food-caliber, FDA-approved materials. In addition, material finishes are of AAA quality, the highest food-grade standard available.
The MiniLux comes with an optional upgrade of a recovery tumbler complete with dust recovery. Opening, rotating, and tumbling empty bags numerous times, it releases any remaining product to make the solution more cost effective, boasting a 99.3% to 99.98% efficiency depending upon the free-flowing characteristics of the product.
Companies in this article