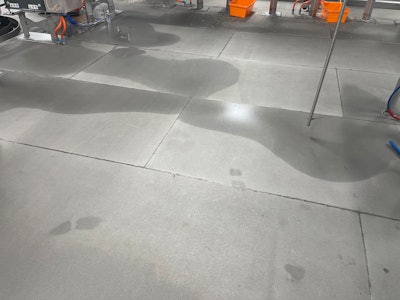 Commonplace inside food manufacturing facilities are elevated surfaces—platforms, crossovers, catwalks, and ladders—allowing employees to maneuver around equipment. It's not uncommon, though, for these elevated surfaces to quickly become wet and slippery with liquids, greasy animal proteins and fats, blood, and oil spillover.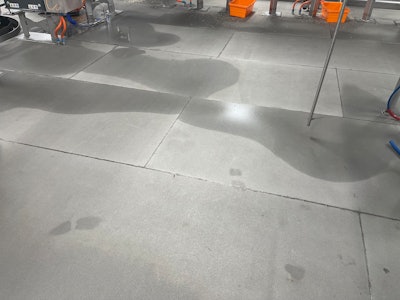 Simmons Foods, a supplier of poultry, pet, and animal nutrition products, traditionally used stainless steel diamond plates on its mezzanines, which were then covered with neoprene mats to mitigate the slipping hazards common when diamond plate becomes wet, that were none too easy to clean, in the tread areas to mitigate slippage. "But overtime, as the oils reacted with the rubber [in the mats], they would wrinkle up and then became a trip hazard. And so people were tripping on the mats," says Kyle Nieman, senior engineering manager for Simmons Foods. Nieman leads the engineering team that implements capital projects at nine facilities in the regions of Van Buren and Siloam Springs, Ark. The mats at difficult to clean, and when they become too old and wrinkled, they have to be replaced, increasing their cost.
The food producer had known of SlipNot's anti-slip flooring for some time but had not wanted to spend the extra cost. However, as mat after mat became a tripping hazard and had to be replaced, and as slips, trips, and falls became more of an issue, it became obvious the extra cost would be worth it.
Maintaining anti-slip properties over time
About six years ago, Nieman started using SlipNot flooring technology on mezzanines or platforms that his team constructs at new facilities, as well as on surfaces in older facilities being remodeled. The SlipNot coating technologies are a good fit for Simmons' needs because they are compatible with the stainless steel surfaces required in food and beverage manufacturing.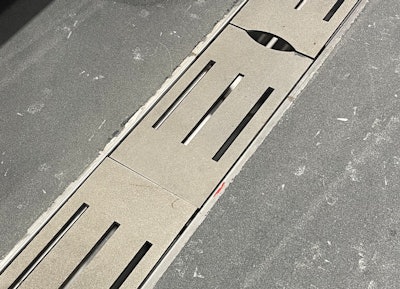 The company even installed covers for trench drains along its meat processing lines, fabricated with SlipNot coating because those areas became slip risks. Each facility has about a dozen SlipNot-covered trench drains that are either 12-inches or 20-inches wide. Simmons has installed hundreds of linear feet of the anti-slip trench covers.
The Simmons team can clean in place the abrasive SlipNot surfaces using standard sanitation practices, which include high-pressure hot water and sanitizer. Because the stainless steel of the SlipNot surface is prone to rusting, Simmons uses a passivation cycle after installation.
Unlike other anti-slip surfaces, which become more slippery as they wear down, the SlipNot anti-slip coating is made up of a random matrix of thousands of tiny peaks designed to maintain their anti-slip properties over time. "The oldest SlipNot-coated platform we installed six years ago doesn't seem any different than the day we put it in," Nieman says.
Even when wet from liquids, detergent, and oils, the surface retains its high-friction qualities, so production can continue despite the presence of liquids that would otherwise bring it to a halt.
SlipNot surface properties:
Maximum bond strength of more than 4,000 psi
Can be prefabricated or manufactured to order in stock and custom sizes
Can be applied to materials supplied by the customer
Available in three grades (fine, medium, and course), three alloys (stainless steel, steel, and aluminum), four finishes (mill, painted, powder-coated, and customized), and various color options
Can be drilled, welded, masked, or detailed, and sheared or cut with

flame, plasma,

or laser to customize solutions for facility application and design considerations
Benefits of SlipNot surface installation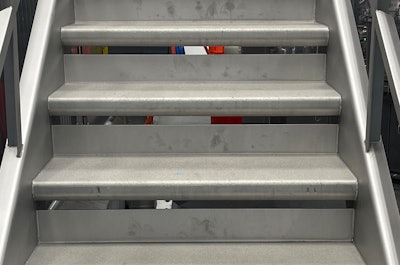 The number of employee slips, trips, and falls has decreased tremendously since installing SlipNot surfaces, Nieman said, and so have the worker compensation claims. Simmons is very happy with the improvement in worker safety and the company's specification is that any and all platforms or drain covers—exceeding a certain width—will be installed with SlipNot coating.
"You can't put a value on keeping just one employee safer than they were," says Nieman. "We want to provide a safe work environment for everybody."
---
Companies in this article