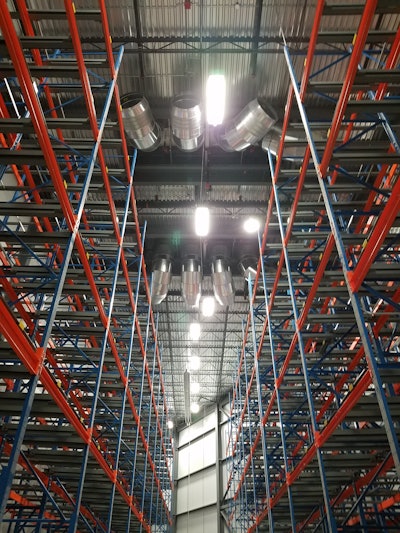 Congebec is the largest refrigerated service provider in the province of Quebec, Canada. The company has more than 400 employees and owns 13 facilities, which total to more than 50 million cu ft, all located in the areas of Quebec, Ontario, Manitoba, Saskatchewan, and Alberta.
For its new cold storage facility located in Ontario, Congebec needed a refrigeration system that would allow two freezers and two cooler-freezers, as well as a loading dock to be held at consistent temperatures.
In determining what type of system was needed, Jean-Francois Labelle, vice president of engineering for Congebec, had to consider a number of factors, including complying with all environmental, energy ,and safety regulations; achieving a low total cost of ownership; and fulfilling the company's commitment to being socially responsible.
For environmentally friendly operations, ammonia refrigerant is a good choice. Not only is ammonia a natural refrigerant and is efficient, it has no global warming or ozone depletion potential. However, there are certain risks associated with large ammonia charges, so it was important for Congebec to find ways to minimize its ammonia system charge.
"What we were concerned about is the level of ammonia in our building because it does affect our safety, and it does affect the quality of the product if there is any leakage," Labelle says.
After researching systems, Congebec decided to install the Frick Low Charge Central System (LCCS) to its operation.
"What caught our attention with the Low Charge Central System is the ability to lower our ammonia presence by more than 80%," says Labelle.
Minimizing risk
Traditional refrigeration systems use large quantities of liquid ammonia that are stored in vessels, which is then sent through piping to the evaporators through the plant. The LCCS design eliminates the centralized evaporative condensers, the ammonia storage vessels, the long liquid supply lines, and return lines. This is done by distributing only vapor throughout the plant, not liquid ammonia.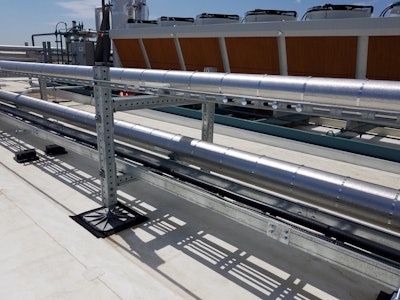 Liquid ammonia is minimized in the LCCS through the concept of localized condensing by using remote distributed condensing (RDC) units. The ammonia vapor is only condensed to liquid at the point of use. There is no liquid ammonia in the engine room, and it only exists in the plant in close proximity to where it is needed. The amount of ammonia in the refrigerated space is drastically reduced, which minimizes any potential product damage and risk to workers in the case of refrigerant leak. With its focus on efficiency and the bottom line, as well as using sustainable solutions, Congebec installs a low-charge central refrigeration system in its new freezer and cooler facility.
This method of distributing only vapor ammonia throughout the plant is a much safer system. Due to the huge density difference between vapor and liquid (for example, vapor is 56 times lighter than liquid at 95 °F saturated condition), the mass quantity of ammonia in the LCCS system is far less than a traditional system. This reduction in refrigerant charge may enhance the safety of food and beverage factory personnel and people living or working in the vicinity of a production plant. In addition, the low charge can in some cases ease the regulatory burden and compliance costs for facilities.
"We are now able to be in front of any potential regulation change," says Labelle. "By reducing the ammonia, we have minimized the safety risk to our employees."
Safe space
The LCCS design results in only vapor compression housed in a much smaller engine room, where each compressor can be serviced out of the elements. Workers have direct and open access to key components, which makes it easier to inspect, test, and maintain while maximizing worker safety. The entire refrigeration system is managed by Frick controls.
The central system's nature enables the LCCS to use larger and more efficient compressors, up to 25%, compared to those found in many packaged "all-in-one" rooftop systems. Plus, because the RDCs are modular and scalable, the LCCS offers more flexibility in design and installation and can be modified if the facility's usage changes.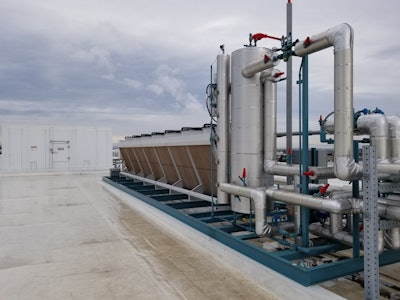 This system has resulted in a total refrigeration load capacity for the Congebec facility at 540 TR with 1,800 lb (about 3 lb per TR) ammonia charge for the 178,000-sq-ft building.
And if Congebec decides to expand its plant in the future, the LCCS makes it easy to do so. To meet additional freezing or cooling demand in additional or larger rooms, only more RDCs are needed.
Companies in this article