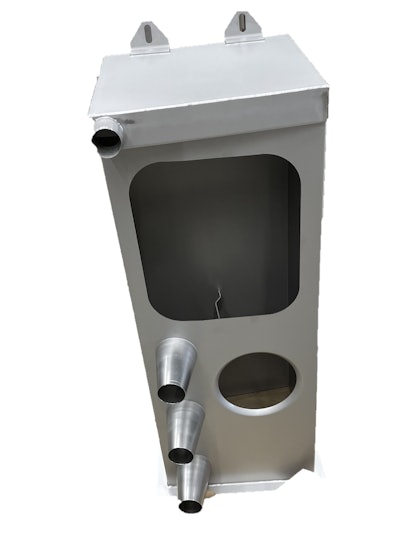 As part of their on-going "Leading Technology" commitment to improving the sanitary design of its ovens, smokehouses, and other thermal processing systems, Schröter Technologie has reduced or eliminated potential microbial harborage locations in their systems. Previous sanitary design developments include full CIP cleaning lines in all hidden areas inside the air processing section, the ductwork, and smoke piping; sloped horizontal surfaces to enhance drainage and prevent water collecting; wagon guide rails and other interior fittings designed with offset mounts and an open, accessible design for thorough cleaning and easy inspection; and automatic cleaning valve manifolds, operated by a customizable cleaning programs for thorough, repeatable cleaning.
As the next step in the evolution of sanitary design, Schröter has set its sights on the air supply ductwork, specifically the air supply nozzles. The conventional smokehouse design has the supply nozzle cones inserted into prepared holes in the supply duct, and then welded in place on the outside of the duct only. The result is a gap that remains around the nozzle on the inside of the duct. This gap can hold water, tar, or other contaminants, and is not easily cleaned or drained.
Now, new Schröter THERMICjet ovens, hot smokehouses, and other Schröter thermal processing chambers can be equipped with air supply ducts with fully, cleanly welded nozzle cones. The result is no more gap, no more harborage, improved cleaning, and less air resistance.
Companies in this article