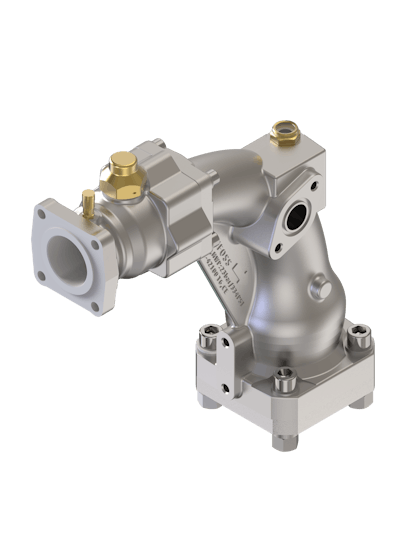 The new Danfoss innovative solution for oil-free chillers and heat pumps offers enhanced system reliability and efficiency. The oil-free centrifugal market is growing exponentially around the world driven by a need to reduce system running costs, complexity, and system size. The new Danfoss OFC check and stop valve incorporates a damped nozzle check valve, stop valves, and diffuser function to address the major application pain points.
The nozzle check valve remains open at minimum flow, closes quickly if there is a system stop generating refrigerant backflow, and improves stability during surge, closing, and opening for enhanced compressor reliability. Decoupled stop and check functions allow fast access and improve reliability of sealing. The lock ring design prevents unintentional ball valve closes.
The OFC valve has a built-in sight glass, which provides direct visibility of proper check valve functioning. The built-in pressure port connects to a high-pressure cut out as an added safety measure.
Minimizing pressure losses is critical to ensure optimum system efficiency. This is even more important at part-load conditions needed to meet the latest efficiency guidelines. Optimizing the flow path within the valve improves flow capacity and reduces pressure drops by up to 70% compared to using an alternative piston type valve, axial wafer valve, or swing wafer.
Production planning is much simpler as the OFC valve is an all-in-one solution. There is no need to combine multiple components and store spare parts in inventory. Installation is fast and easy, allowing companies to start production quickly with shorter lead times. The OFC valve can be set up in three positions, either vertically, horizontally, or at a 45-deg angle to optimize space and minimize piping. The new OFC valve is also compatible with the Danfoss portfolio of TT and TG Turbocor compressors—the world's first oil-free magnetic bearing compressors for the HVAC industry.
"At Danfoss, we are continually developing components for efficient oil-free systems," says Frank Ford, director of product management at Danfoss Turbocor. "With the OFC check and stop valve, customers can avoid high-pressure drops and unstable performance. Through our innovative approach, we have patented the check valve design used in the centrifugal compressor discharge line. There is no other product on the market today that has the capabilities of our unique OFC check and stop valve."
Companies in this article