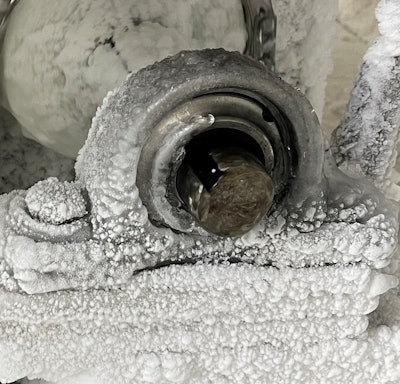 Graphite Metallizing Graphalloy self-lubricating bearings for extremely low-temperature applications are suitable for industrial freezers, frozen pizza conveyors, general frozen food conveyors, flash-freeze seafood applications, and cryogenic applications, such as cryogenic pumps. The bearings maintain lubrication at these temperatures due to the self-lubricating feature of the material. It has proven successful down to ‑400°F.
Graphalloy, a graphite/metal alloy, is formed from molten metal, graphite, and carbon. It is a uniform, solid, self-lubricating bushing and bearing material that offers superior performance in hundreds of applications. It is well-suited for submerged, high-temperature, and low-temperature applications where grease, oil, and plastics fail.
Graphalloy is available as plain bushings, flange block units, pillow block units, and cam followers. It is available in FDA-acceptable grades. The bearing material is also successful in high-temperature ovens and in applications with caustic washdowns, due to its self-lubricating qualities.
Companies in this article