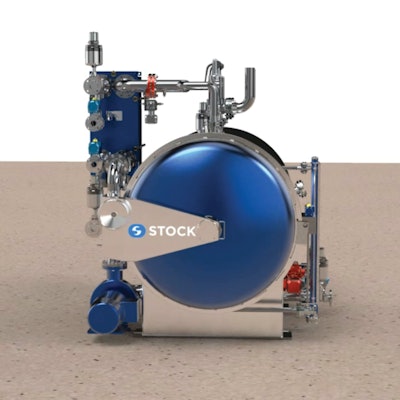 The Stock ImmersaFlow batch retort process provides precise control of process media fluid dynamics and the path of least resistance, resolving load resistance problems. No more waiting for gravity to work or the need for increased process utilities to achieve homogenous temperature profiles.
The innovative technology utilizes a closed loop column of process water, channeled through a plenum and closed wall baskets. In essence, ImmersaFlow creates an immersion process within the basket. Outside the basket, the retort shell is primarily empty, minimizing water usage and reducing the amount of heat required for the process.
By having control of the process media, ImmersaFlow has realized four- to six-min Come Up Times (CUT), with as little as a 2°F spread between the geometric center and permitter of the load. A faster, tighter CUT to process temperature allows for more throughput, a more consistent product heating profile, and an overall reduction in energy consumption.
Companies in this article