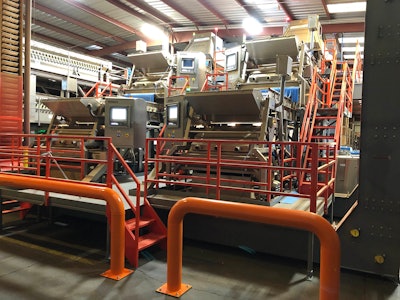 Photo courtesy of Monte Vista Farming Company.
Monte Vista Farming Company isn't taking any chances. Instead of just using one type of inspection equipment, the Denair, Calif.-based almond processor invested in a suite of sophisticated sorting machines to ensure its products are free of defects. These machines feature an innovative combination of x-ray-, laser-, spectral-imaging- and camera-based technologies that have helped the company boost throughput, enhance yield, and vastly improve the quality of its product.
The company processes about 50 million pounds of almonds a year and sells them in bulk to food and beverage manufacturers across the U.S. and globally. For the last three years, the processor used an electronic sorter as its primary inspection equipment, but it proved to be ineffective at removing much of the foreign materials from the almonds and detecting and rejecting damaged almonds, slowing the manufacturing process. "We were still finding so many defects downstream," says Jonathan Hoff, CEO of Monte Vista. "We knew we needed to find a different solution that would provide a better, more accurate sort to eliminate a lot of these defects and, therefore, help us become more efficient and enhance our quality."
That's when Monte Vista turned to TOMRA Food, which recommended that Monte Vista install three pieces of TOMRA inspection equipment to maximize removal of foreign materials from the almonds and ensure accurate rejection of damaged almonds while improving capacity and yield. "You want different types of technology in order to see different types of defects," says Brendan O'Donnell, global category director for nuts at TOMRA.
"The TOMRA equipment are really broad-spectrum machines," Hoff says. "We've arranged them in a way that we've got each machine focusing on a different defect so that each can be as efficient as possible."
Subject to intense scrutiny
After the almonds are shelled, they enter the TOMRA Ixus Bulk x-ray via infeed conveyor. The x-ray detects free-flowing and embedded dense foreign materials, such as metal, stones, pits, glass, and high-density plastic. A powerful air gun blows the materials off the almonds into a reject stream.
The almonds then enter the TOMRA Nimbus optical sorter, which uses a combination of lasers and TOMRA's patented Biometric Signature Identification+ (BSI+) technology to scan the almonds for subtle and smaller defects, visual irregularities, and foreign materials that the Ixus missed, such as pieces of shells, twigs, resin, other types of nuts, and sap coming out of the almonds. Using visible and near-infrared light across the multispectral zone, the BSI+ technology inspects the chemical and molecular characteristics of the almond's surface and internal structure. As it examines the biometric characteristics of the almonds, the BSI+ module compares them to the criteria that Monte Vista has programmed into the machine to determine whether the almonds should be accepted or rejected. Multiple high-resolution lasers add another level of scrutiny, sorting the almonds based on color, structure, and biological characteristics. Laser scanning can detect contaminants even when the almonds and defects are the same color. A precise, powerful burst of air hits the defective almonds and pushes them into the rejection zone, while the good product moves on for further inspection.
The sorting process continues with a second Nimbus machine inspecting the almonds. This Nimbus, however, is equipped with BSI+ technology on both sides of the machine to determine if the almonds have been damaged by insects or mechanical means. "To the human eye, it might not look that different," O'Donnell says. "But it really is important to separate those two types of almonds. And the biometric signature is really good at being able to tell the difference between an almond that is insect damaged versus an almond that is mechanical damaged."
Almonds with insect damage are diverted away from the processing line. Because they are considered inedible, Monte Vista will sell them to manufacturers that will use the insect-damaged almonds to produce oil stock for items like cosmetics. Broken, chipped, and scratched almonds fall into the category of mechanical damage and are directed to a separate reject stream. They are still edible, but they cannot be sold as whole nuts. Rather, Monte Vista sells these visually blemished nuts to manufacturers that make products such as almond flour, almond butter, marzipan, and almond milk.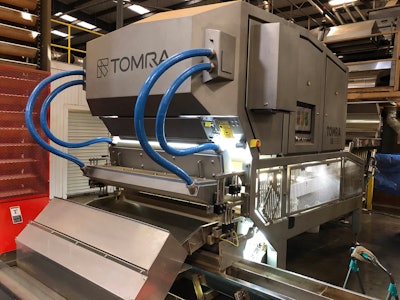 The almonds remaining at this point move into sizing machines to be sorted and classified by variety, size, and grade before entering the TOMRA 5B optical sorter for a final check of mechanical damage and foreign materials. The sorter uses a combination of lasers and smart-surround-view camera technology with 4K resolution and lenses with an advanced focusing system for a 360-deg inspection of the almonds. The cameras inspect the product based on algorithms programmed by Monte Vista for color, biological characteristics, and shape (length, width, diameter, area). It only takes a few milliseconds for the TOMRA 5B to scan the almonds and sort them into three streams: Almonds with foreign materials go into one reject stream for further processing and inspection. Almonds with mechanical damage are diverted into a separate reject stream and are slated to be packaged later. Acceptable almonds are conveyed to the packaging line.
Monte Vista spent seven months preparing the plant's infrastructure for the TOMRA equipment. In October 2019, the company started the installation process. To ensure the efficient processing and inspection of the almonds, Monte Vista installed two inspection lines upstream and moved the sizing machine downstream. Each inspection line is equipped with an Ixus x-ray, Nimbus optical sorter with laser and BSI+ module, and Nimbus sorter with double-sided BSI+ technology. The company integrated one TOMRA 5B sorter with its packaging line downstream.
Ripple effects
Since the company completed the installation of these seven pieces of TOMRA equipment in February 2020, Monte Vista has already reaped a return on investment. According to Hoff, the TOMRA equipment has generated 30% more throughput per hour on the processing line as well as 30% to 50% more throughput per hour on the packaging line.
Hoff credits the increase in throughput to not only the speed of the TOMRA equipment, but also the accuracy of the sorting. As a result, Monte Vista has seen a 40% reduction in insect-damaged almonds and 80% decrease in almonds with foreign materials reaching the packaging line.
The placement of the TOMRA equipment has also been key to boosting volume and product quality at Monte Vista, Hoff says. Monte Vista previously positioned a majority of its sorting equipment downstream just ahead of its packaging line. Today the processor has installed most of the TOMRA equipment upstream. That placement helps ensure that a majority of the almonds are without serious defects or foreign materials by the time they make it to the sizer—helping to enhance efficiency.
For example, because the TOMRA equipment accurately sorts the rejected almonds based on insect damage, mechanical damage, and foreign material, Monte Vista can discard the bins filled with foreign materials and focus on processing the almonds damaged by insects and mechanical means. "We have better visibility into what we have available to sell now," Hoff says. "We won't be spending money on storing defect material that we're just going to remove later on downstream."
In addition, Monte Vista is packaging its almonds much faster and more consistently because 99% of the almonds that arrive at the packaging line are without defects. "The benefit is immense on the final packaging line. If we have quality issues on the final packing line, we slow down because we have to make sure we're removing any defect before it goes out to our customers," he says. "Now that we're able to minimize the amount of defects going into that line, we're able to minimize the amount of additional labor we would need downstream in the process."
Make plans to visit PACK EXPO International to see the latest technologies for food processing and packaging machinery and materials.
Companies in this article