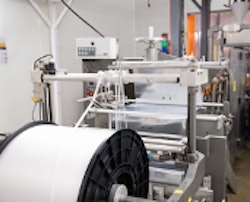 America's heritage food manufacturers are stabilizing their supply chains to maximize production of their top-selling SKUs to ensure these products are always available at shelf level. CPGs are delegating their last mile of production to trusted suppliers, now more than ever before. GreenSeed, an external manufacturer and contract packaging operations that manages the manufacturing and packaging for dry foods and supplements in the natural products category, has seen an influx of projects from large CPGs. 
"These days, CPGs are focusing on strengthening their supply chains with value chain partners that are authentic, transparent and data driven," says GreenSeed CEO, David Gray. "Due to COVID-19, it has been critical for the large multi-nationals to move their manufacturing arm to the CPCM who can handle the sourcing, blending, food packaging, and warehousing. As a result, our projects are steadily building lately due to these new shifts in production."
---
See it Live at PACK EXPO Connects Nov. 9-13: Don't Break My Cracker! Snack Packaging 101, by MULTIPOND America Inc. Preview the Showroom Here.
---
Gray relays that business is up year over year in the retail grocery sector with middle-to-large market CPGs leading the way and continuing to plan for elevated production levels over the next 2 quarters.   
According to market research by Technavio[1], the global consumer goods contract packaging market is expected to grow at a CAGR of close to 8% during the period of 2018-2022. This new study attributes this increase to the rapid growth of the global consumer goods manufacturing market in both developed and developing countries. The study maintains that CPGs who work with co-packers usually outsource their secondary packaging activities to a pure-play contract packaging company.
However, transportation of consumer goods to the contract packagers and the return of the packaged goods to distribution centers can be time-consuming and costly. This has motivated several logistics players to incorporate contract packaging into their product portfolios to avoid such a process in the supply chain—a move that is expected to reduce overall logistics costs by 29% to 31%. In addition to the logistics costs, it will also reduce the time it takes to ship product.
---
See it Live at PACK EXPO Connects Nov. 9-13: Operating with Confidence – Resealable Systems for In-Line Flexible Packaging, by Sealstrip Corporation. Preview the Showroom Here.
---
"COVID-19 has disrupted our supply chains. We've seen exponentially higher runs of some items while other, once popular, items are no longer in demand," says Gray. He explains how using contract editors can alleviate these struggles.  
Companies in this article