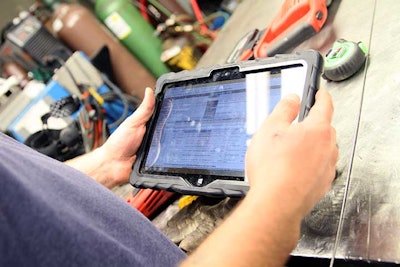 Increasing overall efficiency of individual machines or the entire plant is the goal of sophisticated food and beverage processors. To do that, you have to eliminate unscheduled downtime. Preventive maintenance is all about getting ahead of an equipment problem, says Mike Wagner, director of the packaging segment for Rockwell Automation's global OEM team.
The watchword now for equipment is simplify, according to Wagner: "The vast array of SKUs that have to run on every machine means that line changeover needs to be extremely flexible. Things like automated changeovers, user prompts, videos and help screens simplify the process." How fast you can change from one product to the next is essential. One advantage is having machines that don't require a mechanical change between products. "If I want to go from a 300-ml box to a 450, it [can do] it programmatically," Wagner states. With the proliferation of servos, changeovers that used to be done with a wheel and by hand are now automatic.
These new technologies help food and beverage manufacturers improve quality, OEE and downtime, while getting rid of delays that previously stalled production.
Rockwell Automation provides a platform that allows OEMs to create custom tools and systems that contain all types of preventive maintenance ideas. These systems or tools can include maintenance schedules, programs that keep track of time and service, and notifications to alert operators of an impending task.
Wagner says control platforms have greatly improved over the years, and recently Rockwell released a compact controller for the packaging market. Today's controllers have the advantage of being smaller in size and will fit into the tight footprints found in most food and beverage manufacturing plants.
Another advantage of the controls is there is no need to rewrite programs, code or learn new software. "We're talking about hardware performances," states Wagner. "It's like going from your iPhone 7 to an iPhone 8," but it's up to the OEM to customize it for its end users.
According to Wagner, Rockwell Automation can provide an auto function that runs every 100 microseconds and looks for the stability of that axis. "If it sees vibration or instability, it retunes automatically," he says. "If you have wear around the bearings or if you see wear on the machine, the servo will automatically adapt and then stabilize, keeping you up and running."
The "run it until it breaks" maintenance department of the past is long gone. "The difference now is converting collected data into either an action to fix before it's a problem or fixing it automatically. That's the key," says Wagner.
To learn about how the food and beverage industry is addressing the shrinking ranks of qualified technical staff, read "The vital human factor."
Companies in this article