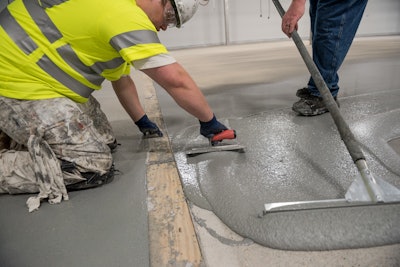 Photo courtesy of Sherwin-Williams
As food and beverage manufacturers struggle to compete in an ever-changing marketplace, it's essential that their equipment run at optimal efficiency, maintaining uptime at its highest levels. But there's one system that takes a beating like no other and helps to support every other system in place: the flooring.
That production floor has to stand up to impacts, harsh chemicals and caustics, thermal shock, and moisture vapor transmission, and provide a stable and slip-free surface for workers to walk on. And today more than ever, the flooring is being asked to provide an extra level of bacterial protection and offer more sustainable options as well.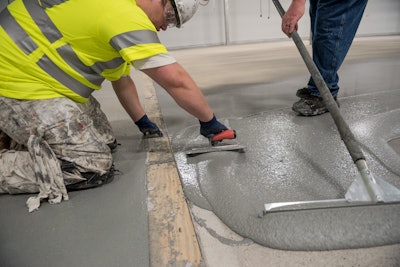 In a search for cleaner, more robust flooring, the industry has shifted largely from epoxies and dairy bricks to urethane cement. Food and beverage plants are looking for materials that can stand up to the harsh realities of clean-in-place (CIP) processes and be installed in less time to minimize plant downtime or to shorten project schedules.
Epoxies have faced issues because their thermal expansion differs too widely from the concrete they're installed on, causing cracking from thermal shocks such as hot water washdowns. Cementitious urethane, conversely, provides a chemistry that is very close to concrete. "As a result, it can take very hot, even boiling steam-type applications in a food processing plant that weren't able to be handled in the past," says Brian Campbell, national food and beverage manager for Flowcrete/Key Resin.
Not your father's dairy brick
Traditionally, you would have seen a lot of dairy brick or quarry tile in a food and beverage facility to handle these types of conditions. "Dairy brick was a really robust option—it could take a lot of abuse," says Michael Carroll, regional manager for Sika Flooring.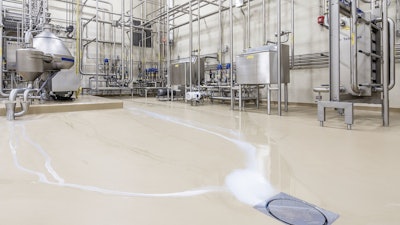 The downside of dairy brick and quarry tile, however, is that they needed a lot of maintenance. "The dairy brick itself is robust, but, unfortunately, the grout and adhesive, not so much," Carroll says. Fast forward, and the resin technology has come a long way even just over the past 10 years. "So now we can offer an extremely robust urethane cement. It is harder and more durable than the concrete it's laid on, and it has the capabilities of expanding and contracting to withstand any extremes, be it high-pressure washing, huge temperature changes, and amazing chemical resistance. So it ticks all of the performance criteria boxes, and it also has the added benefit that it's a completely seamless, monolithic system."
---
---
Casey Ball, global market director for flooring at Sherwin-Williams High Performance Flooring, points to the issues his company faced when repairing dairy brick for a dairy customer: "There are grout lines that can harbor bacteria, and we're able to go in and remove that. But then when you remove it, you might find something else below," he says. "In this case, they had issues with ponding water, which is a problem for a food plant. We were able to take out the tile, remove the various layers of other things that were in there, install the proper drains, get the proper pitch, and slope to that drain to prevent that ponding water—and do it all within about a 24-hour period."
In an effort to eliminate the seams that can harbor bacteria, more manufacturers are moving to seamless polymeric flooring systems instead. An alternative, however, comes from fully vitrified tiles, which provides a tile aesthetic without the problems faced by dairy brick. They were developed and brought into the market some 15 to 20 years ago, and in the past five to 10 years have become the gold standard for the dairy industry, according to Christian Nierenköther, president of Argelith Tile, who points to their use with large dairy suppliers such as Saputo, Sargento, and Land O'Lakes.
It was Argelith's tile flooring that Midwest Cheese (MWC) used for its 375,000-sq-ft dairy facility in St. Johns, Mich., which ProFood World named as a winner of a 2021 Manufacturing Innovation Award (see "MWC Creates a Cheese and Whey Recipe for Success," pwgo.to/mwc). Argelith provided about 150,000 sq ft of tile for the project, according to Nierenköther.
This tile is not the dairy brick that this sector has long been used to, however. Customers now want not only a more attractive option, Nierenköther says, but a more resilient one as well. "There's no microbes or any contamination that goes into the pores because it's such a low absorption rate, so everything stays surface level."
Narrower grout lines also contribute to the floor's hygiene level. "With our fully vitrified tile, they're dimensionally so accurate, you can really make the joint so small and narrow," Nierenköther says. "If you have a 1/16-inch joint, it becomes almost like a seamless floor, which means you don't have standing water in there, you can use a squeegee without any problems."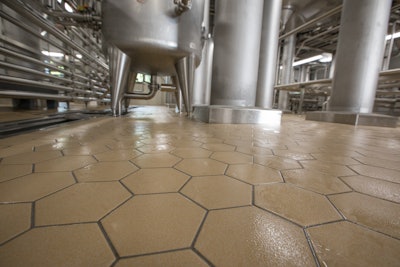 Aside from dairy, the tiles are well regarded among breweries and meatpacking plants as well, according to Nierenköther. In fact, Argelith's tiles can be found in four of the top five brewers in the U.S., including Sierra Nevada and New Belgium Brewing. "For brewers, what's important to them is, of course, the aesthetics because they have customer tours, and they want to show off their production facilities," he explains. "And for them, what's extremely important is the chemical resistance, because they use those heavy-duty caustics to clean the brewery tanks. They just dump it on the floor and any other flooring gets eaten away by the caustics."
Despite setting its tile apart from traditional dairy brick, Argelith has nonetheless given a recent nod to the old standard with a fully vitrified tile look-alike. The tile is in a color called Mars-Red. "It's kind of a retro look with the advanced technical properties of the fully vitrified tile," Nierenköther says. "We specifically developed this for customers that still have dairy brick in their facilities, and they'd like that red look."
Keeping it clean
Food safety and hygiene have been getting pushed further and further to the forefront, particularly with the Food Safety Modernization Act (FSMA). Listeria breakouts in food facilities have caused product recalls, halted production, and prompted plant shutdowns, and cleaning processes are not always adequate in avoiding this issue, according to Paula Bowe, vice president of sales and marketing for Josam.
"From a food and beverage standpoint, there's been a lot of heightened sense of harmful bacteria such as listeria or salmonella," says David Senn, director of global accounts for Stonhard. "What we are seeing industry-wide is really the heightened importance of the hygienic solution, with a flooring system that can withstand the elements but also help you to move the water, get it to the drainage systems, and get it out of the facility as safely as possible."
This heightened awareness comes in part from changing techniques such as the introduction of CIP processes. "When you introduce these cleaning processes, you need hot, hot water, sometimes steam; you need extremely aggressive chemicals," Senn explains. "That does a fantastic job of cleaning the equipment and getting it sanitized. But what's often overlooked is all of that material—all that cleaning chemical and hot water—has to go somewhere. And it goes onto the floor itself. And if you haven't thought about that process ahead of time, you'll see premature failures and damage to floors and walls and drains and curbs."
---
---
Some flooring systems add antimicrobial treatment through a surface coat, but Flowcrete's Flowfresh flooring range mixes the antimicrobial treatment throughout the product before it ships. The Polygiene material that the flooring manufacturer uses is a fine powder that gets mixed in as part of the aggregate. It uses silver as a natural way to purify and protect from bacterial infections, providing an environmentally friendly alternative to chemically manufactured antimicrobials.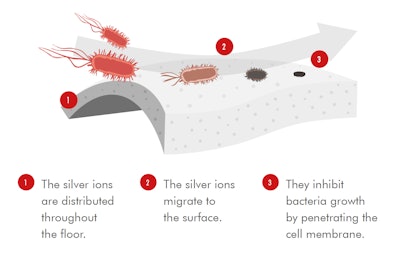 Polygiene is resistant to a wide range of bacteria, including salmonella, E. coli, and listeria. Unlike traditional coatings or surface treatments, the technology remains active for the lifetime of the floor. Silver ions flow continuously to the surface of the floor, where they attack bacteria and viruses.
"We have done several projects for a bean sprout manufacturer who had a salmonella outbreak. The owner could not locate the exact source of the salmonella," Campbell notes. Flowcrete replaced the manufacturer's existing floors and also provided the flooring for a new addition to the plant. "The driving criteria for us to secure the project was the Polygiene antimicrobial."
Carroll argues that there is little need for antibacterial additives in an industry that has always considered sanitation of the utmost important, with already-rigorous cleaning regimens. "Monolithic systems, by their nature, don't allow the harborage of bacteria," he says. "If you have a seamless system, there's nowhere for bacteria to be in place. If it's damaged, if there was a crack in it, or if there's damage through impact, absolutely, if left unattended, that could be an area. But by their nature, seamless resin floors are antibacterial."
Nierenköther also points to the inherent abilities of ceramic tile to keep floors bacteria-free. "We have natural materials—ceramic is naturally inert, and microorganisms can't really reproduce on ceramic," he says. "And because of the high density of the tiles, anything will stay surface level and then can be cleaned with a harsh cleanser. So you achieve this antimicrobial effect through this."
It's important to consider drains as well in efforts to curb bacteria growth, Bowe notes. "Food processing facilities often do not know they could be fostering unsafe amounts of bacteria in areas below the surface, particularly in drainage areas," she says. "With more and more facilities discovering bacteria such as listeria in drains, hygienic drainage products need to be considered."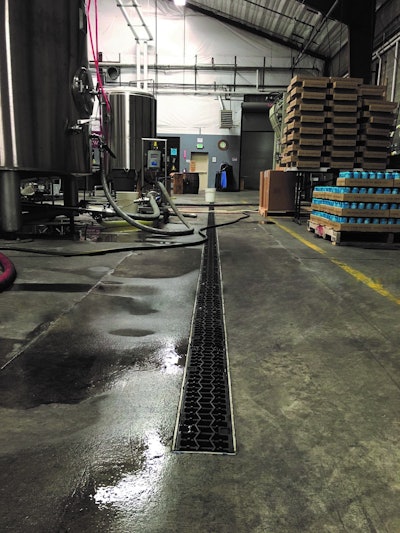 Josam's stainless steel drainage system offers a non-porous surface with hygienic characteristics that help control the risk of bacteria, Bowe says. They have a long life expectancy and can be customized to meet specific hygienic drainage needs, she adds.
Sanitary drainage has been consistently more required of late, agrees Holden Bunko, marketing manager for FoodSafe Drains. "Whereas before you could just have a trench drain or a couple area drains, set it and forget it, now you have to be concerned with salmonella, listeria, all that kind of issue popping up in food," he says. "Because of that, the drains have really become a focus almost like any other piece of machinery on the production floor. They need to be getting that same kind of washdown focus."
Food-grade stainless steel is vital for the food industry, Bunko notes. "But what comes along with that is making sure that you have a strong enough stainless steel and that the drains are designed in such a way that the stainless steel is not going to pit or bend or break," he adds. "Because even if you've got good food-grade stainless steel, the design could be flawed so that a forklift goes over the drain once or twice and a bend occurs, and then a crevice starts happening next to a drain, then that starts to harbor bacteria."
Josam also offers the Pro-Plus Trench Drain System, made from glass-fiber reinforced polyester pressed from sheet molding compound. "This drainage system is often used in food and beverage applications for its ability to withstand high fluid temperatures and fluctuations in hot and cold temperatures," Bowe says. "It can handle fluid temps of 212 °F continuous and 394 °F intermittent."
Addressing a different type of pain point, FoodSafe Drains has been working on a locking magnetic strainer for area drain and larger catch basins. Facility managers hold the magnetic keys for the strainers so that—whether through sabotage or employee error—they can keep large solids from going down the drain and causing an expensive backup further down the line.
Getting in at ground level
Anything placed on or installed in the industrial flooring system can certainly affect the possibility of flooring defects. With this in mind, the drainage system employed at a food and beverage facility can greatly impact not only how a particular flooring option reacts but how the whole facility reacts.
Sika wanted to better understand how to manage that relationship between floors and drains, so it teamed up with drain maker ACO to research and study the connection and provide evidence-based design guidance for the food and beverage industry. Three years of tests to see how the Sika and ACO systems worked together included exposure scenarios such as mechanical impact from heavy traffic, thermal shock from production processes, and shrinkage of cementitious substrates over time. The results of the tests will ultimately lead to establishing new ways of designing floor drainage connections.
Ball sees room for improvement among flooring and drain suppliers, particularly in understanding how the two pieces work together. "The coefficient of expansion of that metal in a certain environment is the piece that's challenging," he says.
There's been a trend over the past few years to convert from long trench drains to smaller box drains, simply to reduce the amount of surface area that could potentially harbor bacteria. "That leads to more sloping and pitching because you don't have this long trench drain there," Ball says.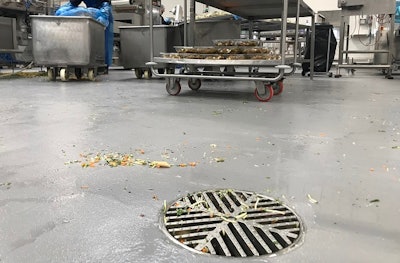 How the choice of drain affects the slope of the floor is a key reason that Senn argues that drain selection should be made during the design phase of a project. "The design of the floor should really be happening when you're selecting the drain," he says. "It should be grouped together as one larger decision because it is really one integral system working together."
Senn also notes how the increasing use of CIP processes comes with harsher chemicals and their potential attack on the floor—and the connecting drain. "It's not only the flooring material that we think about as a resinous manufacturer—it's the connection point of our material to something else as well," Senn says. That is the point where your building structure is at its most vulnerable, where two unlike products come together.
Stonhard has published whitepapers providing engineering details about the criticality of understanding all the connection points that its floors are exposed to. "We make a resinous floor here at Stonhard, but it's the connection point at the drain that we're really concerned with," Senn says.
It certainly helps for the drain company to be involved early in the facility design process, Bowe notes. "When we understand the application, building construction approach, and floor system details, we are better equipped to make helpful recommendations and provide the correct solution."
Bunko agrees. "It's all like an ecosystem that works together," he says. "It is best, we find, to work with people from the ground up. You don't want to come in for projects and they've already figured out room layouts and such and then are just using drainage as an afterthought."
You want it when?
What Ball has seen change the most in recent years for flooring is the increasing desire for customers to want to fast-track the construction of the floor. "That is one of the things that always comes up—how we can get a board installed faster, earlier," he says.
Carroll agrees, noting that requests for fast install have become very common, whether it's for a new build with tight construction schedules or for an existing facility that's trying to reduce shutdown time. "That's certainly driving the R&D side from a resin standpoint—to innovate and come up with faster curing technologies," he says. "Our PurCem [urethane] has a fast set option that's cutting cure time from 24 hours down to six."
Sherwin-Williams is focusing much of its effort on fast return to service in flooring installation, Ball says. "As we look at our polyaspartic, we're investing in the next generation of those technologies that are super-fast return to service but also easy for the applicator to install," he says.
Carroll recalls a case in which Sika was able to put its broader portfolio to use to speed the process along further. "We had a large national account who were looking for repair works to their drainage system in the facility, and they were concerned about the downtime," he says. "The existing drains were being removed, the piping was also being removed and getting a completely new install."
Working with concrete manufacturers and using some Sika accelerants as well, Sika and its partners were able to design a concrete mix that was rapid curing, enabling install of the urethane cement five days after laying the concrete rather than the typical seven. "Then we also offered up our relatively new urethane fast-set system, which was installed over the course of the two days, so we pretty much bought them four days over the whole works of the project."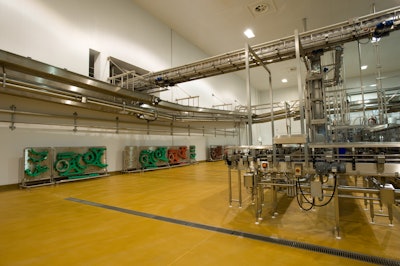 Stonhard has developed a rapid-curing flooring system called Stonclad UF designed to replace a single-step acrylic technology called MMA (methyl methacrylate). "[MMA] is fantastic to go into existing spaces because you can put it down, and it'll be cured and hard in about an hour," Senn says. "The problem with MMA is it smells like nail polish. So imagine going into a lettuce plant and opening up this canister of nail polish, right? It kind of limits you; you have to build enclosures and ventilate the air."
Stonclad UF is a single-step, low-odor, fast-curing urethane product developed specifically for the food and beverage industry. "What that's allowing us to do is come into sites that have existing flooring issues and be able to come in and do a retrofit with this new single-step product in an extremely short downtime," Senn says.
Companies in this article