Photo courtesy of Sherwin-Williams.
Ponding water, proper slopes to drains, and employee safety in wet areas are top concerns of food and beverage manufacturers, according to Casey Ball, Sherwin-Williams' global market director for flooring. While anti-microbial coatings for floors and surfaces have been on the market for years, Ball says the demand for them has increased.
"What's unique about these particular coatings, and we always have this discussion with our clients, is that while they do work, you still have to maintain the floor," Ball states. Anti-microbial coatings only work when they are in contact with bacteria. If processors allow dirt to accumulate on the plant floor, bacteria can grow on top of the dirt because now the coating is not in contact with it. "We are always very cautious to say [using anti-microbial coatings] isn't a free for all, where you can just not worry about cleaning your floors because you've got an anti-microbial agent in the flooring," he adds.
Anti-microbial coatings don't wash away because the chemicals typically used in processing environments don't bleach or strip them out of the coatings themselves. "They will be there for the life of the coating. If for some reason you physically remove the coating, then obviously it won't work. As long as the coating is there, it will continue to work," he adds.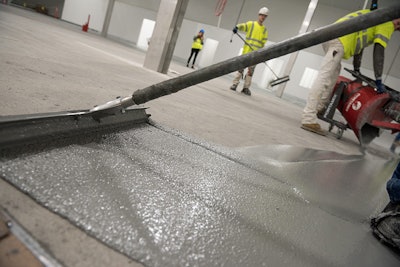 Ball cites a cereal manufacturer that uses anti-microbial coatings quite a bit because it gives the company an extra level of protection and comfort knowing that they not only have a thorough cleaning process, but they also have the coating working for them as well.
To test its anti-microbial floor coatings, Sherwin-Williams follows the JIS Z 2801/ISO 22196 protocol covering the Measurement of Antibacterial Activity on Plastics and Other Non-Porous Surfaces. This internationally recognized test evaluates how well treated materials can inhibit or kill the growth of test microorganisms. The test calls for Staphylococcus aureus and Escherichia coli to be inoculated onto the surface of a test material and then incubated for a specified period (typically 24 hours). Technicians then count the surviving microorganisms and compare that total to the count taken before the incubation period to evaluate the material's anti-microbial resistance, according to Sherwin-Williams.
Make plans to visit PACK EXPO International in Chicago, Nov. 8-11, to see the latest technologies for food processing and packaging machinery and materials.
Companies in this article