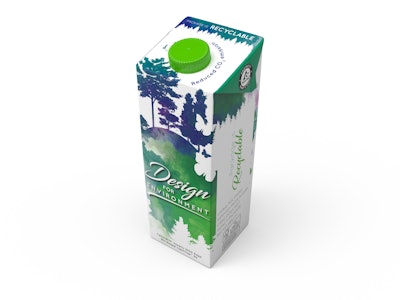 Tetra Pak introduced a new version of Tetra Brik Aseptic 1000 Edge with Bio-based LightCap 30. The package is manufactured using a bio-based plastic film and cap, made from polymers derived from sugar cane. Combined with the paperboard, this lifts the share of materials from renewable sources in the package to above 80%, the threshold for four-star certification from Vinçotte, the Belgium-based accreditation agency that is recognized for assessing the renewable content of packaging products. This is the first aseptic carton package in the world to receive Vinçotte certification.
"Vinçotte is a leading certifier known for its precise method of measuring the physical content of bio-plastics in a product," says Eliseo Barcas, director of sales, Tetra Pak. "With the Vinçotte certification, companies are able to provide credible information for consumer communications."
He adds that the new package also boasts up to 17% lower carbon footprint than a standard package, according to an independent lifecycle analysis conducted by IVL Swedish Environmental Research Institute.
Tetra Brik Aseptic Edge with bio-based LightCap 30 is suited for a range of foods and beverages, from juices and dairy alternatives to broths and soups, says Barcas. "It is especially well suited for products with natural positioning due to its impressive environmental credentials."
The package is available in 32 oz. and is available to customers in the U.S. and Canada. Barcas says customers switching to the new Tetra Brik Aseptic Edge with bio-based LightCap 30 does not require additional capital equipment investment.
Companies in this article