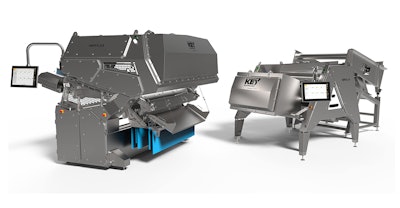 Key Technology
A flagship product introduced at PACK EXPO Las Vegas six years ago came sporting major upgrades at this year's show, with new mechanical, illumination and intelligence capabilities that improve several aspects of performance. Key Technology introduced its Veryx 2.0 line of digital sorters at this year's PACK EXPO. Featuring a new mechanical layout, next-generation LED illumination, enhanced laser scanner technology, new software driven by artificial intelligence (AI) and more, the upgrades provide improved detection of defects and foreign materials in the product stream, and also deliver that performance over a longer period of time without degrading.
In very aggressive food production environments, the optical sorter is subject to water and other materials splashing against sensors, and debris collecting on the sensors as well as lights, notes Marco Azzaretti, director of marketing at Key Technology. "Over time, the challenge is to operate the same as Day 1," he says.
The system's optimized mechanical layout addresses this. The sorter's architecture houses all utility components within the frame, eliminating the need for an external enclosure. All door seals have been updated to a new patented design, and additional sanitation upgrades further ensure Veryx 2.0 can withstand harsh operating environments over long production cycles.
---
---
All new technology for the LED lighting system delivers higher-intensity illumination with less scatter and reduced shadowing effects, Azzaretti notes, improving the sorter's detection capabilities. The LEDs also have twice the lifetime of previous generations, he adds, which helps to reduce maintenance and energy costs of the lighting system.
Veryx 2.0 also features Key's enhanced laser scanner technology. New digital receivers improve resolution while delivering a signal that is more accurate and consistent. "It's a next-generation technology that has an improved signal quality," Azzaretti explains. "It gives improved contrast between foreign and good product."
On the software side, new AI algorithms are helping to improve Key's FM Alert monitoring tool as well as its Sort-to-Grade (STG) software. With FM Alert—which sends alerts if foreign materials are found in the product stream and records a time-stamped image of each critical foreign object detected by the sorter—AI techniques help to analyze captured images to further improve the accuracy of its record-keeping. The STG software categorizes every product defect and the dimensions of every object and automatically makes optimal accept/reject decisions based on the target quality spec defined by the operator. Here, AI helps to achieve more accurate dimensional grading of the product by digitally separating clumps of products into distinct objects for evaluation.
Key analytics
Also new from Key Technology is Discovery, a suite of data analytics software that enables Veryx 2.0 and other Key equipment to collect, analyze and share data while sorting product. Because the sorter sees every object flowing through the production stream, it can reveal patterns and trends that improve not only the sorting itself but can also help illuminate upstream and downstream processes.
"Increasingly, customers are using our sorters as information centers for the whole process line," Azzaretti says. "They're able to capture more information than just what the machine needs for its core function, and they can provide valuable insights to customers."
Discovery provides actionable information to help processors optimize product quality, maximize yield, reduce downtime, and minimize labor. As one example, if sorting diced or formed product, the system could detect how the shape profile has changed over time, Azzaretti notes. The system could alert an operator further up the line about a possible problem with the dicer or former.
Azzaretti also points to the ability for customers to use information from detailed quality reports to pay suppliers of raw input. With a pay-for-performance scheme, food processors could pay suppliers based on how clean or dirty the product is, he adds.
Companies in this article
Videos from Key Technology, Inc.