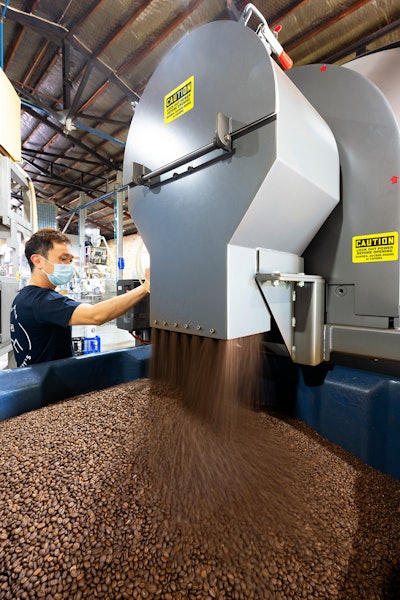 Photo courtesy of Munson Machinery
Faced with pandemic-related demand swings, supply chain disruptions, and a tough economic climate, food and beverage processors need help. Mixing and blending equipment suppliers are responding with technology that improves operating efficiency, mixing uniformity, and product quality through design, materials, and automation.
An example of these factors at work can be found at Sydney-based Pablo & Rusty's Coffee Roasters (P&R), which installed a new 75 cu ft rotary batch mixer from Munson Machinery to improve quality and increase throughput. Both goals were critical, with the company having doubled revenue in three years and wanting to stay on that path.
"We wanted to make sure that we can scale up, and with this piece of equipment, we can grow capacity about two to three times," says Abdullah Ramay, P&R's CEO. "We can also scale down, which was needed when COVID-19 happened."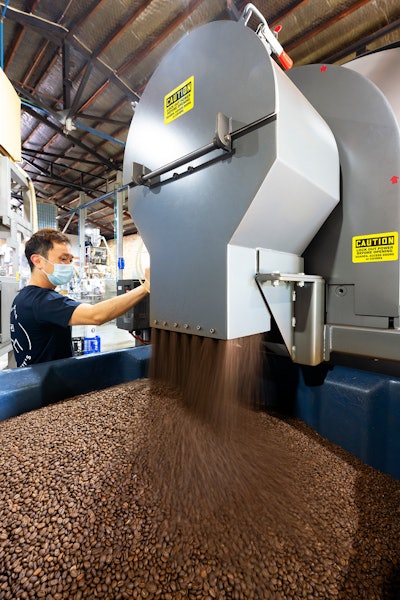 Munson's rotary batch mixers come in sizes up to 600 cu ft capacity, according to Steve Knauth, Munson's marketing and technical manager. What the various models have in common is a four-way mixing action that gently folds, tumbles, cuts, and turns the material. The mixers are horizontal, rotating on external trunnion rings at both ends. Consequently, there are no internal shafts or bearings that come in contact with the material being mixed.
Blending time runs a few minutes. As the mixing vessel rotates, internal baffles, also known as lifters or mixing flights, create a four-way tumble-turn-cut-fold mixing action. In the case of the Australian roastery, an important point is that this mixing happens with little or no bean breakage. This was a prime reason for getting the Munson mixer, according to Ramay. The gentle handling leads to less bean breakage than P&R was getting with its previous equipment, which agitated instead.
Another benefit was a reduction in cycle time from as much as 15 minutes down to 5 minutes or less. Combining that with a tripling in capacity has resulted in a substantial throughput increase.
That gain is made even greater by what happens when the mixer is not in use—during the cleaning and sanitation process. Food producers have pushed for the ability to rapidly sanitize between batches, Knauth comments. In response to that, Munson's rotary batch mixer design eliminates the need for internal shafts and material contact with shaft seals. This eliminates residual material following discharge and also food waste, and allows for fast cleaning and sanitizing.
Uniform mixing
No matter the market segment or product, a vital need is for uniformity of output, notes Daniel Osiedacz, mixing and blending sales manager for Fristam Pumps USA. A customer recently came to Fristam for help in making syrups for flavoring coffee. The producer needed to ensure that flavor and quality remained consistent while switching from product to product.
"We worked with them to establish their SOPs [standard operating procedures] for valve settings to induct a wide range of powders," Osiedacz says. "Once we finished, they had an automated valve setup that allows the operator to hit the same settings batch after batch."
To help meet standards set by the Food Safety and Modernization Act (FSMA), the food processor had to guarantee its product met a particular droplet size. Simply throwing powder into a tank and using an agitator to mix it into a liquid might not work, Osiedacz notes, because the powder could stick to the sides of the tank and form clumps instead of dispersing. A potentially inefficient and likely costly solution is to increase the level of solids being added until the output reaches the right ratio of solid to liquid.
---
---
A better approach, according to Osiedacz, is to come up with a recipe and then bring pre-weighed solid and liquid ingredients to a mixing station. After adding the liquid to a tank, a pump can start it recirculating. Then the powder or other solid can be added at a given rate, with the result being that the induction of the solid into the liquid takes place more consistently and uniformly.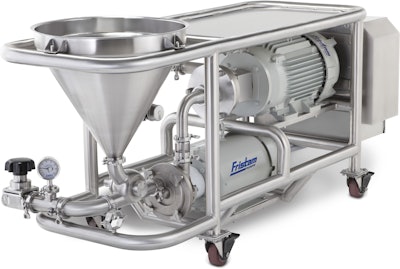 The match between powder characteristics and process ensures that throughput is high, quality good, and raw material usage minimal. For such mixing and blending applications, Fristam makes the FS Series Shear Blender and FSI Series Shear Pump. A key difference between the two is that the blender does not include an impeller. Because the impeller in the Shear Pump uses a centrifugal-style method to move material, it works best for liquids that are below 1,000 cps, or about the consistency of chocolate milk or a really thin pancake batter, Osiedacz says. One reason to separate the impeller from the blender functions, as with the Shear Blender, is that sometimes what is needed is emulsification, breaking up and distributing the materials evenly on a very fine scale throughout the final product. Separating the blending and pumping processes can make emulsification more efficient, Osiedacz adds.
Fristam products are easy to clean without disassembly, according to Osiedacz. Automation can make that job even easier, says Gregory Collier, vice president of beverage technology systems at Statco-DSI. A clean-in-place (CIP) approach, which the system integrator can provide for Fristam pumps, saves time and energy. It also eliminates any possibility of damage caused by taking a machine apart and then putting it back together.
Scheduling a CIP cycle at a time when it has the least impact on production might require doing it between shifts or another time when there might not be an operator available. This is where automation capabilities can pay dividends. "We automate not only the production side of the equipment but also cleaning and the clean-in-place of the system in an automated fashion as well," Collier says.
Growing and changing markets
Production of food and beverage products in the rapidly growing pet food arena is highly automated, notes Don Simpson, a consultant with Food Processing Solutions. Most factories are geared toward high-volume production, and that presents issues for boutique producers trying to break into the market. The desired volumes tend to be smaller, the ingredients more expensive, and the specifications for liquid coatings tighter on such products as pet food kibble. These requirements can interact, making production a challenge in large factories where machinery is often run at maximum speeds.
"If you have a very expensive ingredient that you want to put on at very precise levels, then you may need to slow things down a bit," Simpson says.
For one client, Simpson looked into ribbon blenders from Charles Ross & Son. Ribbon blenders are a good choice for straightforward powder blending or coating solids with a minor liquid ingredient, according to Christine Banaszek, sales manager for Ross.
Banaszek recalls an instance in which a pet food company needed to secure a blender quickly to test market a new product. Ross offers a rental program, which allows customers to get equipment quickly without having to make a purchase commitment. In this case, Ross had a 52 cu ft ribbon blender ready to ship within two weeks.
Such a situation is typical during a scale-up process, Banaszek says. New formulations are often created in a kitchen or R&D lab in small batches with off-the-shelf commercial mixers. When it comes time to ramp up production for a test run or full-scale manufacturing, there can be issues making the transition. In these cases, getting access to equipment without having to go through a purchase commitment might be the best solution. There was a sharp increase in rental orders during the pandemic, according to Banaszek, as producers adjusted to demand changes and battled supply chain disruptions.
Whether for rent or for purchase, Ross works with end users to customize various aspects of the mixer or blender to make it more practical and ergonomic for a specific application, Banaszek says. Automation of the systems—with recipes controlled through programmable logic controllers (PLCs) and touchscreen capabilities—can make it easier for manufacturers to switch quickly from one product or process to another.
"A well-specified and high-quality mixer plays a critical role in gaining overall efficiency," Banaszek says. "Without it, inefficiencies can manifest in a number of ways, including long cycle times, frequent reworks, defects or low product quality, difficulties in maintaining temperature, losses in raw material or finished product, and intensive cleanup."
Blending new requirements
More changes are predicted as the food and beverage industry moves toward increased sustainable production, says Fabian Müller, product manager for mixing at Gericke. Energy consumption during processing will need to be reduced and some ingredients replaced because of their environmental impact. There is also a trend toward healthier food products, as well as foods that are suitable for people with a wide variety of health conditions and dietary requests.
"We're seeing a clear trend towards individualized mass production," Müller says. "This involves smaller lot sizes, which demands frequent recipe changes. Fast cleaning to prevent downtime becomes more critical as it has more and more a direct influence on the capacity."
Gericke offers both single- and double-shaft mixers, with the latter available only for batch processes. The company's single-shaft mixers come in either batch or continuous configurations.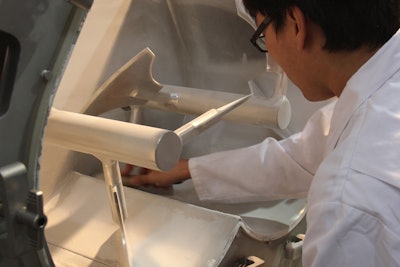 The company's double-shaft mixer, the GMS Multiflux batch mixer, offers the greatest flexibility, with an unrestricted number of ingredients and the ability to adjust a recipe after every batch, Müller notes. Double-shaft mixing works best for fragile products, where efficient distribution of micro ingredients, optimal dispersion of liquids into particles, or hygienic requirements are the challenges.
For continuous mixing, Gericke offers a compact solution, dubbed TCM, that integrates a feeding and mixing unit. This system can be positioned directly in front of the next reactor or packaging, depending on the line. Energy requirements are reduced because the process is continuous, and material spends a short time in a smaller mixing chamber.
There are many options for mixing and blending systems. Though the primary need is to make a product that meets quality and cost targets, industry is faced with satisfying changing market demands, safety requirements, and sustainability goals.
Companies in this article
Videos from Ross, Charles & Son Company