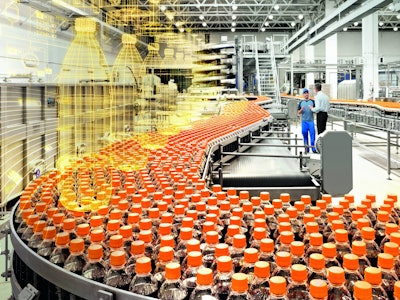 Siemens
To choose the right motor for your application, you need to consider more than just horsepower, speed, and torque, of course. With electric motor systems accounting for about 70% of the electricity demand in industry, energy efficiency has long been a prerequisite that seemed, however, to be reaching its limits.
---
---
Efficiency is being pushed further through full system optimization, but requirements are also increasing for improved hygiene, safety, connectivity, data availability…everything that will keep those motors and drives—and all the production equipment they keep in motion—from shutting down unexpectedly.
Motor and drive suppliers are creating products for a food and beverage industry that is on the move. "It's an industry which I think is really more of a laggard in terms of automation and technology," says John Parrott, vice president of Siemens Industry's U.S. food and beverage market. "Now we're seeing a significant upswing in robotics, digitalization projects, and how to manage the business remotely."
Finding new energy efficiencies
In a recent international push urging greater adoption of high-efficiency motors and drives in industry and infrastructure, ABB Motion emphasizes the point that—despite rapid efficiency advances in the past decade—a significant number of automation systems in operation today consume much more power than required. Saving energy goes straight to the bottom line.
---
---
There's a limit to how efficient a standard induction motor can be made, which is why SEW-Eurodrive and others have moved to permanent magnet technology instead. Permanent magnet motors are 25-30% more efficient than standard induction motors, according to Chris Wood, food and beverage industry account manager for SEW-Eurodrive. "They're not only more efficient, but they also have higher starting torques and bigger speed ranges," he adds.
In the past several years, there has been an emphasis on improving the energy efficiency of motors through testing and classification standards, but more importance is being putting these days on understanding how the whole power drive system can work together for improved efficiency.
SEW's Movigear mechatronic drive system comprises a permanent-field synchronous motor, gear unit, and integrated drive electronics. The system improves efficiency not only through the efficiency of the motor itself, but through the energy optimization of the overall system, with expected energy savings of up to 50%.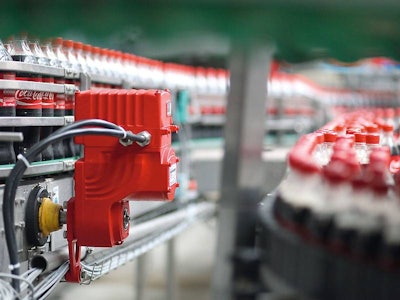 Focused on reducing CO2 emissions as well as energy costs, Coca-Cola HBC Austria upgraded one of its bottle transport lines (from shrinkpacker to palletizer) with a Movigear system, ultimately saving 75% of the energy consumed over its previous drive and control technology.
Cleaning things up
High-efficiency, compact, and hygienic solutions are increasingly becoming requirements in the food and beverage industry, says James Chandler, key markets manager for Nord Drivesystems. Nord's new IE5+ synchronous motors combine all three—providing a compact, energy-efficient motor in a hygienic design.
For areas where motors and drives are likely to come in contact with food products, the industry has seen a push toward the use of more hygienic devices. Manufacturers are recognizing that standard motors often don't cut it in food processing environments. These motors cannot stand up to high-temperature, high-pressure cleaning methods prevalent in those environments, nor the caustic chemicals often used. Standard motor and drive designs also provide plenty of food collection points, harboring bacteria and other contaminants. And the fans used in typical motors can spread those contaminants even further afield.
---
---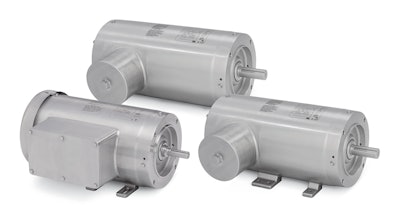 One change ABB made to its NEMA motors a few years ago was to independently weld the feet on the bottom of the motors, enabling them to be cleaned more effectively and efficiently. "It helped to eliminate food collection points," says Matt Rodebush, global food and beverage segment manager for ABB Motion's NEMA motors division. He adds that the smooth contours of the motor, along with a rotatable, round conduit box, eliminates food collection points that are common to competing conduit boxes.
Encapsulated windings are another feature. "One of the biggest failures for food-grade motors is when condensation or water gets in," Rodebush says. "We fully encapsulate our windings. The windings are dipped into a solution that seals the winding from any water or contaminants."
Neugart is seeing a trend toward more hygienic gearboxes. "From our perspective, food safety and non-corrosive material is the most major requirement we face when we get requests from customers or partners in the industry," says Daniel Weis, area sales manager for Neugart. "The challenge that our customers have is to find hygienic components that are truly hygienic. There are plenty of stainless-steel products out there, but they're not truly food-grade."
Made with food-grade stainless steel, Neugart's HLAE gearbox was designed for hygienic use in food, pharmaceutical, and cosmetics industries, Weis notes. It's IP69K-rated, which makes it suitable for steam pressure washing and industrial chemical cleaners. "There are no corners, and no flat space that any debris can sit on and dwell," he says. "And the housing is electropolished, which makes it a non-stick surface. Water will always pearl off of it, and no bacteria can hang onto it. There are no indentations or manufacturing grooves that microorganisms can grasp."
Van der Graaf (VDG), which has been making drum motors for more than 35 years, has seen a bigger push for sanitation in the past five years, according to Alex Kanaris, VDG's president and CEO. A typical design has a square shaft where sprockets are mounted, and then the motor belt runs on top of the sprockets. "The problem we saw is if you have a product like protein debris falling in between the sprockets, it's nearly impossible to fully sanitize it," he explains.
VDG has designed a drum motor that has a continuous profile, with no need for sprockets. "The benefit is that you can clean it a lot easier, and the debris doesn't stay on the motor as much as the square shaft," Kanaris says. "It takes a third of the time to wash it down as conventional motors."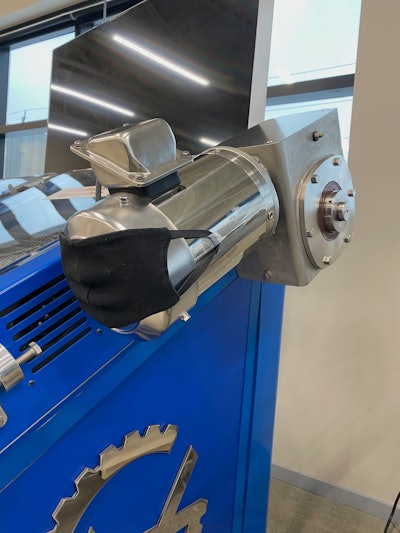 Also, they don't use a fan to cool the motor the way conventional electric motors do—an important point in sanitation, particularly considering COVID-19 concerns of spreading germs. "As a joke, I took a picture masking an electric motor to prevent forced air flow carrying microbes to process food," Kanaris says. "Now we are conducting a study to find out how serous that problem is, post-COVID. It is serous. That problem doesn't exist with the use of the drum motor."
VDG set up a conveyor to conduct a simple experiment, covering a piece of cardboard with sticky material to see how much cinnamon would be spread by the fan at the back of the motor. "The cinnamon went all over," Kanaris says. "You can wash down the conveyor all you want. It can still be sucked out of the motor and delivered to the food."
There's such a push for sanitary products that the VDG plans to completely separate its stainless-steel production from its plants in Toronto and Michigan, Kanaris notes. "We'll have totally sanitary drive production for food, somewhere in Florida," he says. "Our sanitary products will all be produced in one place."
Keep it safe
Though some might argue that safety has always been priority No. 1, the push continues to improve safety in food and beverage operations. "When we're looking at food, one of the biggest topics for sure would be safety—not only food safety, but the safety of the people who come in contact with the motors and drives," Rodebush says.
One safety measure is provided with ABB's Bluetooth-enabled drives, enabling maintenance workers to troubleshoot a system without necessarily having to open up the panels. "They can look at parameters on their phone or laptop," notes Jim Neawedde, U.S. food and beverage segment manager for the drives division of ABB Motion. "They can keep out of the arc flash area."
This also has the potential to keep workers out of other types of dangerous areas, whether in high locations or otherwise just difficult to reach, Rodebush adds. "They can look on the screen of their phone and see the health of the equipment without having to go out and put their hands on the product."
Siemens is seeing a lot more use of synchronous servo motors in the food and beverage industry, says Craig Nelson, senior product manager for digital industries and motion control, largely because of their safety integrated functionality beyond safe stopping, including safe limited speed and safe positioning.
Super servos
Servos are important from a performance aspect as well, Nelson adds. "Nine times out of 10, if you're looking for a performance machine, with a very fast speed," he says, "you're going to be using permanent magnet synchronous motors."
Randy Summervill, product marketing manager for Simotics motion control motors at Siemens Industry, points to the ability of permanent magnets to provide very dynamic and precise movements. That provides an assurance of safety, he says, but also enables applications that demand precision, such as putting a tamper-resistant seal on containers.
"Servo control definitely continues to grow," says Paul Kling, market segment manager for packaging at Yaskawa America. Though food processing has historically used variable-frequency drive (VFD) technology, this is very commonly migrating to servo control, which is more precise and has more data. "Every manufacturing plant wants data. When you get to servo control, you get access to much greater data from the motors and drives that make them attractive."
Yaskawa's servo designs use almost twice as much copper in the winding as most of its competitors, Kling points out. "That means more torque. In the same package size, there's maybe 20% more torque," he explains. "It results in faster throughput, more parts per minute, more product per hour; and oftentimes more precision."
One customer doing palletizing of frozen lasagna packages was able to benefit. "Our motor technology allowed them to use the smallest size motor to get the performance they wanted. This reduced the whole mass of the gantry to maximize performance," Kling says. "And they maximized throughput performance because of the added torque density of our motors."
Servos replace pneumatics
The advancement of the technology is pushing traditional pneumatic applications toward servo motion control, particularly in the packaging space, according to Tim Sharkey, director of product market management for electric automation at Festo. "In the past, to introduce a servo drive to the machine, it added a lot of complexity—high-level PLCs, lots of wiring, programming, commissioning, the cost was huge. To add six axes of servo, you were talking about $30,000," he says. "Now we're introducing products that are in the hundreds-of-dollars range. And they're simple to integrate into the machine, control it, and get the effect you like."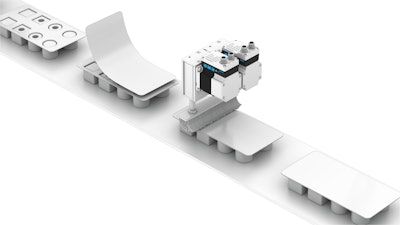 The servo technology can mimic pneumatic capabilities while providing improved performance, he adds. "We're now able to apply servo drives and motion control and get much greater repeatability, improved noise, and more flexibility."
Festo's Simplified Motion Series are integrated drives that provide an electric alternative for simple movement and positioning tasks, filling a void in the market created by the move away from pneumatics, Sharkey says.
More intelligence, more data
If food and beverage producers weren't already looking for more intelligent insights from their motor and drive systems before, the pandemic has certainly lit a fire under many of them. "One of the significant manufacturing drivers that COVID accentuated is the importance of a digitalization process," Parrott says, pointing to the desire for advanced maintenance notifications and predictive capabilities. "More importantly, we can digitize the process. We can run offline simulation models."
Parrott is referencing digital twin concepts that could help to evaluate the motor and drive system within a machine—running simulations to check the size of the motor, for example, or whether the design of the machine actually needs to be changed electrically or mechanically.
In one example, changing the motor and drive configuration could ultimately affect the quality of snack chips being made by a manufacturer using digital twins to evaluate their machine configurations. "They're running simulations offline of production to look at different variants of product as it comes out," Parrott says.
The digital twin also evaluates the best way to increase throughput and performance—providing an optimal state to maximize those parameters, Parrott adds. It moves beyond the dashboard of overall equipment effectiveness (OEE). "Collecting basic data like vibration, temperature, current, and flow is one thing," he says. "But when you want to know when the motor is failing, or you need to do adjustments for the 'golden run'… Here's where machine learning is going to come in handy."
Smart sensors are instrumental in providing the data needed for predictive maintenance. "They can pick up vibrations and problems well ahead of when they become an actual issue," Neawedde says. "Manufacturers can move away from emergency breakdown situations and do shutdowns at their leisure."
Condition monitoring has been an important development for Nord control products, Chandler says, providing vital information for predictive maintenance. "Before, with preventive maintenance, end users would walk around and check the oil level of reducers or check bearing noise," he says. "This type of information is still required, but automating the retrieval of information and providing predictive feedback electronically is more desirable." Drive and status data are recorded periodically or continuously to optimize the operational safety and efficiency of equipment.
Food and beverage manufacturers understand as well as anybody that machine uptime is critical. "A failure in any component of the machine results in costly downtime that can cost the company thousands of dollars an hour," notes Edward Tom, low voltage drives product manager for Yaskawa America. "Not only is it important to have a drive that is reliable, it's also important to have a drive that can provide data that can help drive informed decisions."
Arguments for a single source
Though any manufacturing operation is likely to have components and systems from a wide variety of vendors, several suppliers make the case that it's not the best way to create an optimized motion system, advocating the importance of the motors and drives working together in a single system.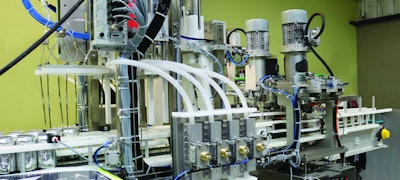 "Our combined powertrain solution is how we go to the food and beverage market," Neawedde adds. "We provide a motor/drive combination that is optimized for the customer's needs and for the particular application."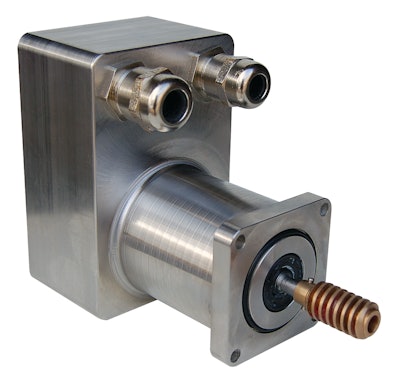 TruTech Specialty Motors customizes systems that combine the motors with the drives and controls for the machine. In part, this means actually taking components out of the drive system—such as the gearbox, which TruTech views as a point of failure. "We look at a higher-torque, lower-speed unit that eliminates the gearbox. We're taking parts out of the system to increase overall reliability," says Karl Meier, executive vice president of TruTech.
"The standard thinking process is: Let's call up the usual suspects and figure out how to cobble a system together to make it work," adds Ted Paskvan, TruTech's president. "We look at how to minimize the number of components. We take it from $5,000 to $2,000, and it's more reliable, more robust, longer life, and fewer moving parts."
In an atmosphere where manufacturers are often piecemealing components together, it can be a challenge to coordinate the whole system, Kling notes. To help, Yaskawa has developed Singular Control, which unifies the control of servos, VFDs, and robot mechanisms.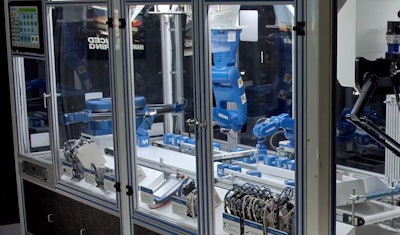 This is important as the food and beverage industry installs more robotics. Singular Control powers multiple robots along with dozens of axes of automated motion with a single controller and a single programming environment. The same frozen lasagna palletizing operation mentioned earlier benefited from Singular Control for its multiple axes of motion in its gantry application, Kling says.
Companies in this article
Videos from Yaskawa America, Inc.