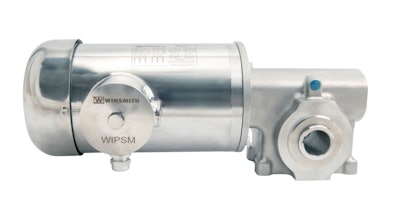 The Winsmith IP69K-certified stainless gearmotor provides ingress protection for the harshest food processing environments. The washdown gearmotor combines the Winsmith stainless conveyor drive with a stainless motor to provide a complete IP69K-rated solution.
"Our Winsmith stainless gearmotor provides protection against intrusion of liquids and solids making for reliable and durable operation in wet environments," says Alan Kupchanko, Winsmith program manager. "This modular design offers customers additional product benefits for challenging food production applications."
The Winsmith stainless conveyor drive features a continuous, smooth housing for easy washdown and minimal bacterial growth. The drive is IP69K certified for severe washdowns with 176°F water and steam at 1,450 psi, 4 gal per min.
The Winsmith IP69K-rated motor features epoxy coated windings; a 300 Series stainless-steel housing, end bells, output shaft, and conduit box; double-lip shaft seals; and O-rings between end bells, housing, and conduit cover.
Companies in this article