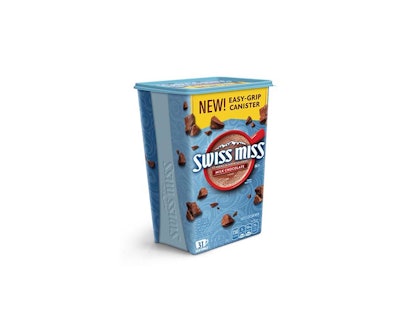 Photo courtesy of Conagra Brands.
Conagra Brands has redesigned the packaging for its Swiss Miss Cocoa line in the name of sustainability, representing the first major hot cocoa brand to move from round canisters to eco-efficient recyclable cubes.
Conagra worked with Berry Global, a manufacturer of plastic packaging, to create the new light blue easy-grip container, which features recyclable plastic with a wraparound in-mold label and space-efficient tapered cube design. The packaging will initially be used for the 38-oz size Swiss Miss Milk Chocolate Hot Cocoa Mix.
With the new packaging, Conagra says it will be able to reduce its carbon footprint by 15%, or 98 metric tons, a year due to less energy required to manufacture and transport the hot cocoa containers. This is equivalent to avoiding the greenhouse gas emission of driving a passenger vehicle 243,176 miles, which is further than the average distance from the Earth to the moon, according to Conagra. The new shape will also allow the company to better use space in transit, saving more than 1,000 gal of diesel fuel annually from fewer truckloads transporting plastic tubs.
---
See it Live at PACK EXPO Connects Nov. 9-13: World of Integration, by ARPAC LLC. Preview the Showroom Here.
---
"This redesign is an important step forward on our sustainable packaging journey," says Katya Hantel, senior director of sustainable development at Conagra Brands. "We will adopt the recyclable cube design over the next several years, supporting Conagra's target to make 100% of its plastic packaging renewable, recyclable, or compostable by 2025."
Join us for "The Most Engaging Virtual Event for the Entire Industry" at PACK EXPO Connects, November 9-13. Live demos of equipment and products, live chat with product experts, expedited product search, and more. Attendee registration open now!
Other stories about sustainable packaging you might be interested in reading:
Crab shells and wood make for a natural pairing for sustainable packaging
Dasani Uncaps a Record Number of More-sustainable Packaging Options
A sustainable yet elegant approach to cannabis packaging
How Safe is Reusable Packaging During COVID-19?
Companies in this article