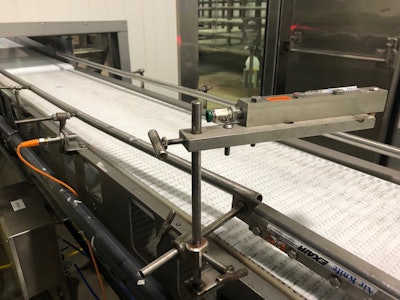 Smithfield Foods' Kinston, N.C., facility uses air knives on two of its packaging lines to remove moisture before applying code dating, but air was discharged continuously, even if product was not coming down the line.
"Compressed air is our second-largest energy user at the facility," states Smithfield Environmental Coordinator Charlie Prentice. "As a simple and inexpensive fix, we installed photo eyes and timers on the knives. They are now set to cut off air to the knife if an eye does not detect product within three seconds, reducing the demand on our air system and eliminating an estimated 11,351.04 kWh from our annual plant usage."
The project was implemented in December 2020 on one packaging conveyor line where a photo-eye sensor with a timer was installed. Another packaging conveyor line had a laser with a power supply and timer installed. "Both lines were completed using parts and materials from our own stockroom," says Prentice. "Installation was quick and easy and completed in four days."
When calculating the estimated energy usage of the two air knives before and after installation, the reduction is 6.5%. "This original idea was put in place by our maintenance team that has been challenged with energy reduction goals of 5% over the next four years," adds Prentice.
This very simple project provides excellent savings for the Kinston facility. "Depending on the location and size of product coming down the line, a small bracket might need to be made and possibly welded to your conveyor," explains Prentice. "But overall, it is a quick and easy installation."
PACK EXPO Las Vegas and Healthcare Packaging EXPO (Sept. 27-29, Las Vegas Convention Center) will reunite the packaging and processing community. With over 1400 exhibitors, no other event in 2021 will bring together a more comprehensive gathering of suppliers offering new products, technologies and solutions. Attendee registration is now open.