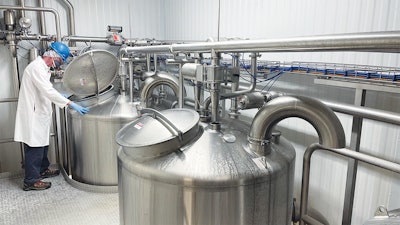 Photo courtesy of Kraft Heinz
For ProFood World's December 2021 issue, Joyce Fassl provided a detailed look at a Kraft Heinz plant in Wausau, Wis. Completed on time during the height of the pandemic, a multi-line expansion project for the company's macaroni and cheese product increased production output without disrupting the plant's existing production schedule.
Kraft's macaroni & cheese has been on the market for more than 80 years. Even in today's era of consumers searching for fresh food choices, the iconic, shelf-stable comfort food still packs a punch.
In fact, the much-loved product even comes in an ice cream flavor made by Van Leeuwen Ice Cream, produced in limited editions. So much for consumers saying they want to cut back on fatty foods. Everything and anything in moderation sounds much more like a reality-based eating trend. But as we hopefully enter a less restricted and less virus-ridden era, Kraft Heinz is betting that its mac and cheese product will continue to deliver the food consumers love.
Kraft Heinz's facility in Wausau implemented a recent 20,000-sq-ft building expansion and plant modernization project for the Kraft Macaroni & Cheese blue box product during the pandemic without affecting product quality or taste. This project received a 2021 Manufacturing Innovation Award from ProFood World.
Continue to the full article:
Kraft Mac and Cheese Modernization