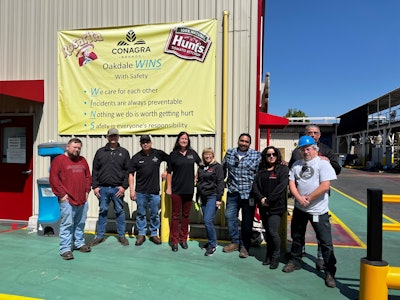 The Oakdale, Calif., Conagra Brands facility makes Hunt's and Ro-Tel brands, and other food products. Over the past year, the facility's cross-functional team made excellent progress in reducing food waste. The team implemented a comprehensive plan and problem-solving program throughout 2021 to eliminate ingredient loss points for both jalapeños and tomatoes. The program addressed three causes of jalapeño waste (spoiled ingredients, batch planning, and fill controls) and two processes for tomato waste (peelers and fillers). As a result, the plant utilized 650,000 lb of jalapeño and 13.8 million lb of tomato raw ingredients compared to 2020, which reduced the site's solid waste footprint by about 10%.
"By manufacturing food ingredients more efficiently, we are using utilities more efficiently," says Kate Pitschka, director of supply chain sustainability, pointing to Scope 1 and 2 greenhouse gas (GHG) emissions. "We are also moving a significant portion of the site's food waste up in the recovery hierarchy from animal feed and compost."
The plant is located in a high water-risk region, and eliminating some of the organic load being sent to wastewater operations is reducing some stress on the region's water cycle. By eliminating food waste, the facility is reducing the amount of Scope 3 GHG emissions (EPA WARM and Biogenic) that the food waste would create downstream.
Teams were established during March to May 2021, project scopes were defined within one to two months, and specific projects were implemented between July and October 2021, resulting in a 4% jalapeño yield improvement and a 1.8% tomato yield improvement.
"Savings were strictly through better use of available equipment resources and process improvements, with limited costs," explains Pitschka.
The Oakdale cross-functional team delivered a $471,000 jalapeño yield loss reduction (spoiled ingredients, under net weight rejections, and overfill) and a $730,000 tomato yield loss reduction. These calculations do not include the energy cost savings associated with treating the food waste going to wastewater, nor the hauling costs of the solid waste.
The team discovered that of the 650,000 lb of jalapeño waste, 236,300 lb were from spoiled jalapeño ingredients, resulting in a 4% year-over-year yield improvement and an elimination of all spoiled ingredients in 2021.
In 115 days, 6,900 tons of recovered tomato losses were achieved, representing a 1.8% yield loss improvement year over year. This tomato waste was going through a wastewater treatment system where solids are separated and sent to animal feed. "It is difficult to fully quantify the full comparison because of increasing production and some of this existing waste weight stayed in the water cycle, but the amount of solid waste produced by the site decreased significantly during these specific months," states Shelley Huskey, environmental manager. In the end, about 10% of the site's total solid waste was eliminated from the prior year.
Programs like this have been implemented at other Conagra facilities, but the Oakdale team had to use problem-solving concepts and apply them to their lines, equipment, and circumstances. "More specifically, the foundational knowledge comes from the Conagra Performance System principles," says Huskey.
Any manufacturing facility could implement the concepts of this type of problem solving, but like the Oakdale team, they will need to adjust it to meet their site-specific losses. "Often in a manufacturing setting, it is difficult to get past the reactionary mindset because of all the urgent issues that tend to arise, but it is crucial to shift to a proactive mindset in order to address problems like these," Huskey adds.
Companies in this article