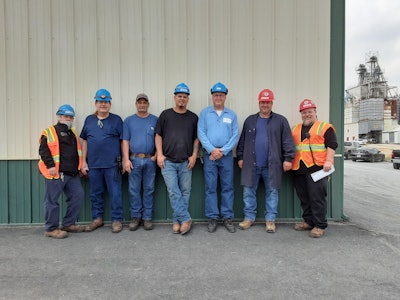 Photo courtesy of Conagra Brands
Degradation of freezer blast cells was resulting in improper airflow and inefficiency of the blast cell function at Conagra Brands' Marshall, Mo., facility. Repairs were made to air segregation, and baffle design was changed to reduce potential damage from forklift loading process.
"Baffles were added at the back of each rack column in the blast cells to force the airflow through the product pallets to improve the heat transfer of the freezer," explains Scottie McKenzie, plant engineering manager. "This reduces the freeze time, lowers electricity consumption, and increases plant capacity."
The project will reduce the plant's electricity consumption by 5.7% and reduce the plant's Scope 2 GHG footprint by almost 1,300 metric tons. "Efficiency projects like this will be an important piece of the entire company's science-based target," he adds.
---
---
In September 2021, a freezer evaluation uncovered inefficiencies in the blast cells. Contractors installed baffles inside the blast cells in November 2021, and performance monitoring occurred in December 2021. The project paid for itself in less than one year.
At the Marshall facility, product requiring freezing is estimated at 500,000 lb/day. Now the plant has seen a 10% reduction in freeze time, a 5.7% total site electricity reduction, and an overall reduction in kWh/lb usage. The result is a yearly savings of more than $200,000.
"This project would be worth looking into for any cold storage facility, specifically where blast cells are loaded using forklifts," says McKenzie. Identifying potential damage could be a way to uncover sources of significant energy waste. "Training to specifically not damage the entryway would be something that could be avoided at other facilities," he adds.
This project won a third-place award in the project category in ProFood World's Sustainability in Manufacturing Awards.
Companies in this article