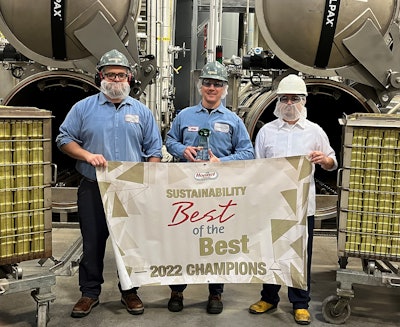 Hormel Foods
Progressive Processing, located in Dubuque, Iowa, and owned and operated by Hormel Foods, makes Hormel Compleats microwave meals, bacon toppings, and Spam products. Production professionals at Progressive Processing are always looking for ways to reduce water usage, and their latest effort makes use of reverse osmosis concentrate (ROC) water.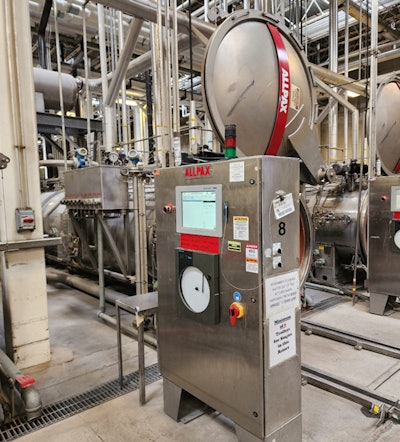 With approval from a water-chemistry consultant and the Hormel Foods Internal Thermal Processing Authority group, the Progressive Processing team verified that ROC water could supply the operation's retort process control in place of soft cold water. Changes were then made to the plant's plumbing to allow the ROC water, a byproduct of boiler feed water, to be used in the retorts to replace the use of cold soft water.
"Retorts cook most of the food produced at the facility, and a large amount of cold soft water was used for non-food-contact process control," explains Randy Thole, manager of plant engineering for Hormel Foods. "Reverse osmosis filtering is used to treat the makeup water, which the boilers turn into steam, and the steam is used in the retorts."
---
---
The first phase of the ROC project was implemented in August 2022 on the existing retorts and the final phase in December with the installation of additional retorts. The project reduces water use by about 7.28 million gallons per year. Facility-wide, this is a reduction of about 8% for water use and 10% for wastewater.
"The project is self-sustaining because there is a direct correlation between the amount of steam used in the retorts, ROC water generated, and water needed for process control," Thole notes. "This process could be transferred to other facilities that have both reverse osmosis filtering systems and steam retorts."
Although a larger distance between the reverse osmosis filter and steam retorts could cause issues for use in other facilities, there is also potential for ROC water to be used in other heat transfer applications.