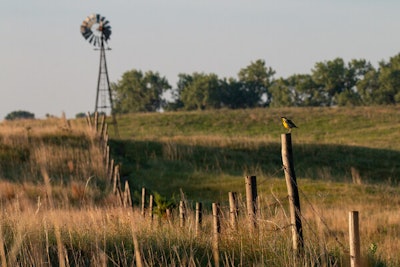 Nestlé and Cargill are investing a combined $15 million to support U.S. ranchers in adopting voluntary agricultural practices that will help fight climate change. Working with the National Fish and Wildlife Foundation (NFWF), the companies will support vital habitat for native wildlife, while sustaining a robust beef supply chain. Their commitment will leverage up to $15 million in federal funds, leading to the activation of up to $30 million in grant funding over the next five years.
The partnership of the three entities will bring together private landowners and local conservation organizations to support the voluntary land management practices of thousands of cattle producers. Investing in regenerative practices on 1.7 million acres over the next five years can sequester up to an estimated 845,000 metric tons of carbon dioxide equivalent, according to NFWF. The work also will help generate carbon benefits across more than 15 states, including areas in the Great Plains, Mountain West, Midwest, and Southeastern portions of the U.S.
The first set of the new NFWF-awarded grants are expected to be announced in April. Farmers and ranchers will directly benefit from these funds by receiving technical and financial support to implement regenerative practices on their lands.
---
---
"At the heart of Cargill's BeefUp Sustainability program is the unique ability to connect strong partners, inventive solutions, and financial resources to scale impact in the fight against climate change," says Jeffrey Fitzpatrick, Cargill BeefUp Sustainability Program lead. "Leveraging the long history with our partners, this partnership has uncovered a sweet spot for us in supporting local farmers and ranchers, and their communities, all the while increasing supply chain sustainability, decreasing impact on the planet, and showcasing beef as a force for good."
"This partnership is activating the work needed in our supply chains to help create a regenerative, healthy food system," says Emily Johannes, director, diverse and sustainable sourcing at Nestlé USA. "Working together as an industry leverages expertise and helps achieve the scale that is critical to accelerating the shift to regenerative farming. Taking action on regenerative agriculture means supporting farmers and ranchers to implement on-farm practices that help replenish the land, absorb carbon, and enhance the health of our environment."
Companies in this article