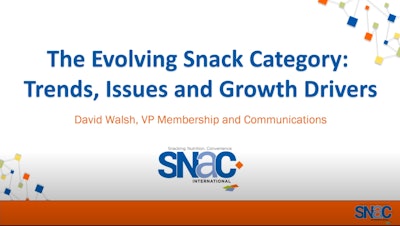 Watch the discussion here until March 31, 2021.

Greetings everyone. My name is David Walsh. I'm with SNAC International, proud to be a partner of a PACK EXPO Connects. Hope everyone has a great show and glad to be with you all today. Today, we're going to talk about the evolving snack category trends, issues and growth drivers. We're going to start by taking a high level look at what's going on in the industry, how consumers are changing their lifestyles, all through the lens of how the pandemic has impacted snacking. And then we're going to drill down on several high growth subcategories of the overall snack's category and take a look at some sales data, and analyze why some of those categories are growing. And then, finally, we're going to wrap up with just a quick note on some of the SNAC International's advocacy priorities and some of the issues impacting snack manufacturers and their suppliers.
But before we do all that, I'm just going to give you a quick note about who SNAC International is. So SNAC International is a leading trade association for the global snack industry with over 400 member companies worldwide. We have three pillars of member value, which are networking, advocacy and education. And it's really across those three pillars and by providing member engagement opportunities through networking, advocacy and education that would reach our vision, which is connecting the snack industry to create growth and opportunity.
So just a quick look at a sampling of some of our business member brands, these are our core snack producers, snack manufacturer snack marketer members, and they really range as you can see there from big to small, private to public, national companies to regional companies; traditional salty snack manufacturers to some of the newer, more innovative, better-for-you manufacturers and snack producers, startup companies, long-standing companies, it really runs the full gamut in the industry.
The other category of membership that we have is associate members. We consider these mainly suppliers to the industry, and they really range from companies supplying things like packaging and manufacturing equipment, processing equipment, seasonings, ingredients, flavors for snacks, quality control instruments, and other services like distribution and marketing. Anything that goes into making a snack business operate and grow, we have those types of companies, support companies, within our membership as associate members.
So to get into some of the trends information, it's really the reason that we're presenting today. We're going to take a look at some overall trends from a high level. Again, consumer trends, how some changing lifestyles and shifting preferences have impacted the category and how that's played out in snack trends from transforming categories, and it's really led to growth, category redefined, spanning all aisles of the grocery store today, and then all through, again, the lens of how the pandemic has impacted the industry, how COVID has impacted the category. And then finally, on industry trends, what's kind of going on, on the business front.
So to start, we're going to drill down a little bit on consumer trends, which really set the stage for the recent category growth before the pandemic hit. The numbers you see here are pre-COVID. We're going to focus on how COVID impacted the category in a few slides, but it's really, a lot of this growth has resulted from the lifestyle change that consumers enacted a few years ago. So consumers, more than ever before, had been snacking on the go, they're using snacks to replace their meals. You see that 90% of consumers snack multiple times per day; 7%, actually, no traditional meals, they're just kind of grazing throughout the day and always on the go. Some consumers snack over five times per day and that number has just been growing in the past several years. With that, increasingly number of consumers are focused on health and wellness, and more than ever before, omni-channels keys. Snacks are being purchased throughout all channels, it's not just traditional grocery.
You see there, there was a 38% growth in e-commerce according to IRI; 10% growth in C-store, again, this is pre COVID; 21% in mass merchandise and 11% in groceries. So for snack producers, snack manufacturers, it's really been more important than ever before to optimize their marketing to touch all different channels. E-commerce still has a huge growth opportunity, especially in today's times when folks are not leaving the house as much as they were before the pandemic hit. But e-commerce can also really help level the playing field a little bit and help some of the smaller companies that have trouble competing for shelf space with the bigger players, but are really adept at navigating those digital platforms. They can also go directly to the consumer and bigger companies are doing that, of course, as well. Many consumers, we found that 40% don't think to buy snacks online yet, there's concerns about breakage and melting and the expense of it, so there's still a big opportunity for growth here, and brick and mortar store continue to be important for growth. You see there, 90% of the snack sales are still happening in brick and mortar today.
So again, you need to integrate the brick and mortar marketing strategy and bring in technology, things like video. We're seeing more augmented reality can really show the nutrition of a product and where the product is made and all those things that consumers want to know more of today.
Because of this lifestyle shift, that's this on-the-go portable lifestyle, consumers have been relying more on the snack category than ever before, and it's because they're snacking much more frequently than ever before. So because of that, functional snacks are much more important. They're looking for things like fiber and protein, minerals, antioxidants in their snacks. They're taking a real holistic view of their health. So they're looking at brain, skin, gut and heart health. And you see there, that 88% number, that really shows that consumers are willing to put their money where their mouth is, and 88% are willing to pay more for foods that they perceive as healthy.
So this reliance on the category has really helped redefine the category a little bit, a lot of innovation, traditional snacks that have been reinvented, which we're going to take a look at in a few slides here, and there's just been a lot of growth. And this was really led by the younger populations, younger demographics, millennials and gen Z, they're really the ones that are snacking much more frequently, they're the most likely to replace meals with snacks.
So this next slide is going to show you an example and a little bit of data to back up the snacking frequency trend. You see there, on the light blue section of the cookie how that number has grown, the number of consumers that are snacking three plus times per day over the last 10 years or so has only continued to grow. To consumers a snack is a way of life, that's steadily on the rise. There's been a generational tailwind, so younger consumers are taking this trend with them as they get older and as they increase their purchasing power. Now, we're going to take a look at how these consumer behaviors are impacting the snack category at a bit of a higher level.
So we take a look at the snack overall, macro snack trends, as we like to call it. Snack growth compared to a total store shows why this category is really one of the most exciting categories in all food and beverage. So you see 4.2% snack growth compared to 3.2% total food and beverage, so it is outperforming the rest of the food and beverage categories in the grocery store. As noted in the previous slide, because consumers are relying much more on the category, especially younger consumers, they're also looking for new alternative ingredients from their snacks. Ingredients like, you see there, beans and chickpeas, which are projected to grow double digits through 2020 by IRI; coconut, chia, hemp, and all kinds of new alternative ingredients like that.
That said, traditional snacks will always have a firm place in consumer's hearts. They continue to hold strong, those traditional salty snacks, forecasted to grow up to 29 billion by 2022, according to package facts. So it really is all about that balance. Some consumers are looking for those innovative, better-for-you options, and many consumers are simply looking for an indulgent treat with their snacks. So when you look at some of the main growth drivers that are helping a lot of the categories see tremendous growth over the last few years, it's always all about taste. Taste still reigns supreme above health, above price, above freshness, above brand recognition, above, really, any attribute that you can think of is taste.
So a majority of snacks that introduce a combination of flavors, so different flavors, either in the same product or in the same bag, grew in sales last year. Consumers like to really try snacks to see what they taste like, to see if they'll like it, they see it as an adventure in their snacks. Variety and experiential flavors are really driving excitement and growth. So there's really flavors across the spectrum from sweet, like Superfruit's birthday cake marshmallows, all the way to the other end of the spectrum with extremely hot, which we're seeing a lot of today and have been for the past several years, chili pepper lime, for example. And we're also seeing more exotic flavors like blood orange and combining exotic global flavors for winning combinations.
Another big growth driver is packaging. So different types of packaging that can signal different attributes about the product. So is the packaging elevating the product? Is it fun and engaging? Is it communicating transparency, simplicity, clean label to consumers? And the younger generations are really looking for sustainability in their packaging. There's been a lot of growth and better-for-you nicer packages, but still the key to win is the product needs to taste great and be affordable. So you see there, the food influencers, the first one on the list is price, and so, really, the winners in the marketplace are finding a balance between the indulgent treat and the health benefit.
So we're going to shift gears a little bit and take a look at COVID-19 and snacking and how that's really impacted the category over the past several months. It's either that snacking has helped create somewhat of a sense of normalcy when that desire is so necessary for consumers today, they're just looking for some normalcy and they've relied a little bit more on things like their comfort food and some of the snacks that they're used to snacking throughout their lives. You'll see, snacks will continue to see an increase in sales, they have seen an increase in sales over the past several months, even with the economic downturn. And even as the economy might take two to three years to recover, the snacks market will still hold strong and continue to grow due to factors like high value, affordable, fun products.
Snacks were the number two category for retailer dollar growth over the past few months, only second to personal care products, which makes sense when you read what's happening in the news and just in your personal lives. And consumers, more so over the past few months than they probably were the past couple of years, they're snacking to indulge. Because at the beginning of this pandemic, we were all just trying to get by, have a little entertainment, but the existing trends towards health and better-for-you options won't go away, and they're gradually returning now as we kind of shift to this "new normal".
Globalization of flavors is uniquely important. Less consumers are eating out, obviously, so there's an opportunity for a snack producers to provide that "foodie" experience in the home, maybe some more global flavors to consumers that might be seeking an adventure where they would normally fulfill that desire at a restaurant, they're staying home so they might be willing to try some new flavors. And this new normal, what will this new normal look like? Will working from home become more commonplace post pandemic? All these things are what are some things that snack producers need to consider as they move forward? A return to pre-COVID trends is expected, some of those trends we just spoke about. In the longterm, we see pent up demand, we expected to reignite consumer preference for the new, and different, and unusual, so there will be room for some of those more innovative, non-traditional, alternative ingredients for snacks.
So value is really key. As many consumers are struggling, price point is more important than ever before. Snack producers need to think about how they're reaching consumers in home, when they might not be taking trips outside of the home to the grocery store. They're looking for that on-demand with the reduction of traditional impulse purchasing at the checkout line. How do producers reach their consumers and make their products available on demand? Maybe that's when they're checking out on an e-commerce grocery trip or a click and collect. And we're seeing growth in private label and value to brands, obviously, as consumers many consumers are going through tough times, price point is hugely important. Finally, shift in package size and channel preferences. So mass dollar and club stores, there's been a huge boost in sales in those channels. C-stores has taken a dip as consumers are a little bit less active and less on the go, and online shopping has continued to grow.
In terms of package size, larger packages and multi-pack snacks have seen increases in sales. I'm going to take a look at some of those numbers on this next slide here. So this graph shows data behind consumers gravitating toward those larger pack sizes and variety packs. SNAC actually commissioned some IRI data to illustrate some of those data points for sales during three separate weeks at the beginning stages of the pandemic, in March, April, and May, and compare the package sizes to the equivalent weeks from 2019.
So you see there at the bottom, we've broken up by different package sizes ranging from one to four and a half ounce packages, more of the single serve sizes, to four and a half to eight ounce, eight to 10, 10 to 16, more of the family party size, and then 16 plus, the larger club sizes. And we've highlighted percentage increases at the top and comparisons to the equivalent week from the year before. We've highlighted some of the biggest shifts, either a plus or minus. So you see there, minus 14% and minus 12%, respectively, for the weeks in April and May for those smaller package sizes. Whereas you go to the next size up, in March, April, and May you see 80% growth, 27% growth and 30% growth, respectively. And then eight to 10 ounce, you see 32% growth in March and then ten to 16 ounces, you see huge growth in March, 87%, as well as April, 57%, and 60% in May, just really illustrates how much more of the consumers are gravitating towards larger pack sizes.
So some of those data points are very interesting in telling about how consumers have been living their lives over the past several months.
Now, finally, we're going to zoom out to a higher level and take a look at industry trends. And some of these trends, actually, were kind of pre-COVID but, again, we don't expect these trends to go away. So we've seen continuing consolidation amongst established players. So snack companies are acquiring each other and merging. Larger companies are buying in. You see there, there's an establishment of venture capital funds to acquire innovation. There's been a launch of a ton of incubator and accelerator programs. There's been over 400 food startups that have received over six billion in funding over the last several years. And non-traditional snack companies are also buying into the growth growing categories, so things like Hershey's and Campbell's.
Companies that didn't typically see themselves as major snack companies have really bought in and now have a huge presence in the category, and it's really because of that category growth that a new generation of investors has taken notice. The industry is rapidly transforming, there's been an innovation in the food industry that has really been compared to the tech industry and startups are driving a lot of this growth, they're really agile and they're quickly filling some white spaces in the marketplace.
So now we're going to drill down a little bit on individual higher growing categories of snacks. So SNAC produces an annual state of the industry report featuring snack sales data for all major snack categories. You see some of the examples there, and it really analyzes the supporting trends behind that sales data. Salty snacks as a whole head of 9.4% growth over the past year. And again, we're going to drill down on some of the highest growth subcategories and some of the common themes behind each growth stories.
So what's the fastest growing category of snacks over the past year? It might be surprising to some, but maybe not if you consider some of the trends I spoke about a few slides ago. The highest growing category is apple chips at 24%. And it makes sense, many consumers want to increase their consumption of fruits and veggies. This really offers a fun way to do it, it also appeals to kids and parents that are maybe getting their kids to eat healthier, it gives them a kind of a fun way to do it, they see it as snacking but it still gives them that vitamin C that they're looking for and some of the other nutrients. Especially during COVID concerns, vitamin C boosts are always welcomed with consumers, they're looking for anything that might help their immune system. Many of these products are baked to really offer that healthy perception and really give that guiltless indulgence, which is a theme that we're going to talk about through many of these categories that I'm going to present here today.
You also see a lot of flavor combinations, something we talked about, that is really winning with consumers, this helps to add excitement. And also at the packaging is a growth driver. You see a lot of bright, vibrant packaging here, that it really helps signal that the products are fun to consumers.
The next category that we're going to look at is cheese snacks. Another very high growth category, grew by 16% in sales over the last year and eclipsed over two billion in sales. This category is really driven by flavor combinations. There's been a lot of barbecue and very hot flavors that we've seen in this category, as well as consumers seeking indulgence in real cheese flavors. So big cheese snacks are doing well as health remains important and is returning.
You see some examples there, like the Utz Portables that I believe they're releasing this fall, they've noted the consumer on-the-go portable trends, so they've innovated their packaging to allow for this kind of on-the-go snack that consumers can pour out and save and eat in their car, perhaps. It also has a lot of other interesting promotions that focus on seasonality, they do things like baseballs, white cheese balls, and also Easter rabbit tails and Halloween cheese balls, so just ways of creating fun and engagement in this category.
And then you see there, the next three examples, Whisps, ParmCrisps, and Sonoma Creamery Pepper Jack crisps. These types of products were a trend that we noticed about a year ago and they really just took off and they're continuing to take off with just incredible growth numbers. So Whisps combine healthy and indulgent, they've been a good example of some private equity investment in the category because they recognize the growth potential here, they grew 51.7% over the past year, ParmCrisps grew almost 94% over the past year, and Sonoma Creamery group 40%. So they're really just that single ingredient snack, they deliver on the whole food protein, and they're also seen as more premium products making use of things like artisanal cheeses, see the pepper Jack and things like that, Parmesan cheese. Some examples of a lot of flavor innovation in this category as well, and in these types of products, ParmCrisps has flavors like jalapeno, sesame, pizza, four cheese, and they also come in multi-packs, capitalizing on that trend for consumers that are seeking multi-packs and variety packs.
The next category we're going to look at is meat snacks. And we'd like to think that all these meat snack categories and pork rinds, which I'm going to show in a second, are powered by this protein trend, that consumers are looking for a protein punch in their snacks. So jerky producers are experimenting with ingredient swaps as well in this category, they're creating plant-based substitutes like mushrooms for consumers that are looking for that protein but are looking to satisfy that need with more plant-based options.
Protein has been on a premium over the past several years, low-carb diets remain very popular among consumers. There are also an emphasis on simple ingredients, more jerkies are made with grass fed, no added nitrates and other artificial preservatives, these kinds of features are really resonating with consumers. You see some examples there with the Dukes on the left side, so Shorty Sausages, Briskets, and pairing with Asiago Cheese Crisps, very innovative. They're not just your standard beef jerky that we saw five or 10 years ago. They're experimenting with newer premium meats, and it really speaks to the overall evolution of this category towards more premium. When you think about five, 10 years ago, maybe they were seen in convenience stores and on road trips and that kind of thing, they're really appealing to a new consumer base, and it really hits on this portable convenient meal replacement trend that we talked about as so important earlier in the presentation.
They're also experimenting with premium new meats like elk, turkey, bison, things like that, and that kind of gave us the perception of a snack being a little bit more local and more simple, which is really appealing for consumers. This local appeal is mirroring other industries like craft beer and food trucks as well. There's also food truck inspired and ethnic flavors that are showing up in this category and end in all kinds of snacks. You'll see at the end there, the right side, Oberto Pulled Pork Jerky, so things like softer meats with slower cooking are some of the new innovations driving growth in this category. And then they're also capitalizing on different snacking occasions throughout the day, so there's things like bacon jerky, so jerky for breakfast; Oberto Trail Mix, which is appealing to a consumer that might not have traditionally had jerky but they're into trail mix, and this is a trail mix that packs a little bit of an additional protein punch.
There's also a lot of flavor innovation in this category being inspired by international cuisines, things like Thai, Indian, adobo, kimchi, et cetera. And then crunching meat chips and crisps are coming up, and we expect to see some more introductions of those types of products in the coming years as well.
The next category we're going to look at is pork rinds. So again, another category that is powered by protein, 11.3% over the past year. Over the past couple of years, it grew from 275 million to 380 million, so you see, it's just growing exponentially. Just like beef jerky, keto and paleo diets have made this category increasingly popular, it's higher protein, no-carb snack. The protein demand is huge, combined with meal replacement, it's really led to an explosion of this category. Similar to jerky, they have that small batch local appeal, you see some of the vibrant simple packaging, more premium packaging, that has elevated this product compared to years past, and lots of adventurous flavors. So Southern Recipe, you see it there on the left, it's a holiday inspired Cranberry Jalapeno, which they're releasing this year, you see the Cuban Mojo, Korean Kimchi Barbecue, so just very exciting flavors in this category.
Pork rinds, pre-pandemic, especially, were really popping up in food service at restaurants, stadiums, as appetizers, a kind of a trendy appetizer, and now there's been a lot of opportunity to incorporate some pork rind recipes into home cooked meals. So if you visited one of our members', Rudolph Foods', website, they have a list of just a ton of recipes that you can use with pork rinds. So things like pizza crust, taco shells, breading for fish and chicken, just a lot of creative and engaging ways to engage consumers and consumers can share them on social media, so just a lot of engagement in this category as well.
The next category that we're going to look at is popcorn. So this has grown just a ton over the past five years, exploded about five years ago, and it only continues to grow with 6.7% over the past year, up to 1.25 billion. And it's really seen as this guilt-free indulgence, it provides a simple, healthy base to experiment with a lot of new flavors. This category is really helped by the better-for-you snacking trend, it's low calorie, low fat, can naturally be whole grain and high in fiber, it's really easy to be a clean label here. This has especially resonated during COVID, it's a great snack for watching TV at home, obviously. And you see some examples there with Popcornopolis, there on the left, they've incorporated trending functional ingredients like turmeric and herbal extracts. Smart 50 by Frito-Lay, it was 50 fewer calories per cup and all whole grain. Cheetos popcorn, it's really a combination of categories, it's a lot of Cheetos to enter a brand new sub category of snacks.
So again, it's a simple base for experimenting with a lot of new flavors. There's been a lot of sweet and salty combinations. Some are also experimenting with more premium artisanal cheeses to add more excitement to this category, as well as alternative cooking oils, such as coconut. There's also lots of on trend cheesy hot flavors doing well this year, bold flavor combination trends that we've talked about throughout the presentation, some producers even putting multiple flavors within the same bag. And some popcorn producers have even released protein fortified varieties to capitalize on that trend. Finally, you see some examples of the vibrant, colorful packaging there, that is really helping them for some of these products to pop with consumers.
Next category we're going to look at is tortilla chips. So this has grown quite a bit over the past year at 10.3%, it's reached 4.9 billion. It's the second largest sub category of snacks, only behind potato chips. It really fits that COVID comfort food snacking trend. Also, a trend that we use we saw four or five years ago is how tortilla chip producers are putting the restaurant in the bag and positioning the tortilla chip as an appetizer, maybe more than a snack. So you see an example there on the right, the cafe style On the Border tortilla chips, serve as a really good, perhaps, in-home Mexican meal appetizer to eat with salsa. So producers are "putting the restaurant in the bag" and that old trend is back more than ever before, especially as consumers stay home a little bit more.
But this is a great example of a category that has really reinvented itself with the trends, they're using all kinds of new ingredients like sprouted ingredients, whole grains; grain-free also, with use of things like cassava flour, chickpea flour, pea protein, and other healthy inclusions like chia and flax seeds, all those types of new ingredients have really set the stage for this category. Like other categories, clean label tortilla chips are growing and international cuisine has really influenced this category as well. That said, you're also seeing a lot of experiential flavors that consumers are looking for a bold adventure, things like Doritos Blaze and Flamin Hot at the end of this category. And then finally, again, the flavor combination trends. So for example, chili and lime flavors in the same bag has been popular in this category as well, and has really led to growth. Protein has hit this category as well. You see the example there with the Quest Protein Chips.
So next, we're going to look at other savory snacks, and this is a category that's defined by IRI, but here you see all those snacks that don't fit in the tortilla chips or potato chips. You see a lot of extruded snacks like puffs and veggie chips, and things like that in this category. This category has really been the home for innovation. This is where a lot of the non traditional snacks lie. So snacks with ingredients like peas and onions, and multi-grain, cauliflower, all kinds of beans, veggies, chickpeas. Again, a lot of puff snacks here with protein, lentils and peas. This category has really been probably the most innovative subcategory of snacks. And because of that, it's moved into the third largest salty snack category, only behind potato chips or tortilla chips, and this has a lot over the last few years and only continues to grow.
You see several examples there, like the [Veh-je-bles on the left, marketed with vegetables like spinach, carrots and tomatoes, are resonating with consumers looking to eat a little bit more healthy. Off The Eaten Path by Frito-Lay, they're made with plant powered rice, peas and black beans. Hippeas has been growing a ton over the past couple of years, their vegan chickpea puffs. Whole Earth, you see their green pea snack crisps. It's been a great category for a lot of vegetables and healthier alternative ingredient for consumers.
Now, pretzels has been an interesting story this year. I haven't usually featured this sub category in this presentation because growth has been somewhat flat, it's been growing but maybe not as much as some of the other categories, but this has really spiked during the pandemic. So you see 10% growth here up to 1.1 billion in sales, it's provided a good salty snack to indulge in at home. But is it healthy or indulgent indulgence, consumers really want both, and you're seeing the health play out in this category as well. So like other categories, this has been a good example of a traditional category that has reinvented itself with the trends. So some examples here, you see Unique Pretzel offers 100% whole grain, organic sprouted wheat products as well, exciting products like their Sourdough Rings, Craft Beer pretzels. Snyder's-Lance launched gluten-free pretzels as well as multi-grain pretzels. And then you're seeing a lot of flavored pretzels entering this category as well, as we see there on the Pretzel Pete example on the right side with their Cheese Pizza. So all those things are kind of leading to the innovation and growth in this category.
And then finally some emerging products. So there's still a lot of room for growth in all these things, but probiotics, many consumers are still learning about the benefits that the good bacteria can have on their health. We're seeing new products, such as chips that are seasoned with probiotic strains to appeal to new consumers. CBD, it's hard to do a snack or food presentation in 2020 without touching on CBD. There's been a lot of sales at dispensaries, but not really seeing as much in traditional retail yet, just because there's been a lot of uncertainty. CBD is still not approved as a generally recognized safe food additive by the FDA. So FDA continues to gather data on that. Some producers are just taking the risk and still selling CBD fortified products, but they will be liable for lawsuits because FDA has not approved CBD for sale in general food yet. Functional late night snacks, so snacks that consumers can eat before they go to bed, think about like Sleepytime tea, we expect that trend to enter the snack food category as well.
And then lab grown plant-based protein and collagen, like we've seen with things like Impossible Burger, would not be surprised to see that enter the snack category and grow in the coming years as well.
So packaging to communicate transparency. I'm just putting a list here of all the different types of claims that are resonating with consumers. Transparency is obviously critical today, and more and more consumers want to know what producers and what packaging companies are doing about sustainability. So whether it's green manufacturing processes or ways to reduce packaging are all very important to consumers.
So just to wrap it up, some conclusions here. So the key is to win product diversification. Producers need to really innovate to offer something for everyone and many are walking the line between traditional and indulgent products and better-for-you, creative, new, adventurous products. Snacks now need to be functional, but traditional snacks will always have a place in consumer's hearts. Something for everyone, everyone is snacking today, whether you're a dieter, you live on the go, or you're seeking adventure at home.
And then what are the growth drivers? Like we talked about, above all else is flavor. But increasingly today in a more competitive marketplace, packaging must talk to consumers. What claims are resonating with consumers? What is your packaging trying to signal? Is it premium, fun, et cetera?
And producers must adapt to an evolving environment, so price point is still very important, more than ever before, especially during the COVID-19 pandemic. Producers must optimize for today's time. Sales in larger package sizes have increased multi-pack snacks have increased and more consumers are shopping online. So we really much leverage all forms of media to reach consumers that might be making fewer trips to the grocery store to capitalize on an increased at-home celebrations, snacking has and will continue to play a large role on these occasions.
And then I know we're about out of time. So just going to take a quick look at some of our advocacy priorities, but SNAC has launched a COVID resource center to help its members navigate the litany of new regulations and guidance that have been coming out of the Public Health Agency since the beginning of the pandemic, it's free and publicly available on our website. And then you can read some more about some of our other advocacy initiatives here. But limited liability protection, so SNAC advocated for and achieved, on the labeling flexibility front, needed flexibilities regarding enforcement discretion for the nutrition facts panel and temporary labeling flexibility for ingredients as manufacturers struggle to cope with increased demand and possible labor shortages, and just try to navigate all the various impacts of the pandemic.
So you can read more about these issues in our website. You can contact me, my contact information is here. I'm happy to help with any industry specific needs that you might have. If you want to learn more about SNAC International, all the member benefits that we provide, we provide a lot of education and industry networking opportunities. You visit our website at www.snacintl.org or contact me there, again, with, of course, any questions. So thanks again for being with us today. I look forward to seeing you at PACK EXPO Connects, and I really appreciate the opportunity to present today. Thank you.