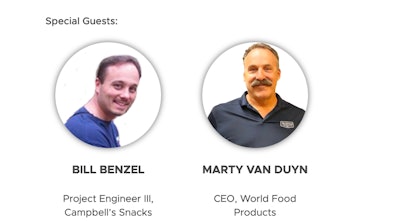 When the pandemic lockdown hit, food and beverage companies—although grateful to be able to keep their doors open—faced substantial challenges keeping up with increased demand for their products, as consumers stocked their pantries and hunkered down. As part of PACK EXPO Connects, TNA North America, Inc. held a roundtable discussion with Bill Benzel, Project Engineer for Campbell Soup Company's Snyder's brand, and Marty Van Duyn, CEO at World Food Products, Inc., on how these snack companies used automation—specifically tna's baggers—to meet these demands.
Since COVID-19 hit, Snyder's Hanover, Penn., plant, which produces tortilla chips and pretzels, replaced three of the 40 tna robag® baggers it operates. World Food Products, a maker of dried fruits, nuts, and snack items, added three tna bag machines at its Manteca, Calif., facility.
Shared Benzel, to meet the demands of the current times, Campbell looked at two options: hiring more people or automating. "We currently have between 60 and 80 open positions, so we quickly decided to go the route of automation to meet the demand," he said.
Likewise, Van Duyn says World Food Products chose automation over more employees, as the pandemic presented a host of challenges around labor, including considerations on how to get employees to the site safely and provide a safe working environment. Once the company installed the bagger, he says, the machinery opened up new opportunities. "The tna family of machines really opened our eyes to a lot of different things we can do with them," he said. "We've always done larger pack sizes. But we started getting into smaller packages for single-serve products for schools, the prison system, and FEMA programs. That forced us into some higher speeds, and that's where tna really stepped up and helped us evolve into those new applications."
---
PACK EXPO Connects Drives Industry Innovation: So far this week, PACK EXPO Connects has seen over 115,000 directory visits as of Nov. 11 with 108,000 visits to exhibitor showrooms. These interactions between solutions seekers and solution providers have led to 50,000 exhibitor leads this week alone and a total of over 110,000 leads since the web site launch driving industry innovation into 2021.
---
Speed was critical for both companies as they struggled to meet increased demand. In one current project, Benzel says Campbell is using TNA bagging machines for 0.5-oz bags of mini pretzels. The machines are capable of running at speeds to 130 to 140 bags/min, but due to the slower speeds of downstream equipment, the company is only able to run them at 95/min. However, at the conclusion of the project in early December, that speed will increase to 121 bags/min. "So on one product, we'll see an increase between 11% and 12%," he shared. "On another product, we'll see between a 26% to 27% increase."
Before installing TNA baggers, Van Duyn says his company was using the same machines as used for its larger bag sizes to fill the single-serve items. This resulted in speeds of just 45 to 50 bags/min, making it difficult to meet the needs of FEMA and schools. To address this, TNA recommended a new bagger that could fill 1- and 1.50-oz single-serve bags. The company was able to bring it into World Food Product's plant and get it up and running in 14 days. "And immediately we started hitting 110 to 120 packs per minute," he says. "So we were comfortably able to commit to more product per week for these guys. It worked out very well for us."
Equally important in the selection of these machines, said Benzel, is the speed of changeover. According to tna, its patented tna robag® Auto Connect and Unload Assist makes changing out formers simple and quick. Says tna, "There's less physical strain on operators and more uptime for packaging your product."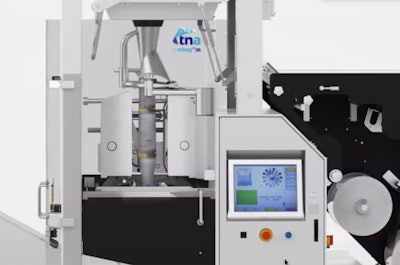 At the Campbell plant, each product line is equipped with three to four baggers, with each bagger able to run a different bag size. While this does allow for flexibility, Benzel noted, the goal is to keep the machines running in order "to pull all the poundage we produce from our ovens."
"If we need to take down one bagger for changeover, it's crucial," Benzel said. "While we do have flexibility, the pretzels keep coming, so changeover time is difficult for us. But tna has made it easier with the quick-change formers. Also, from a safety side, the mechanism that pulls the former out of the machine makes it safer for us to handle.
"Our operations run 24/7, and we do bake changeovers into our production schedule. But if we can reduce the time it takes to do changeovers, that's more product that we can get out."
With any new equipment purchase, Total Cost of Ownership is an important consideration. Said Van Duyn, there were a number of factors that World Food Products evaluated in order to make a decision on purchasing tna machines. Among them, the longevity of the equipment, the speed of the equipment, changeover from one flavor profile to another and from one package size to another, and the wear and tear on the equipment, among other things.
At Campbell, Benzel says TCO for the baggers has come from their reliability and the improvements tna has made along the way that have helped the company standardize the machines it's using and will be purchasing in the future. "We see very little issues with the tna baggers," he said. "I'd say the biggest part is the wear parts, the jaws, and the bowls."
---
Don't Get Left Behind: For more information on how to make the most of your PACK EXPO Connects experience, visit the Attendee Resource Center. For free registration, visit packexpoconnects.com. Exhibitors will be staffing their showrooms for 1:1 chats 10 a.m. to 1 p.m. Friday. Login to take advantage of the live interaction before the show ends.
---
Explained Patrick Avelange, Regional Sales for tna, "The way the machines are designed, we have very little mechanical movement using the rotary motion. If you compare it to a lot of other equipment out there in the marketplace, we might be less than half the moving parts of some of our competitors. It makes a big difference when you have to maintain the machine, keep it running. That simplicity of machine design gives a lot more reliability to the equipment, which makes it easier for the maintenance team and the operations team."
To view the entire roundtable session from TNA North America Inc., as well as other roundtable discussions and demos from the company (available through March 31, 2021) and to add tna to your MyConnects Planner, click here.
Companies in this article