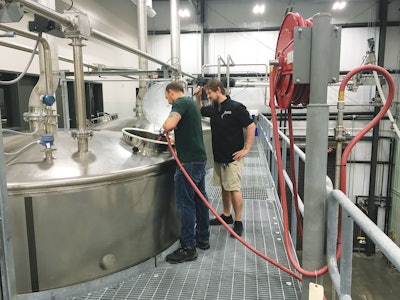 Joyce Fassl
A valley located in the north-central Smoky Mountains, known as the Sugarlands, is steeped in American folklore. Europeans settled in the area around the turn of the 19th century, bringing with them their tradition of whiskey distillation. First to avoid a steep tax hike and later amid U.S. Prohibition, they made their unaged corn-based alcohol by the light of the moon to conceal their illegal activity—becoming known as moonshiners.
---
| | |
| --- | --- |
| | Has your food or beverage facility recently undergone a major plant or line expansion or renovation? See how to enter our next Manufacturing Innovation Awards. |
---
Fast forward to the 21st century, and legal moonshine whiskey—often sold in mason jars to evoke a southern tradition for preserving food and alcohol alike—has found a home in the hearts of many consumers. The demand for moonshine is expected to grow significantly, not just in the U.S. but around the globe, according to Future Market Insights.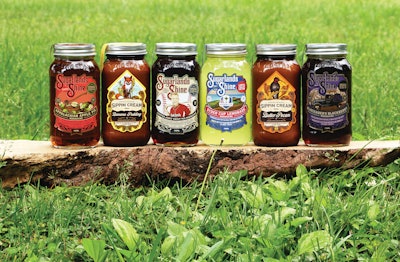 Sugarlands Distilling, winner of a 2022 Manufacturing Innovation Award from ProFood World, needed a new facility because of its 40% growth rate each year. The company was founded nearly a decade ago in Gatlinburg, Tenn., and all production and retail space were in Gatlinburg up until last year. Due to exponential growth in product demand, a second facility with a 25,000-sq-ft distillery and a 25,000-sq-ft barrel house storage area was constructed about 20 miles away in Kodak, Tenn.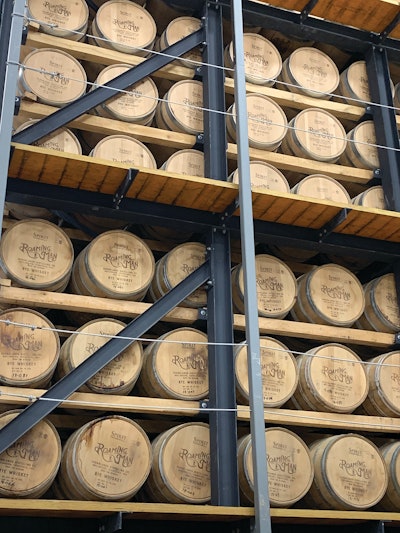 "Now we do all of our blending, batching, and bottling out of the new facility," states Greg Eidam, Sugarlands' head distiller. "We continue to distill and mash in Gatlinburg, and now we've added additional mashing and distilling capacity with the new facility in Kodak."
Over the past eight years, Sugarlands Distilling has built its distribution network to 46 states, Eidam says. "With the added distillation capacity, we can produce about 5,000 barrels per year with the current equipment. And with our [new] blending, batching, and bottling capacity, we can produce over a million cases a year now."
A $28 million investment was made in the Kodak facility to produce multiple brands, such as Sugarlands Shine, which includes multiple flavors as well as Prohibition-style moonshine; Appalachian Sipping Creams (cream liqueurs); High Rock Vodka; and Roaming Man Tennessee Straight Rye Whiskey.
Automation and controls
Even in challenging economies, history has shown that consumers continue to purchase alcohol. During the COVID-19 pandemic, while restaurant and bar sales stalled, in-home consumption grew. The whiskey industry is growing by leaps and bounds now that legislation has changed across the country, according to Brett Rygalski, senior project manager with Matrix Technologies. "New distilleries are opening in every state," he says.
"From a cash flow standpoint, our business did very well through COVID," Eidam says. At the pandemic's start, Tennessee remained open for business, and the Gatlinburg area was one of the few places tourists could visit.
In fact, Sugarlands' first meeting with facility, process, and automation design provider Matrix Technologies occurred just as the U.S. went on lockdown. Matrix was awarded the automation and controls project, and after an initial meeting, neither company met in person again for more than a year. Matrix was tasked to finish the engineering efforts, automate the facility, and start up and commission the new process in a plant that was already constructed. In addition, major distilling equipment was already purchased and in the fabrication stage.
"When we first met, there was a slab on the ground with a pile of steel for the building," Rygalski recalls. "We had to get everything to fit inside that footprint. And some of the equipment was already specified. Getting all of that to fit within the spatial constraints was certainly a puzzle."
---
---
The first step of the project was to develop piping and instrumentation diagrams (P&IDs) that provide the groundwork for how the process is to be defined and operated. For this particular distillation process, the pot still size was the most critical aspect of the overall plant design. Matrix engineered the system to size the fermenters, the cooker, and the grain handling system. Once this process design was finished, utility systems could be sized, including the chiller, cooling tower, reverse osmosis (RO) system, boiler, and air compressor.
The second, and probably most important, function of the P&IDs is the control philosophy, states Rygalski. "Every process should have a degree of automation and manual control." The P&IDs designate which items are automated and provide feedback to the control system for operator intervention. The level of automation includes fluid transfers, control valves, level instrumentation, speed control, and utility system interfaces.
The next step was working with vendors for equipment sizing and specifications. Finally, the system was designed to produce dozens of recipes.
Proper cleaning of the common equipment was an important design consideration, says Rygalski. Matrix worked with clean in place (CIP) vendor M.G. Newell to design a system that could clean multiple pathways, color variations, and material viscosities to ensure that the equipment was properly sterilized between production runs and could eliminate any cross-contamination of materials.
After completing the process design, Matrix engineers completed the controls electrical design. This included the design of six separate control panels, including utilities, holding/blending, product unloading, cooking, alcohol, and grain handling. "Separate control panels allow the flexibility for the facility to operate each system independently," explains Rygalski. "By architecting the control system this way, it also allows for a more streamlined approach when it relates to any potential future expansion."
Flexibility, quality, throughput, and asset utilization
Matrix installed a Rockwell Automation ControlLogix control system, according to Victor Bertorelli, an automation control engineer with Matrix Technologies. "The challenge was that, while there were existing automated control systems for brewing, there was nothing on the market that fit Sugarlands' needs," he states.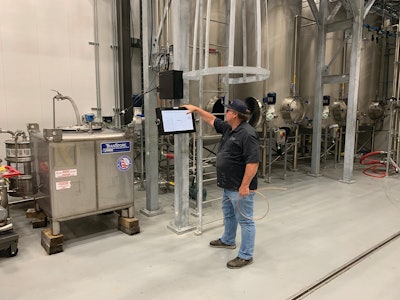 The facility's control system was designed using Rockwell Automation's ControlLogix hardware, FactoryTalk Batch, and a FactoryTalk View SE distributed human-machine interface (HMI). The process runs from an HMI or handheld tablets, allowing operators to open and close valves and start pumps individually. The exception to this is product flow path configuration, permissives, fault monitoring, and interlocks associated with moving product into and out of the blending tank based on operator-entered material weight setpoints. "Additionally, PID loops were implemented for temperature and pressure control of the process vessels," states Rygalski. The main characteristics of the Sugarlands plantwide control system (PWCS) are flexibility, quality, throughput, and asset utilization.
Flexibility: Sugarlands constantly introduces new products or variations of existing products. A control system that rapidly adapts to a variety of flavors allows the marketing team to be creative and develop attractive products. "Applying the standard ISA88, in conjunction with modernized technology, allowed Matrix to develop a control system that was capable of filling this requirement," Rygalski says. "It only takes a short time to develop a new flavor product in the system."
Quality: With quality or consistency, the challenge is always how to integrate automatic operations with manual operations. "Even in a fully automated system, there is always manual activity that should be performed by operators the right way at the right time," states Rygalski. "Adding specific flavors at specific times, manually or automatically, are part of the PWCS procedures developed by Matrix to ensure consistency across the production system."
Throughput and asset utilization: A control system should be able to take advantage of the resources available with minimal operator intervention. The way to achieve this is arbitration, explains Rygalski. "Arbitration is the control system's capability to hold a specific operation while the required resource—RO water, for example—is being used by another unit. As soon as the resource is released, it is then required by the next system that is requesting it, and in the order of request. This functionality ensures a nonstop operation across the production systems."
The system controls two process cells: blending and distillation. The blending process cell consists of one main blending tank that feeds in grain neutral spirits, whiskey, or liquid sucrose. RO water can then be introduced as desired. Once blending of the material is complete, the product can be transferred to one of four holding tanks. Here, cream liquor, as well as several other raw materials, can be introduced to three of the tanks, creating several different product variations. Once the product has reached its final stage, it can then be transferred to the filling line and further packaging.
"You don't take down the whole plant with one control panel going down," says Rygalski. Sugarlands' controls isolate each section, whether it's grain handling, fermentation, or blending. Control panels are dispersed throughout the facility. Since alcohol production can be very flammable, there are hazardous areas in the plant. Control panels had to be located outside of the hazardous areas, but still relative to the rooms they service. "From an electrical installation standpoint, that saved money by locating them around the facility vs. in one central location," he adds.
Three Rockwell Automation controllers run the blending process and a batch engine for all existing procedures or recipes. The distillation process cell consists of one cooker that receives grains, domestic water supply, and manually added in process materials. Temperature is controlled through the addition of steam and chilled water supply (CHWS). This product is known as the mash or the starting port for fermentation.
"The recipe editor is a tool for process engineers," explains Bertorelli. "The process engineer should be able to arrange the recipes, create new products in a matter of minutes or hours, depending on how complex the new recipe is."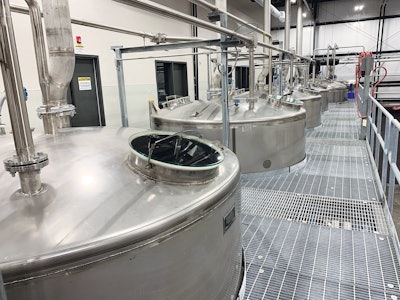 Once the cooking product is complete, product is transferred to one of four fermenters for further processing. CHWS can also be added to the fermenter during this process. Upon completion of the fermenting process, product is transferred to the pot still. Temperatures of the pot still can be controlled from the automated addition of steam and chilled water. From here, the product is transferred to one of three gauging tanks used for proofing the product.
Increased operational efficiency
In July 2021, Sugarlands Distilling hosted a pot still capping ceremony offering a sneak peek of the company's newest distillery, barrel house, and production center. "What this facility gave us was much larger, expanded production capacity and operational efficiency. With it, we were able to automate the batches, instead of batching everything by hand in 350-gal totes," explains Eidam. "We were manually lifting bags of sugar, flavor, cream, and spirits into totes, manually mixing, and agitating in small batches."
In the past, Eidam says, it took five to six distillers in two shifts to process 10 330-gal batches. "We're now able to do that same volume in about an hour and a half," he states.
The biggest change in Kodak compared to the Gatlinburg facility is automation, especially in blending and some of the packaging areas that allow Sugarlands to minimize human error, resulting in better consistency and blending in much larger batch sizes. "Instead of having to test 10 separate batches a day, now we're testing essentially one or two batches a day, so we can really focus on that quality," Eidam explains.
Matrix's work allows Sugarlands to monitor tank volumes, which Eidam says allows the distiller to reorder supplies as needed. Ingredients, such as grain and liquid sucrose, are now delivered in tanker quantities. "That helps improve efficiency," he says. "Before, we had to bring in things in totes or super sacks."
The new facility provides a much larger warehouse space, both for finished products and barrels. "It allows us to better organize and manage our inventory level of both raw materials and finished product," says Eidam.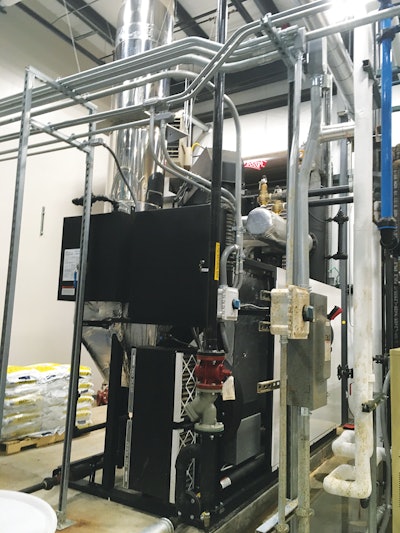 But the facility's biggest impact has been increased operational efficiency, Eidam says. "OEE has improved tremendously," he adds. "It takes a lot fewer people to achieve the same tasks now. Being able to collect data with the automation system, we're able to go back and look over batches and confirm quantities, and then pull data out of each batch."
In addition, the project enables the Kodak facility to expand its bottling operations, providing more efficient, higher-speed packaging lines. "It allows us to change from different product types much more efficiently and gives us more accuracy and consistency in packaging quality."
While Sugarlands is still in the process of getting all parts of the process up and running, there's now a lot of new equipment to be maintained, such as pumps, loaders, valves, etc. "That's something we're still working on," explains Eidam. "We're implementing a program right now called MaintenX to basically log and track our equipment and various parts."
Eidam says the project's success was a result of excellent communication and having a good team in place. "This was a massive scale-up for us from a small operation to a much, much larger operation. There was just a lot of things that we didn't know. And we were obviously relying on the expertise of people like Matrix and their team."
Rygalski says COVID really reinvented how people work, but he emphasizes the value of face-to-face meetings. "I feel like things improved once we were able to get on site and meet the contractors and meet with Greg in person," he says. "It goes back to what Greg said about having a good team."
On any project, good and bad conversations must be had, states Rygalski. "Just talking with each other about that, working together, and working through those problems together, I think, was the biggest takeaway for me on the project."
The project was designed for growth, according to Eidam. "On the distilling side, we've got this massive pot, the largest pot still in the country. We've left room to add a continuous column still with eight more fermenters and a cooker; room to add a second boiler, a second chiller, and a second cooling tower; and additional wall space in the electrical room," he says. "Matrix did their job in really planning what we need for the future. With what we know now, and what we think we might want in the future, they've allowed us to have that capacity going forward."
Companies in this article
Videos from Miura America Co., Ltd.