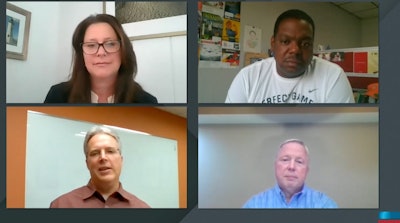 In October, PMMI, The Association for Packaging and Processing Technologies held a virtual Annual Meeting that covered topics ranging from an economic update to cybersecurity vigilance. In addition, this year a customer panel discussion featured engineers from three CPG manufacturers: Wilken Benjamin, principal packaging equipment engineer at Rich Products Corp., John Giles, manager of Ada engineering at Amway, and Joe Zembas, senior manager, reliability engineering at J.M. Smucker Company. During an hour-long conversation they discussed COVID-19 issues, equipment updates, training, safety, security, and more with OEM editor-in-chief Stephanie Neil.
Stephanie Neil: How would you describe your business condition right now? Business as usual, controlled chaos, out of the box problem solving?
Joe Zembas: All of your statements are very true. Here at J.M. Smucker Company we are predominantly a retail company, but we do have a good portion of our business in the food service channel as well. When everyone shut down restaurants several months ago it definitely hurt our food service segment, but meanwhile, everyone was filling their pantry and eating at home more. There were a lot of PB&Js being made. And we had to fill shelves that had been stripped. Back in March, if you were to go to the grocery store, half of the shelves were empty. Plants were taxed with making more than what they were previously making. We saw a significant rachet up in the need to get product out, keep shelves full, and keep people and pets fed. And, as our corporate environment had gone to working virtually, it had thrown caveats into the way we get work accomplished. So it was controlled chaos, business as usual, it was everything.
John Giles: I agree with lot of points Joe made, particular with the controlled chaos, but not so much with the business as usual. There was a lot of out of box problem solving for us and defining a new normal. I hear the comments that we'll return to normal and all will go back to the way it was, but I don't think that's the case. We'll define a new normal and I see our company doing that [for example, figuring] out who needs to be in the office is a big issue for us. We are still in phase two of restricting the people who can come on campus. We are able to do more jobs remotely than we ever thought possible. The difficulty we are facing is understanding how well is that job performance going with people working remotely and what are we getting out of it. That is still yet to be determined, particularly in the groups I'm in. But we are extremely busy with projects and don't see any let up in that in the future either.
The hourly production workers are extremely busy [because] with the products vanishing off of the shelves there is a high demand to produce….So a big focus for us is working with those hourly people. It is a little more straight-forward with COVID guidelines, but to keep up with the latest and greatest is our biggest challenge there.
Wilken Benjamin: There is some controlled chaos, obviously, but a lot of business as usual. When we started looking at the scenarios in March it was absolutely chaos. But as the business has turned and the environment has changed, it is getting back to business as usual in a sense. Just like John said, we are still trying to figure out the corporate thing—who is coming to work, who is not. Right now there are more corporate folks at home, but the business is figuring out that business can get done being at home.
Stephanie Neil: You have to have people in the plant and on the packing line and you have to keep them safe and productive. Has that been a difficult problem to solve? And is that something that you have to solve or corporate has to solve?
Wilken Benjamin: It is on a plant to plant basis and the guideline are driven by the CDC [Centers for Disease Control and Prevention] in terms of what things you need to do at the plant level to keep people safe, and it is really about keeping people separated and understanding how we can still drive productivity. We found in some cases our lines work more efficiently because people are working independently and are not as distracted as they would have been with someone working with them side-by-side. It's an interesting dynamic in that aspect. But I think we've done a good job of keeping them safe. Now it's more of challenge trying to meet the demands of the business.
Stephanie Neil: How do you manage people coming into the plant, such as a service technician coming in to work on a machine? Have you reevaluated how you manage the process and the people?
Joe Zembas: Yes, if you go back to March there was no guideline. We had to be agile and fluid about how we were doing it. We put checklists together following CDC guidelines and we've continued to adapt that system. We cut back as much as possible on external visits and instituted checklists before people come on site, like thermal monitoring of individuals when they come on sight. And we've also looked at what kind of systems we need to put in place to help that be effective. Before, when a tractor trailer showed up with a load of packing materials, a lot of papers would go back and forth and there were interactions that had to go on. We've moved a lot of that to now being paperless by leveraging the technology out there that is available. We are working through touchless invoicing and transactions with truck drivers... and put an extra level of safety in place for the truckers and the people on site who are interacting with them.
Stephanie Neil: A recent PMMI business indicator poll asked members what their biggest obstacle was as of late and they focused on supply chain as a disruptions. Are you having the same experience?
Wilken Benjamin: I'm an equipment engineer so I'm generally focused on the end product, but I do hear on work team meetings where supply chain is an issue in getting raw materials. The biggest thing for me is equipment OEMs and lead times being extended when it came down to steel and trying to cut in different equipment. We've had some issues where lead times that would normally be in the neighborhood of 16 to 18 weeks would now be 32 weeks.
Stephanie Neil: What does it do to the organization when you have extended lead times?
Wilken Benjamin: We are doing a lot of equipment replacements and we are focused on cost savings, so it delays those savings. Is it effecting the business? Can we still run? We do, just not as efficiently [as we would] with the new technology.
Joe Zembas: The most blatant example is in our pet food side of the business. With 35% of U.S. meat processing plants shut down, our ability to get meat byproducts for pet food was significantly impacted. To Wil's point on steel, our wet can business was looking for more cans for wet pet food and a good portion of steel comes out of China and there were places shut down in China. So yes, it ripples across the supply chain for everything from product ingredients to raw materials and packaging materials.
John Giles: In the early phases, in the March and April timeframe, was when it hit Amway the hardest. That was true for most companies as a lot of things were locked down and the company was trying to figure out how to work. We went through a lull, struggling with incoming raw materials and the teams did a great job working through those issues or changing production to match what we had on hand. Today it's not really a big issue for us. For the most part we are moving forward and I'm not seeing significant delays now.
Stephanie Neil: The PMMI business indicator poll also asked "How's business?" The response was that quotes and proposal activity has gone up since March. It is surprising to me that people are looking for new machines. Why is this happening?
Joe Zembas: In essence, we all had a business plan and things we had committed to. Obsolete pieces of equipment needed to be updated and there were new product launches that needed to hit the market. Once we got through the initial tidal wave of chaos in March and April we still have a 30 years old tray packer sitting out there that I can't buy spare parts for any longer. I still need to get that quote, get the project funded, and get it underway, so that is part of the normal business we've had to continue. I think it's just we had business we planned to do this year and we tried to find our way around everything else to keep moving the ball down the field.
Stephanie Neil: Wil, why is your company buying new equipment?
Wilken Benjamin: Real simple. Labor. As we bounced into the COVID environment one thing we saw is that when people were afraid to come to work, we still had to fill orders. It became evident that the things we were working on for five years down the road, we would have to pull those things in and start automating more processes. As a team we've been pushing forward in high-level automation opportunities that we were going to delay. But when we started looking at overall profitability and taking a hit for three months, we looked at what we needed to automate.
Stephanie Neil: John, are you looking for new types of equipment or turning to more automation?
John Giles: Labor is a huge part for us and automation ties into that. We had a plan for an automation spend and where to spend that capital. Other than the little blip where things slowed down in March and April, it's still full steam ahead and following the original guide for capital projects. We also have a large sector of the nutrition industry and we've seen explosive growth with nutrition products, especially immunity defense products. That accelerated some of the things we were doing internally to pull up plans to bring up additional lines and support that growing segment of the business.
Stephanie Neil: So are there new kinds of products coming into the organization?
John Giles: A big one for us is CBD products, those are new products for Amway and they've actually been doing very well. It goes into the whole nutrition side and well-being and supporting people's health. There are plans in place to continue with additional products and new SKUs. The big issue we look at is how to bring those to market quicker. What can we do internally to accelerate, whether it's equipment, plant capabilities, buy outs, or whatever, to get that stuff into the market sooner rather than later.
Stephanie Neil: How can your machine builder partners help? Is there room for them at the table?
John Giles: Yes. We partner with our typical suppliers and we are looking for new suppliers at the same time. In today's market we definitly rely on that partnership and it's everything from going through all of the options and things you can get on the machine and equipment to make sure it will suit the products we'll make with it, and it will fit into our environment and do what we need it to do. That's a big part up front and as we get to the build process. But when we get to design and FAT (factory acceptance test), where we normally have boots on the ground to inspect and look at things, that is where we rely on close relationships with our suppliers or OEMs to make sure they get the equipment we want. For the most part all of the OEMs we've worked with have done a very good job and are quick to react and are flexible to work with us to try to resolve issues and work through problems. We have strong OEMs supporting us and willing to do more than they would have in the past and that is a mutual benefit to everyone.
Joe Zembas: I think there is definite openness on the OEM side to doing virtual FATs, they've incorporated it, applied whatever technology is needed in their facility and the thing we've seen is the culmination of relationships we've built between some of our key OEMs. There's a certain comfort in going to the shop and seeing [the equipment] run, even if it's for 10 minutes. Certainly, when you walk away from that you lose that comfort, but if you deal with a vendor that you have a long established relationship with, and you know they'll make things right in the end, and you know they build good quality equipment, etc., it's a lot easier to cut that PO without ever showing up in the shop and putting feet on the ground. So it has reinforced the need for those strong relationships with OEMs and key suppliers.
Stephanie Neil: Wil, you talk about automation projects. How are OEMs working with you as you try to figure out your next step?
Wilken Benjamin: Everyone I'm working with are trusted OEMs. Right now we are focused on true relationship building and collaboration because the trust is there on the projects we've been working on. But we were talking to procurement a week ago because they are pushing us to give others an opportunity. We are pushing back and saying that right now is not the time. We have a solid relationship with enough OEMs that we don't need the push back, we need to partner and problem solve together. Especially in this time where travel is limited. I can't hop across the country from site to site. I have to depend on my OEMs to do that for me because they are able to in many cases. So partnerships and collaborating long before now has been so beneficial to the direction we are going in.
Stephanie Neil: If this is the time for OEMs to come up with new business models and new services, what would you ask them for?
Wilken Benjamin: We all as CPGs want as much aftermarket support as we can receive—and get it as free as possible. With that said, one of the things we are looking at is that we need to keep our equipment running, yet we don't want anyone in our facility because of COVID, so we've been digging into technology to figure out how we can have that support. We've been checking out [Microsoft] HoloLens and we are receiving a lot of good feedback from everyone in our facilities. So we've been sending the HoloLens around to some of the different problems we're having, whether it's R&D projects or purchasing equipment for FATs or collaborating plant to plant. [PTC's Vuforia] Chalk is another project we've put out there. Some OEMs came to me with Chalk and we said we would like to test it out. It was interesting because it was pre-COVID that we were saying it's a neat app and we need to try it out, not knowing it was something we'd really need. But there is a lot of technology out there and a lot of people are just trying to figure this space out.
Joe Zembas: Training has always been difficult. The more we can do virtually, the more dynamic we can make it and it will address the need to not have the OEM in our site for a week to do extensive training for individuals. And given that every school in America is dealing with how to teach remotely…I think that five to 10 years from now you won't get a vendor onsite to do training. That will be a thing of the past. As we continue to move forward there will be more virtual, more visual, the little 30-second video clips. We'll see continued movement in that direction. Things like the pandemic will accelerate that movement.
Stephanie Neil: Last year at the PMMI Annual Meeting there was a lot of discussion about cybersecurity. But I haven't heard any of you talk about cybersecurity. Is it still an issue?
Wilken Benjamin: Oh, yeah, it's definitely an issue…we are just trying to figure ways around it using iPhones and doing anything we can, especially with startups. We've had three startups since this pandemic. We start talking about all the devices to try, and IT still pushes back. So cybersecurity is still top of mind, and I shouldn't say we are trying to get around it, we are being creative.
Joe Zembas: The things we've talked about relative to YouTube videos , etc., are much different than opening up our platform to allow someone to log into a machine to work on our equipment. Cybersecurity is still a large concern for all of us.
John Giles: It is really about being creative and coming up with different solutions. It comes down to who you are partnering with. We are seeing a lot more cooperation because of the pandemic and we realize we need to do things and open things up, but cybersecurity will never drop into the back seat, we are just becoming more creative about learning how to deal with it.