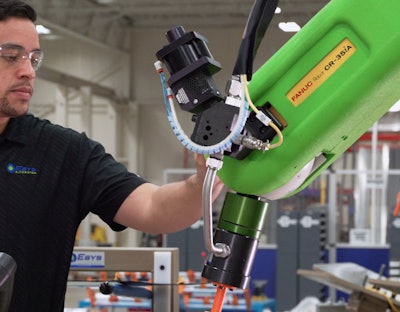 It's no secret that robots are marching into nearly every industrial space in the U.S. The reasons are many, but two in particular stand out.
"There's a great deal of interest in automating production lines because of the difficulty in finding workers, let alone skilled workers," says Rick Maxwell, director of engineering for the general industry and automotive segment at Fanuc America. "Manufacturers also want to increase yields as cost-effectively as possible. Both factors are contributing to the growing use of robots."
Where adoption of robot solutions might once have seemed intimidating, they have enhanced their appeal with more flexible material handling options, better force control and cloud-based support, while lowering their fear factor with new features like simplified programming and pre-integrated solutions for robot mechanics, vision and control.
Collaborative robots (cobots) are also fueling adoption, and even finding particular favor. "They allow you to automate without changing existing production lines," explains Ed Roney, national account manager for intelligent robots at Fanuc America. "They're designed to accommodate humans, who don't require much training to learn how to work with them. And since cobots are most often used for repetitive, dull and dirty tasks, they're being well-accepted by human workers."
Fast, flexible and intuitive implementation is a common theme among robotics manufacturers. Consider Fanuc's iRProgrammer user interface, which is similar to what people see on their cellphones or computers. It guides first-time users through the programming process.
Fanuc and other suppliers are also smoothing the path to implementation by expanding product lines to easily adapt to different applications.
"The new CR-15iA, for example, has a 15 kg payload and a reach of 1,400 mm, so it can handle heavier loads safely at higher speeds," Maxwell says. "This collaborative robot family is designed to handle 5, 10, 15 or up to 35 kg, so they can be right-sized for the application."
Epson Robots, which first began making robots for high-speed, high-precision applications such as watchmaking, is expanding its portfolio to offer new material handling solutions, including robots for simpler, lower-speed tasks. Part of the company's SCARA product family, the new robots are designed to replace the expensive, difficult-to-adjust linear slides now used in many pick-and-place operations, such as loading trays, feeding parts, palletizing and other material handling applications.
Epson's popular T3 SCARA robot, introduced last October with a 400 mm arm and 3 kg payload, now has a bigger brother. The new Synthis T6 All-in-One SCARA robot has a 600 mm arm and can handle up to a 6 kg payload. It also includes a built-in controller in a space-saving, lower-cost design. Integrated options include vision designed specifically for robot guidance, fieldbus interface systems, RC+ 7.0 API software for open-platform functionality, teach pendants and customizable graphic user interfaces (GUIs).
In addition to making their robots both intuitive and flexible to implement, suppliers like Epson also recognize that affordability is key to driving adoption and have taken steps to support this. "We can make these SCARA robots more affordable because we build our own components—such as motors, gearing and cabling—instead of buying them," explains Rick Brookshire, group product manager for Epson Robots. The new robots fit a wide range of industry requirements in fields such as medical devices, consumer products, automotive parts and electronics.
Epson Robots has also partnered with Asyril, a provider of flexible feeders, to create the Epson IntelliFlex Feeding System, which uses artificial intelligence (AI) to learn as it operates in order to determine the fastest cycle time. The company says the new AI-based system can achieve 5-10 percent improvements in cycle time.
Click and program
Yaskawa Motoman is another supplier that recently expanded its line of collaborative robots to offer a range of payload sizes and features for new applications and markets. It also smoothed the path to robot adoption by introducing easy-to-use programming tools for both industrial and collaborative robots.
"Our new Smart Pendant represents a disruption in the traditional programming of both types of robot, bringing a level of ease of use that makes learning how to program a robot less frustrating and daunting," says Bernardo Mendez, senior product manager at Yaskawa Innovation.
The Smart Pendant employs GUIs and simple programming commands like copy, cut, paste, undo and redo to enable users to guide the robots with touchscreen buttons. With this "click and program" approach, users can see lines of code being automatically generated on screen.
The Smart Pendant uses frames of reference associated with traditional robot programming. In addition, it features Yaskawa's Smart Frame, which operates within a frame of reference, moving left-right, up-down or away-towards to establish the same coordinate references no matter where the user stands.
"For users who are new to robotics, this will make programming robots less intimidating, while for experienced users it will offer a choice with no trade-offs in terms of capabilities" Mendez says. "This lowers the cost of adoption in terms of resources and effort, which will ease the concerns of many potential customers who once thought they had to hire and develop skilled workers to deploy robots."
Controlling force
Force control is an increasingly important capability for cobots as they are applied to a wider range of tasks. "Applications that require uniform results, such as assembly, sanding, buffing, polishing and deburring, are simplified with the tool-centric force/control sensors in our new e-Series family of cobots," says Stuart Shepherd, regional sales director for the Americas at Universal Robots.
The sensors can be used to measure mass to perform inspection processes or precisely detect contact. A repeatability of 30 µm in the UR3e and UR5e models and 50 µm in the UR10e make them suitable for very precise finishing, assembly and electronics tasks.
Universal Robots is also helping to ease implementation by offering nine free online training modules in its UR Academy, promising that people with no robotics experience can master basic programming skills and setup in less than 90 minutes.
Cobot conversion
With mass customization becoming the new normal, manufacturers are seeking increased flexibility in their production lines—a trend in which robot suppliers see emerging opportunity.
When ABB introduced its OmniCore robot controller family, it incorporated its Ability digital platform and Connected Services, as well as its SafeMove2 safety software, which can convert any connected industrial robot into a collaborative one.
ABB also added a virtual meeting tool for its RobotStudio virtual commissioning and simulation software, and a condition monitoring and diagnostics application preview for its Connected Services. The software employs a machine learning-based advanced algorithm to detect behavioral anomalies in large robot populations and provide predictive maintenance and optimization guidance.
"Our customers are increasingly interested in exploring the potential of collaborative automation and digital solutions to improve their flexibility and performance," explains Per Vegard Nerseth, managing director of robotics for ABB. "At the same time, they increasingly need purposeful, tailored solutions for unique applications. We're transforming our portfolio to meet this need today. "
Help from the cloud
Among the key elements envisioned by Industry 4.0, robots are now being used in every part of the production line—from conveyors, sorters and pick-and-place applications to welding, soldering, assembly and packaging.
Some of the technologies shaping the evolution of these robots include designs that aid human-machine collaboration, new software libraries for robot control, easier-to-use interfaces, plug-and-play implementation, and cloud-based predictive analytics for robot maintenance and condition monitoring, says Simone Gianotti, business development manager for EcoStruxure Industry at Schneider Electric.
"While there's still some resistance to cloud-based services, the advantages of receiving remote support and technical services are winning converts across many industries," he adds.
Schneider Electric offers three cloud-based services for improving machine performance under the EcoStruxure umbrella—among them, Secure Connect Advisor, a cybersecurity programming tool that allows operators to remotely access, program and monitor machines to diagnose and troubleshoot equipment.
Another is EcoStruxure Machine Advisor, a platform designed for machine builders, explains Steven Allmond, senior officer manager for industrial PCs and HMIs at Schneider Electric. "With it, OEMs can provide new services to customers for each installed machine in any production site worldwide. By using it to track machines in operation worldwide, monitor performance data and fix exceptional events, Machine Advisor reduces their support costs by up to 50 percent."
Future state
Sometimes the path forward requires doing more with less—a rule that applies to robots as much as anything else. AMK's contribution to this challenge is the AMKASmart motor module concept, a family of powerful integrated motor and drive modules that don't require a control cabinet. "Our motor modules are compact enough to fit in many spaces and all be connected to each other by a single hybrid cable, like one nervous system for all your muscles," says Tom Jensen, senior vice president and general manager for AMK Automation. The modules are now available for production machines.
The company is currently developing the third generation of its servo motor modules to improve their power-to-size ratio. "One way we do this is by integrating a ball screw directly into our motor rotor, creating linear motion in a very small, high-power package," Jensen says. "It's a concept we're moving into smaller frame sizes for more motor density for our mechanical systems."
Robot integration is another AMK priority. "Typically, a robot is built with its own stand-alone controller," Jensen explains. "While that provides a single place to interface the robot with a belt, camera or other device to get the functionality you want, it requires something outside the robot that must serve as the traffic guard and synchronize the action. If two robots are working together, who takes the lead, and where do you put all the input and output belts and camera systems?"
AMK's solution is its iSA decentralized motion controller with integrated power supply. It functions as the brain through its single-cable nervous system, 5 kW of DC bus power and 24 VDC for logic. The company's next-generation iSA controller will double that power output to allow many more motors per system.
Companies in this article