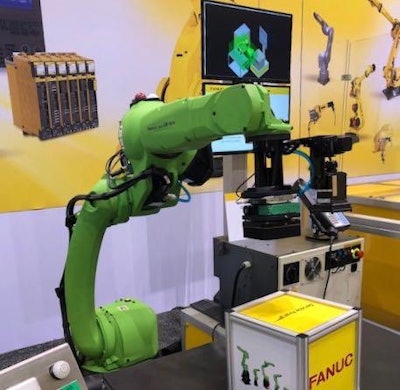 The FANUC CR-15iA collaborative robot (cobot) is making its PACK EXPO International debut this week. The lean green machine is capable of lifting 15 kg, filling the gap between its smaller CR-4iA and CR-7iA siblings and larger big brother, the CR-35iA.
The six axis robot is a good fit for warehouse, shipping and other industrial applications that require handling, machine tending, inspection and logistics. It is also efficient, including a single highly-sensitive sensor in its base vs. multiple external sensors that are often the norm with other cobots, the company said.
The CR-15iA has a small footprint that has a maximum vertical reach of 2.413 mm and a horizontal extension of 1.441 mm. The design makes it ideal for being mounted upright or inversely on the wall, as no safety fences are required since it stops safely on contact with a human operator.
It also includes a FANUC Teach Pendant that enables easy programming coupled with the R-30iB Plus controller's new iHMI interface. Plus, an optional FANUC Hand Guidance system means any user can program the robot simply by leading it through the motion points or trajectory necessary to complete the task and recording the path.
Companies in this article