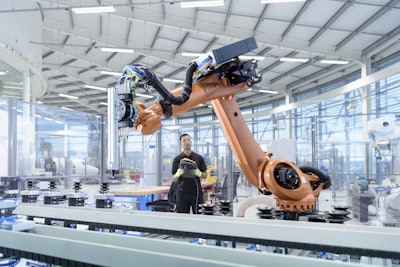 According to a new report from PMMI Business Intelligence, "Robots 2019: Innovation 2 Implementation," with the advancement to 5G, robotics will become more reliable, exchange data faster, and adjust output after consulting with warehouse inventories.
3G – The oldest and slowest wireless network technology that is still commonly in use.
4G - Faster connections, reduced delays; most current networks are 4G.
5G - Unprecedented advancements in industrial automation with increased connectivity and cloud computing exchanging big data in real-time and wireless data at much faster speeds.
The report says that using robots for packaging applications, particularly secondary packaging, is growing at a fast pace. Manufacturers look to a variety of robots for industrial tasks (as opposed to service robots).
Pick and Place—robots to move product from one location to another. Pick and place is expected to experience double digit growth in the near future.
Collaborative Robots (cobots)-- robots designed to work safely in conjunction with human labor. Collaborative robots are predicted to see some of the most significant growth in robotics over the next five years due to easier programming and relatively small footprint.
Mobile Robots—robots designed to move around the manufacturing floor to complete tasks. Most are commonly used for transporting products or materials and will see growth in warehousing and logistics applications, particularly adding flexibility for e-commerce fulfillment.
Download your FREE 9-page Executive Summary, or, PMMI Members can download the entire report for free here.
Visit PACK EXPO Las Vegas September 23-25 to see dozens of robots in action, both stand-alone and integrated into packaging machinery.