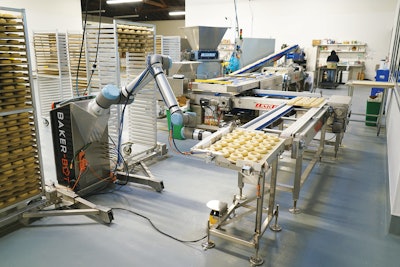 Apex Motion Control
When Emily Winston's favorite childhood bagel shop in New York City closed in 2012—the Upper West Side location of H&H Bagels—she was inspired to carry on their legacy of authentic New York-style bagels in her new home on the other side of the country in Berkeley, Calif.
"I grew up eating excellent bagels, and moved out here and the bagels were not as good," says Winston. "I was so sad that I would never be able to eat my favorite bagel again. But I thought, maybe I could figure out how to make [that bagel] for myself. So, I started experimenting based on looking at recipes, and Googling how to make bagels with no professional baking experience or cooking background."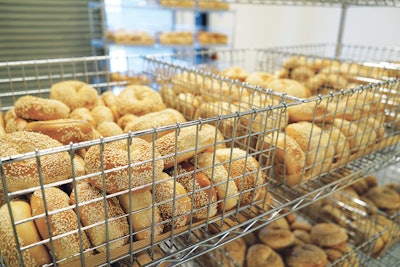 Winston—a New Jersey native who has a background in mechanical engineering—kept trying to craft her perfect bagel at home, and after five years, "I had an awesome bagel and friends told me I should sell them," she says. "So, I did a few pop-ups around town and they were a huge hit. After that, I did a lot of soul searching and put everything on the line to open a real bagel shop."
Winston's DIY bagel journey became Boichik Bagels, which opened a retail shop in Berkeley in 2019, and another location in Palo Alto, Calif., in 2022. Between those dates, the pandemic hit, which gave Winston an opportunity to explore wholesale and delivery opportunities with grocery stores and other offsite outlets, which proved very successful. This sparked an idea for a Boichik-owned central production facility in Berkeley, where all dough for Boichik bagels would be produced in volume, then formed and proofed.
"Making the dough correctly is the trickiest part," explains Winston, Boichik's founder & CEO. "I really wanted to make the dough in one central location, and then send it out to our stores to have it baked fresh onsite."
That 18,000-sq-ft plant opened in March this year and includes a retail shop with full view of Boichik's production line through large windows for visiting customers and clients. One of the biggest visual attractions on that line is an Apex Motion Control Baker-Bot 10 collaborative robot (cobot), which pulls sheet pan-sized boards of formed bagel dough off the end of the line and onto speed racks before being wheeled into a cooler to proof overnight.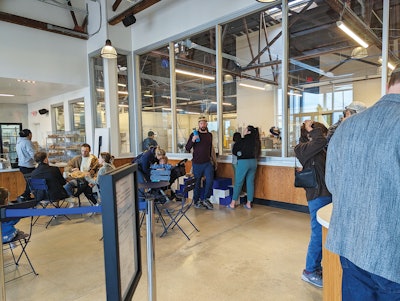 "If we didn't have the Baker-Bot, we would need one person doing that job, two if we're running at full speed," notes Winston. The line produces a sheet pan with 24 formed bagels every 7.5 seconds when it's at full speed, "and that's a really unpleasant job for someone to pick those up and put them in the rack. It doesn't pay to give anyone repetitive stress injuries and it doesn't make any financial sense to do that to your employees. I'm giving people better jobs and we actually have very low turnover for a food business. Part of it is because we invest in equipment that makes our jobs easier."
Apex Motion Control developed custom end-of-arm tooling for Boichik for the Baker-Bot to pick up and slide the bagel boards into slots on speed racks. "It's more fun to supervise a cobot than moving boards by hand all day," Winston says. "Our employees can do something else instead. No one got fired because we bought this cobot. In fact, their jobs got better."
Before Boichik opened their central production facility, the company was producing about 4,000 bagels a day at its two retail locations. Since the production line opened in March, Boichik is making about 8,000 bagels a day, although it can make 12,000 bagels in an hour if needed. Winston says as the business grows—which includes a direct-to-consumer web ordering option launching this month, plus a new retail store under construction in Santa Clara, Calif.—her goal is for Boichik to produce 50,000 bagels daily.
Boichik received a boost in publicity in 2021 when the New York Times profiled Winston and her company in a story, saying Boichik's bagels were on par with the best bagels made in New York City. That confirmation of quality has brought a lot of attention and customer curiosity to Boichik, which is why Winston opted to build the food production equivalent of an open kitchen in a restaurant, where customers can watch the entire bagel-making process all the way down to the Baker-Bot at the end.
"Usually [companies] hide all their industrial equipment from the public, but people here love to see it, and I don't think a Baker-Bot has really been on public display before," Winston says. "We added the Baker-Bot into our line to make our production run more efficiently, but also because it looks cool. People come in here often to order a bagel and coffee and watch through the window as we make more bagels."
Companies in this article