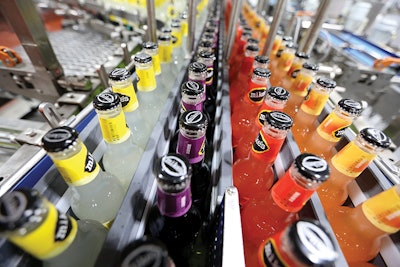 Photo courtesy of Mark Anthony Brewing
Columbia, S.C., is the home of Mark Anthony Brewing's (MAB) newest state-of-the-art brewery. The company needed to quickly expand production capacity as demand continued to grow for White Claw Hard Seltzer, Mike's Hard Lemonade, Mike's HARDER, Cayman Jack Cocktails, and MXD Cocktails.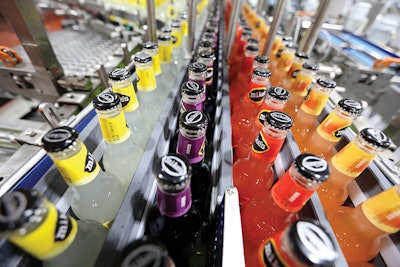 MAB is the fourth largest brewer in the U.S. and provides supply chain management and brewing services for The Mark Anthony Group of Companies, an international drinks company with a portfolio of beverage brands.
During the global pandemic, while other businesses paused operations or were implementing cost-savings measures, MAB took a different approach. The private, entrepreneurial company made the decision to invest $1.4 billion in its three breweries and to construct the most technologically advanced brewery built in the U.S. in the past 28 years to support the demand for White Claw Hard Seltzer. The largest of these facilities is the new $490 million, 1.3 million-sq-ft state-of-the-art brewery and packaging facility in Columbia.
The MAB site selection task force looked at 18 possible locations in five states and narrowed the field down to two locations, according to the brewing company. One of the primary reasons MAB decided to build in Columbia was the spirit of collaboration and engagement from the State of South Carolina, the Department of Commerce, and the Richland County Economic Development Council that embraced its vision and timeline to transform the location from initial concept to a fully operational facility in record time.
---
---
A project of this size would normally take four to six years to plan and build. MAB's ambitious timeline saw the site transform from initial groundbreak to production of the first saleable case of product in just 346 days.
To fast-track the project, MAB required an integrated design-build team to make its vision come to fruition. The brewer chose engineering firm Clayco to meet the speed and high build quality experience needed for the challenging project.
A high-speed completion timeframe was demanding for all project partners, explains Joe Crawford, Clayco project manager for the facility design. "Creating the engineering and getting the equipment ordered and shipped in the middle of the COVID-19 pandemic was a huge challenge," he says. In fact, construction began just 30 days after the project was awarded to Clayco, and substantial completion was reached in less than a year.
At peak production, the facility can produce 6 million barrels of finished product and package 80 million cases per year, with a packaging speed of almost 1,000 barrels per hour. A glass bottling line fills 50,000 bottles per hour. The Columbia facility produces White Claw Hard Seltzer, Mike's Hard Lemonade, Mike's HARDER, and Cayman Jack Cocktails, and will provide the increased capacity to keep up with consumer demand in the eastern U.S.
MAB conducted its first meeting with Clayco in October 2020. A month later, MAB gave Clayco approval to proceed on the greenfield project. With groundbreaking in December 2020, process installation began in April 2021. By using point cloud modeling, Clayco created an online replica of the facility in a 3D environment, providing MAB and its project partners access to a fully immersive plant before the plant was fully operational.
Collaboration fast-tracks installation
MAB carefully assembled teams of engineers and international OEMs on both sides of the Atlantic Ocean. The complex project was purpose-designed and -built with technology that in part had to be developed and designed as the facility was being built. Throughout it all, safety and high-quality build standards were paramount.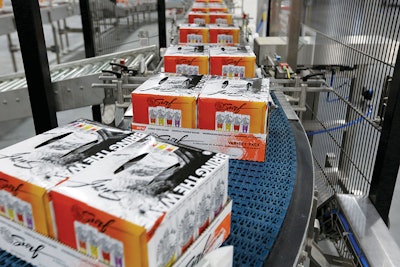 To accomplish its goal, MAB had to throw out convention and work hand-in-hand with partners to engineer, design and innovate at lightening speed.
From the outset, MAB challenged its partners to think differently and innovate in ways they had never done before. In some instances, the project included competing suppliers that focused on fufilling MAB's vision.
Ziemann Holvrieka oversaw the project's processing technology and worked in close contact with packaging line suppliers KHS and Krones to coordinate all items on the pipe rack into the building, the location of feeds, and utilities that each pipe required.
"Getting the space ready for the OEMs—Krones, KHS, and Ziemann Holvrieka—was one of our biggest challenges," says Daniel Botts, Clayco project director. "We broke ground on Dec. 1, and we turned approximately 40,000 sq ft over to Ziemann on April 15. One month later, we turned over about 400,000 sq ft to the Krones and KHS teams."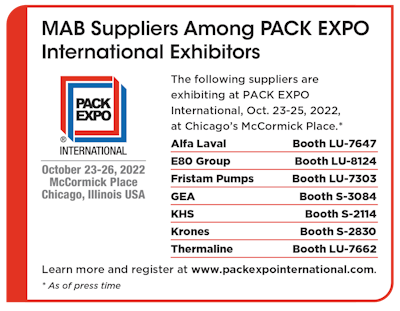 Ziemann Holvrieka provided 56 purpose-built stainless-steel tanks, with total capacity to hold nearly 4 million gallons of liquid. The tanks traveled by barge down Germany's Rhine River, where they were loaded on a vessel and shipped to the Port of Charleston. Then the tanks had to take a very specific, safe route to arrive at the MAB site in Columbia, which is more than 100 miles from the harbor.
The tanks have about a 2,000-hectoliter capacity, equivalent to 1,700 barrels. "The outside diameter is a little over 4 m, which is the max that you could put on a truck and ship down a highway and, hopefully, not have to remove traffic lights and other things along way," states Greg Norris, sales and business development director, North America for Ziemann Holvrika.
On-the-fly variety packing is unique, high-tech
Krones provided the bottle filling lines running 50,000 bottles an hour, according to Krones Project Manager Dylan Hansen, and the variety pack line that includes different flavors of Mike's Hard and Cayman Jack, for example.
"One of MAB's growing products is beverages in glass bottles," states Claudius Eichhorn, Krones AG project manager. "We can make the single-flavor glass packs for the Mike's Hard and Cayman Jack products," he says. "At the same time on the same line, we can make variety packs, which are four different flavors in the same carton of Mike's Hard." The Krones line also integrates the variety packs into the line that makes the single flavors in non- returnable glass bottles.
The facility contains two Krones Varioline machines, which combine up to six machines into one to create cartons and six packs. "We have a work-in-progress depalletizer that separates the four flavors into certain streams, that then feeds to the Varioline to create various 24 packs," Hansen explains.
Packs can be either single stream, single flavor for a Mike's Hard or Cayman Jack's six pack, or four flavors for a 24 pack, for example.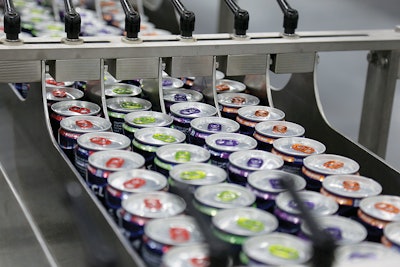 KHS provided technology solutions for the facility's four mono pack lines. "There are four can lines that will drain at 90,000 cans per hour each, and the heart of those systems is our DVD 144 filler," says Jayme Flood, KHS senior project manager. "It's top-of-the-line performance," he adds, "and I think that's one of the main reasons that MAB selected KHS for these can lines." The filling system is enclosed in a hygienic housing.
KHS also supplied two variety pack can filling lines that can produce a four-flavor or six-flavor product mix into the final packaging, explains Jens Brenner, KHS USA director of sales administration development.
"In the depalletizing area, materials flow from the warehouse, because we have mono flavor packages like only cherry or mango coming in, and it's unloaded in the depalletizer," Brenner states. "Then, with other flavor mix the LGV [laser-guided vehicle] is providing, we create a package of four different flavors, like mango, black cherry, lemon, and another flavor."
Automated, integrated packaging systems provide flexibility
Cans enter the warehouse on a pallet with no lid ends. The E80 automated warehouse system brings the product based on a call from the control system. The facility contains automated tunnels to the warehouse, where the E80 LGVs bring product to the packaging area as required. The automated warehouse takes finished goods away based on whether it's a mono product (single-flavor product) or a product for a variety pack system with multi-flavors.
In between the two KHS canning lines is a lane providing LGVs access to both lines. These packaging lines are mirrored but operate in a combined manner, so plant floor operators can move and access the lines. Both lines are capable of running 120,000 cans an hour. "It's a huge capacity, and it's very unique," says Brenner.
The integrated packaging system allows greater flexibility. Operators run the equipment and load raw materials into the automated delivery systems. On the filler side, an operator takes a sleeve of lids from the pallet delivered by the E80 LGV and places it in a lidding machine. On the packer side, cardboard blanks are delivered by LGV, and an operator takes the cardboard blanks and loads them on the machine. "There are no humans on fork trucks," says Flood.
Pre-equipment build-out and schedule
The 1.3 million-sq-ft, highly automated fast-track greenfield facility features a 300,000-sq-ft brewing area and a 400,000-sq-ft packaging area. In the five-month period prior to turnover, Clayco got the slabs poured and epoxy flooring installed prior to the OEMs starting their work. A monumental effort was made on design to coordinate the flows, determining which drives were required, sizing the pipe, and completing concrete sloping to accommodate foot adjustments to keep the equipment level.
At week 20 of the project, about 60,000 sq ft were ready for brewery equipment. Four weeks later, Clayco turned over the initial, big area to the packaging suppliers and some additional brewery areas. As the 400,000-sq-ft space was ready for the packaging vendors, Clayco continued to build the warehouse.

Tanks for the Columbia facility were fabricated in Germany by Ziemann Holvrieka. "Each tank base had 5-ft-long bolts that stuck up through a concrete roof. These tanks had to line up with the holes that were in the bottom," states Norris.
"You can imagine when that first tank was in the sky over top of this tank table, and the fact its 12 bolt holes went right through those 12 holes perfectly created a huge sigh of relief for a lot of people," Crawford says.
At other MAB facilities, tanks are mounted to the ground, and essentially, each tank has its own enclosure room. At the new Columbia facility, a tank table allows for pumps and piping underneath it. "All the tanks are insulated and jacketed, and glycol runs through the jackets to cool down the fermentation process a little bit," states Crawford.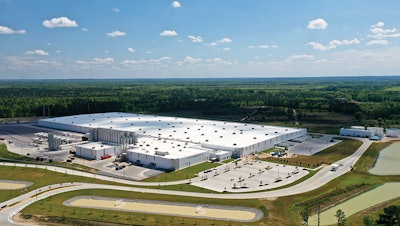 Along with the tanks, Ziemann Holvrieka supplied a spiral staircase that interconnects the catwalks on top. The tanks sit on a 20-ft raised concrete slab provided by Clayco. "They don't have anything supporting them except the roof of this concrete bunker or gable. It leaves this beautiful open space underneath for all the equipment that needs to pump everything in and out of the tanks," explains Norris. "It also serves as a perfect structure on which we could seamlessly integrate all of the utility tie-ins, which included extensive electrical, refrigeration, and steam generation options."
Most of the utilities were completed by the Clayco team, who collaborated on installation of the boilers and chillers with Ziemann Holvrieka, KHS, and Krones for their line requirements. A lot of the chilling load is for the plant's 24 jacketed fermenters, plus chilled water needs in the packaging area.
Sustainability is a passion at MAB
The underground sewers are attached to the lift station with different pipes. "There are four 250 gallon a minute pumps back to the wastewater treatment plant," states Crawford. "They pump up to 6,900 gallons a minute back to that plant."
A moving bed biofilm reactor (MBBR) tank treats the solid waste. The waste goes through a dissolved air flotation (DAF) system and through a centrifuge that solidifies it into a dumpster. Finally, a truck hauls the solids away.
Another sustainable aspect of the plant is eliminating emissions instead of buying CO2. "The ultimate goal here is to be 100% self-sufficient by collecting the CO2 that's produced during fermentation, storing it, and then reusing it at the end of the process to carbonate the product," says Crawford.
As a family business, MAB is passionate about sustainability. In fact, the brewer invested $10 million to install a system that captures all CO2 emissions and recycles them to supply 90% of its CO2 requirements. MAB also invested $15 million on an advanced technology for its wastewater management system.
Pushing the boundaries
The new facility has already generated more than 300 new jobs in South Carolina. To create an environment that focuses on health and wellness for its team members, MAB has purchased additional land adjacent to the site and dedicated more than 29 acres to build parkland and a recreation area with a pond and walking paths for employees. More than 200 trees have been planted and MAB committed a further $4 million for landscaping.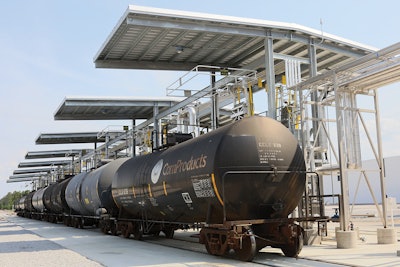 With the current manufacturing labor shortage, MAB has created a supportive, people-first culture that gives employees the opportunity to build progressive and rewarding careers and provides continuous investments in training and skills development.
One of the most outstanding aspects of the project was its completion during COVID-19. MAB pushed the boundaries to create this facility while ensuring the safety and well-being of everyone involved.
MAB says it is important to acknowledge and thank every tradesperson who worked on the site during the pandemic, in what was an enormously stressful and unprecedented period in our lifetime.
With an integrated packaging system, state-of-the-art processing, and a highly automated process in place, MAB is well positioned to continue its winning streak of pioneering new beverage categories and creating inspirational beverage brands.